Accounting Term Paper & Dissertation Tips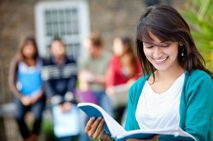 An accounting term paper should synthesize research and the writer's own ideas to present a thorough explanation and analysis of a specific accounting topic. A term paper is intended to present the student's comprehensive grasp of the topic at hand and his or her ability to communicate about that topic intelligently. Therefore, an accounting term paper should not be merely a definition of an accounting topic, but an exploration of that topic and its importance in the context of accounting and business as a whole. For instance, a term paper on accounting scandals would not only present an overview of misconduct in the accounting world, but also explain what the illegal practices were, how those practices were executed, why those practices are illegal, the effects of that malpractice on the business world, and other similar topics that push beyond definition and into a true discussion.
To clearly outline the topic and effectively communicate the point of the report, an accounting report should present a specific thesis statement or group of statements in the first 1/4 of the text. A thesis is a sentence or two that states WHAT a report is about—the point or argument—and HOW that point or argument is going to be explained and defended. For instance, in an accounting term paper about accounting scandals, a possible thesis might be as follows: "Accounting scandals of the past decade have largely been a result of company executives engaging in fraudulent earnings management, a practice that allows executives to pay themselves exorbitant salaries by knowingly manipulating company earnings. Examining the case studies of Enron and the accounting firm of Arthur Anderson, the ways in which fraudulent earnings management occurs and the effects of such practices on business performance and consumer confidence will be explored."
In the above thesis statement, the point or argument is that recent accounting scandals have largely been a result of fraudulent earnings management. This argument will be explained or defended by looking at the accounting practices of Enron and Arthur Anderson.
Accounting term papers will often require research. This research may necessitate investigation into scholarly databases and resources, particularly if the topic at hand is a theory or principle. It may also require that the writer access public records, such as filings from the Securities and Exchange Commission (SEC). In the above case regarding Enron, it is likely that much would be gained from looking at both SEC filings and public court documents from the Enron lawsuit.
Writers of accounting reports should adapt to the expectations of their readers. The immediate audience is the professor who assigned the report and the students in the class. Expect that these readers are familiar with basic accounting terms and principles, and use specific accounting terminology throughout the text to communicate effectively and demonstrate knowledge of accounting principles.
Finally, keep in mind that accounting reports should focus on the analysis of accounting practices. The bulk of the article should be dedicated to explication of those practices.
--------------------------------------
Viewpoint of Author #2
--------------------------------------
An accounting dissertation is an original text that examines a particular theory, trend, or practice in accounting and reports on it in a thorough and analytical way. An accounting dissertation differs from other papers that a student may compose in the course of their accounting studies because it must present an original idea or study. It is not, for example, an essay, but a document that uses research to come to new conclusions.
Some accounting dissertations will present a trend analysis that traces the use of a specific accounting practice over a period of years. This type of dissertation will gather data from various private and public records and analyze that data in order to draw a general conclusion regarding that accounting practice. Other accounting dissertations will offer a new way to interpret or apply an accepted accounting theory by demonstrating research and tests that support the validity of that new application or interpretation. Still other accounting dissertations may choose to report on the researcher's individually-designed study regarding any number of accounting topics. In this type of dissertation, the student would conduct a study using participants in the accounting field and analyze their behavior and feedback to investigate the chosen topic of study.
Accounting reports should follow a standard format and presentation as determined by the writer's department, but most accounting dissertations will have five chapters:
an introduction;
a review of relevant literature regarding the topic;
a description of the writer's method of analysis;
a chapter reporting the writer's results or findings;
a discussion chapter suggesting the implications of the report research.
The introduction chapter of an accounting dissertation will clearly present the topic or problem the report will address, the research questions the report will seek to answer, hypotheses regarding the study's answers to those research questions, and an overview of the limitations of the study.
The second chapter—the literature review—requires the researcher to present a survey of scholarly studies relevant to the chosen accounting topic. Each study discussed should be clearly and thoroughly explained in its own paragraph or set of paragraphs, and should give a complete description of the study's findings.
The third chapter—often known as the methodology or method chapter—presents a detailed explanation of how the researcher will address the research questions and problems outlined in chapter one. This should include information about the participants of the study, if the study is using participants; the methods of data collection and analysis that will be implemented; and the instruments that will be used to gather and analyze data.
The results chapter reports on the study's findings. This chapter will address the outcomes of each hypothesis and provide the results of statistical analysis of the data.
The final chapter of an accounting dissertation—commonly known as the discussion chapter—should suggest the implications of the study by pointing to ways in which the study may be applied in the practice of accounting and ways the study can be augmented by further research.
--------------------------------------
Viewpoint of Author #2
--------------------------------------
For those who are interested in an accounting career, it is necessary to work toward earning an accounting MBA. There are a number of different career paths that a person with an accounting MBA can pursue. In the simplest sense, however, an accountant will work for a company in order to help it conduct business more efficiently, to make sure taxes are paid on time and properly, and to ensure that public records are properly maintained.
In order to launch a career as an accountant, one must possess a number of skills. For example, one must be knowledgeable in financial planning, budget analysis, investment planning, certain legal services, and information technology consulting. Of course, those interested in this career path must also earn an accounting MBA in order to work in this field.
For those interested in pursuing an accounting MBA, it is necessary to first obtain a bachelor's degree. For those that have a bachelor's degree in accounting, being accepted into an accounting MBA program generally requires completing an application form for the school and being accepted. Depending upon the school, the application requirements may vary. For example, some schools may require applicants to write an admissions essay or accounting essay, while others may simply want transcripts and other pertinent information. Similarly, some schools may require applicants to write accounting term papers and complete a certain amount of job experience before being accepted into an accounting MBA program.
Individuals with a bachelor's degree in a subject area other than accounting may need to complete additional coursework before being accepted into an accounting MBA program. The amount of additional coursework and the type of coursework that needs to be taken will depend upon the type of bachelor's degree the person already possesses.
In addition to completing the proper coursework required to be admitted into an accounting MBA program, the person interested in pursuing this type of education should also possess certain personal traits. For example, a person interested in pursuing an accounting MBA must possess a high level of organizational skills as well as solid research skills. This is because the coursework required when pursuing an accounting MBA typically requires conducting an extensive amount of research and applying this knowledge toward achieving the career goals.
Since accounting involves working with numbers in a number of different ways, a person interested in pursuing an accounting MBA must also possess a high aptitude for mathematics. This includes being able to compare, analyze, and interpret figures and facts quickly. Since accountants also must make sense of legal requirements, such as tax laws, those pursuing an accounting MBA must also be highly skilled at following directions and drawing conclusions.
Accountants are also being increasingly called upon to utilize computers and other forms of technology in order to perform their duties. Therefore, the coursework required to earn an accounting MBA will require extensive use of this type of technology.
Helpful Video on How to Write . . . Persuasively