Management Term Papers: Keys from 2 Essay Experts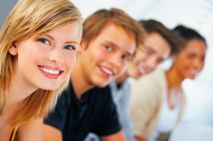 A management term paper is a long, usually investigation-based text composed as the culminating assignment in a course of study focused on management. Term papers have two key features: research and synthesis. They present research on a particular topic, and then synthesize that research and topic with the body of knowledge gained throughout the term of study. This is how a management term paper differs from a management reference project. In management research papers, learners will likely use secondary sources to explore a particular aspect, theory, or practice of management in a thorough way. In management term papers, learners will need to do this in addition to discussing how that particular aspect, theory, or practice of management fits in to the body of thought on management practices and theories that the student has become familiar with through the course readings and lectures.
In order to successfully incorporate both the research and synthesis components required for a management term paper, the learner will need to be engaged with his or her research question and research sources. This means that throughout the process of investigating his or her assignment subject, the learner will need to challenge the ideas and materials he or she discovers using the expertise he or she has gained throughout the term. A term paper is not intended to be a report of research, but a critical discussion. This means that the student should assume an authoritative position and challenge and engage the ideas of others. During a term of study in management, a student gains an abundance of skills and knowledge to help him or her assess scholarly opinions and develop opinions of his or her own. Therefore, whenever the writer includes a secondary source, the writer should comment on that source and discuss what he or she thinks about the source idea.
Management term papers may also require that the writer include mention of his or her own observations on or experiences with management in the workplace. This will require the writer to reflect on his or her own actions and ideas and determine how those actions and ideas correspond with particular management theories or practices that have been discussed in class. This displays that a student has learned how those theories or ideas play out in the real world.
All management term papers must be thoroughly and properly cited according to the citation style preferred by the course instructor. The reports should also be scoured for grammar and spelling mistakes, as many business professors are very critical of such presentation errors.


--------------------------------------
Viewpoint of Author #2
--------------------------------------
There are thousands of students across the country enrolled in undergraduate and graduate business degree programs. These students will more than likely be required to write a management essay at some point during their academic careers. Many students will have to write different management essays on different management styles, as well.
Students who are required to write management reports should keep in mind that just because the reports are about a business-related topic does not mean that they have their own unique style or requirements. In fact, a management report should follow the same format and requirements as an article that a student must write for any other course.
One of the main reasons that professors assign reports is that essays allow students to study a particular subject and then provide their own point-of-view about the subject. Such compositions are also shorter writing assignments, so professors can assign more essays than papers or thesis works. Therefore, by performing essay research, students may have more opportunities to learn a great deal about more subjects than they would if they were only required to write one report per course.
The basic steps that a student should take when writing management essays begins with understanding the nature of the topic and ends with submitting a well-researched and carefully written report for a grade. Before a student begins writing the management essay, the student needs to understand the topic. By understanding the management assignment topic, the pupil can narrow down his or her research options.
As a student performs research for the management essays, the student should take detailed notes about his or her findings. These notes will help the student to create the actual essay, which may take several days or weeks to create. Only after the research has been completed can the student begin to take his or her notes and form them into an outline.
The management essay outline will help the students to form the template and content for the management article. The outline can be complete or it can be a very simple outline with bullet points. However, the student should only begin the first draft of the report once the outline is complete.
Management essays are different than some other management assignments because they require research and factual knowledge of issues related to management. In many business programs, learners will have to work on hands-on assignments related to management, which may require learners to perform experiments and conduct interviews. In some cases, a student will need to write management essays about their assignments, but these hands-on management assignments are often unique from management essay assignments.
Helpful Video on How to Write . . . Convincingly