We'll write papers for your friends.

YOU'LL

make big money!
Earn 30%+ of every order's total price!
Easily make hundreds of dollars per month!
---
"Is this for real? Tell me more!"
Don't worry, you're not hallucinating. It's for real. We're offering you a ready-made, high-paying, all-cash "side business" to supplement your income. If—for example—your friend places a $300 term paper order, you'll get $90. Sound good?
"Am I required to do any writing myself?"
Nope! We'll handle all of the researching and writing! You won't have to lift a finger. Prior to your client's requested deadline, we'll email the completed document to YOU. Then, you'll give the document to your happy client!
"How does it work?"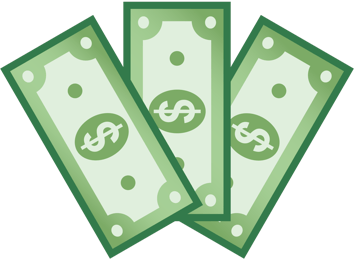 It's super easy! All you have to do is convince people to hire "YOU" to write their academic papers, blog posts, website content, etc. Simply offer "YOUR" personal/professional writing services to friends, classmates, family, Facebook followers, business owners, webmasters, bloggers, etc. We'll serve as your secret, "silent partner" who actually writes the documents. We'll do all of the hard work, and you'll make a ton of cash!
"How will you know what to write?"
Once you have a client's requirements, you'll enter those requirements into our order form. We'll start writing immediately. That's it. Your job's done. Just sit back and enjoy your profits! (Scroll down to read more about profits.)
"How much money can I make per month?"
That's totally up to you! We have student partners who make over $3,000 per month just by taking orders from their schoolmates! The more orders you place, the more money you make. There's no limit! You'll rake in huge profits without having to do any writing yourself. You can charge your clients whatever price per page that you like. Plus, we'll give you a special coupon code for an extra 10% off every order that you place! That extra 10% savings goes directly into your pocket (see below)!
Example of Your HUGE Profit Per Order:
As long as you charge your friends/clients more than $17.10 per page, you'll make a profit. You can charge $19, $19, $20, $21, $22, $23, $24, $25, or more per page; it's completely up to you. If—for example—you charge your friend/client $25 per page to write a 10-page paper in 15 days ($250 in total), you will receive $79 in profit! That's because—after your 10% discount—we'll charge you the cheaper rate of only $17.10 per page ($171 in total). Sounds awesome, right? See the profit example below for more detail.
Example of Profit Breakdown:
Your client wants a 10-page paper written in 15 days.
You tell your client that you'll charge him/her $25 per page to write the paper.
Your client accepts your price of $25 per page and pays you $250 to write 10 pages (due in 15 days).
Using the discount code that we provide, you immediately place the order at our website and pay us only $171 to write those 10 pages in 15 days.
You keep the difference ($79) as your profit!
Rinse and repeat. It's the easiest money that you'll ever make! And remember … you can charge your clients whatever price you like! The "example profit" above is based on you charging only $25 per page. If you can convince friends/clients to pay you $30, $35, or $40+ per page, you'll make even more profit! You get to keep every extra penny beyond the $17.10 per page that you pay us!
"How and when do I get paid?"
Glad you asked. This is the most exciting part! You'll never have to worry about how or when you get paid. That's because the client pays you first. Then, you pay us. You keep the difference as your profit. Boom … instant payment! You get the money before we do, so you have 100% control over the entire payment process. You're the boss!
We Can Handle Virtually Any Deadline:
NOTE: 1 page = approximately 300 words
"How do I get clients?"
You're a smart cookie! You'll have no problem convincing people to hire you. The easiest and simplest way is to offer your writing services to friends and other people you know. Confidently tell them that you can write whatever it is that they need written!
You can also create your own blog, website, or Facebook page to market your new business to people anywhere in the world! If you already have a website, forum, blog, or Facebook/Instagram account, you can start posting ads immediately! Here are some simple examples of ads:
Need writing help? Email me.
--
Let me write your web pages and SEO content!
--
Need a ghostwriter? Hire me today!
--
Need daily or weekly blog posts? Contact me today!
--
I can write for you! Contact me for details!
--
I'll be your personal writer! Message me for info!
--
Is your essay overdue? I can write it! Email me for prices.
--
Hire me to be your daily blog post writer!
--
I'll write your documents for $20/page!
--
I write doctoral dissertations for $25/page!
--
I ghostwrite 900-word blog posts for only $60!
--
I provide professional blog writing services!
--
I can write your web copy! Drop me a line!
"Will I be able to chat with the writer?"
Yep! You can log-in to your "Customer Control Panel" (24 hours per day) to directly chat with your professional writer/editor. Plus, you can upload files to the writer/editor, download your completed order(s), submit unlimited rewrite/modification requests, view real-time order status updates, add additional pages to your order(s), make changes to your order(s), place new order(s), view your order history, correspond with customer service, and much more!
"Will your guarantee apply to my clients' orders?"
Yes, of course! Your clients' orders will receive the exact same priority and high-quality service as our direct customers. Our guarantee is simple and clear: we will provide free, unlimited revisions or editing in the unlikely event that we do not adhere to your client's original research and writing specifications. Your revision request will be forwarded immediately to your writer, who will edit and/or re-write the paper to ensure that your original specifications are completely satisfied. And, of course, we guarantee to always adhere to your deadlines.
"How do I start?"
Just send an email to

with "My discount code" in the subject line. We'll reply with your personalized discount code within a few hours. You can start making money immediately!