Term Paper:
Anthony Quinn
Pages: 10 (3289 words) · Bibliography Sources: 1+ · Level: College Senior · Topic: Film · Buy This Paper
SAMPLE EXCERPT:

[. . .] The Guns of Navarone was a big hit and Quinn's role as a Greek Colonel was superb. The following year, he played an Arab sheik in Lawrence of Arabia and critics and moviegoers hailed his performance. Once again, Quinn brought his real-life presence and exuberance for life to his role on the screen.

As the years rolled on, the 1970s brought with them a decline for Quinn, whose greatest screen moments were fading. He began to take roles in poorly made American films and even poorer international ones. His acting style was no longer in demand and his films became less and less memorable. His overacting now became a burgeoning issue. Out of the seventeen films that he made during the 1970s, only one film, Across 110th Street made in 1972 was considered a fairly solid effort on his part but nothing noteworthy.

Quinn's most memorable role will probably always be Zorba, although he did an excellent job as Zampano Zaptat's brother. Near the end of his eight-decade career, he portrayed a wonderful character in the role of Don Pedro Aragon in the 1995 movie, A Walk in the Clouds. As the grandfather of a vineyard owning family, Quinn still manages to steal scenes at eighty years old.

In a career spanning more than 65 years, Quinn appeared in more than 350 films and was often referred to by friends as being larger than life. But Zorba stands out as his best performance as an earthy peasant who teaches a bookworm the dance of life. This wasn't far from Quinn's own philosophy of life, which is why he probably excelled at this role. Like his character, Quinn was able to influence people with his impetuous nature and love of life. He had an energy that touched all that knew him. He liked the simple pleasures that life had to offer and although acting was his career, it was not his true passion. That is why he was able to make the abstract real in Zorba because he was able to exude his powerful presence.

Quinn once said about himself that "My worst fault is that at the end of the day I find it extremely difficult, almost impossible to turn off the character and let him rest until tomorrow. I'm that character until the film is finished." That may have been his greatest asset not his worst fault. He truly lived the role of each character he played and brought "life" to the role. That's what made him a dynamic and prolific character actor and occasionally, leading man. "I never get the girl. I wind up with a country instead." For much of his screen life, Quinn was a very effective, if not quiet performer who took great pride in his accomplishments. "I never satisfied that kid (referring to himself), but I think he and I have made a deal now. It's like climbing a mountain. I didn't take him up Mount Everest, but I took him up Mount Whitney. And I think that's not bad."

In his later years, Quinn became known for his marital indiscretions. In all, he fathered thirteen children and was married twice and had several affairs. At age 82, Quinn once again was a candidate for divorce, this time from his wife of 31 years. The outcome was a nasty split as one of Quinn's sons, 33-year-old, Danny Quinn told the court that his Academy Award-winning dad used to beat his longtime spouse. He told the court he never intervened because he was afraid and feared "my father would have killed me." But there was more to this story according to Quinn's lawyer. It appeared that Mrs. Quinn was as an angry woman who was lying about the details of their marriage to get more of her husband's money.

Quinn was upset by the theatrics of this breakup and the veteran actor said, "I'm glad I'm seeing it now while I'm still alive. I'm glad I can defend myself." Quinn's estate is said to be worth millions of dollars. That's in cash alone, not including the actor's prized art collection, which includes a Picasso original. Quinn was said to be most concerned with losing his art pieces in the proposed settlement. The couple married in 1966, shortly after the two-time Oscar winner (ended his 26-year-long first marriage to Katherine DeMille, the adopted daughter of movie legend Cecil B. DeMille. The couple met in 1961 on the set of the biblically themed epic, Barrabas in which Quinn was the star. The marriage hit the fan in 1993, when Quinn fathered a daughter with his secretary, Kathy Benvin, who was in her 30s. However, they did not separate. In July 1996, Quinn and Benvin had a second child, a son and she became his third wife.

Later in life, Quinn's leading roles grew fewer, and the actor, frustrated that he had been typecast in the U.S., left Hollywood to work in Italy. "What could I play here? They only think of me as a Mexican, an Indian or a Mafia don," he told the Associated Press in 1977. But he did continue to appear in some American-made films, including the Arnold Schwarzenegger flick Last Action Hero, and Spike Lee's Jungle Fever.

But Quinn had another passion in his life and that was art and sculpting. He had not only shown his work at international exhibitions, but he also amassed a substantial art collection, including an original Picasso, said to be worth millions. He honed his skills as an artist, enjoying both painting and sculpture. He had hoped one day to make his living as a painter or sculptor. He finally realized that life-long ambition later in his life.

It is interesting to note that early in his life, Quinn won a scholarship to work with Frank Lloyd Wright and they remained friends throughout his life. Perhaps his artistic persuasion was one of the reasons he enjoyed acting in Lust for Life. Alan Bates, who was Quinn's co-star in Zorba the Greek, tells that filming was often brought to a standstill by the noise of Quinn's sculpting. Another co-star, Arnold Schwarzenegger bought a painting of the Mother and Child for $250,000 from Quinn and made it a present to his wife, Maria Shriver, after the birth of their son Patrick.

Quinn was often described by his friends as being a multifaceted artist, who was also complex and interesting. He had an astounding career, both domestically and internationally. He was truly one of Hollywood's more colorful characters and made no bones about speaking his mind on any issue or living his life the way he wanted.

In 1995, Quinn played the character Zeus in several Hercules TV movies. The director, Josh Becker remembers meeting him and thinking that he had very keen insights into the character that he was playing. " Quinn was holding forth on who he thought Zeus was. Every point he made was a good one, not that he was pausing for validation. His insights were the keenest observations I'd heard about any character in the series. It was fascinating and informative. I wished I'd had a tape recorder. I could only think that this was the best actor I've ever been near. Finally, after I had stood there listening for about ten minutes, Bill, the director, introduced me, bless his heart. "If I'm Boy Number One," Bill poked his own chest, then pointed at me, "this is Boy Number Five." I shook hands with Mr. And Mrs. Quinn. "I'm also the second-unit director on this film," I added. Quinn nodded politely and walked over to shoot a scene. I followed after to watch."

Josh Becker's excerpt provides a glimpse into the Hollywood legend in his later years. But from the dialog we can see that he still maintained his presence and his opinions. "We did three takes, and Quinn was hysterically funny in all three. I thought it went brilliantly, and it is the single thing I miss most that did not make it into the films. Eric suggested that we shoot Quinn against the blue sky as a possible plate (with a blue background they could, if they cared to, superimpose Mr. Quinn on top of something else, like exploding volcanoes or a star field).

While the camera and silk (a big piece of silk to diffuse the sunlight) were being set up, I asked Mr. Quinn, "Why did you only direct the one picture, The Buccaneer?"

His amusement faded. I'd gone directly to a sore spot -- I have a knack for that. "At it's first preview people said, 'It's the best picture C.B.DeMille, Quinn's former father-in-law] ever made.' Since he was only the producer, he took it into the editing room and made sure it was no longer his best picture. It was also his last film."

Anthony Quinn was a man of many talents right up until his death. He spent many hours… [END OF PREVIEW]
Four Different Ordering Options:
?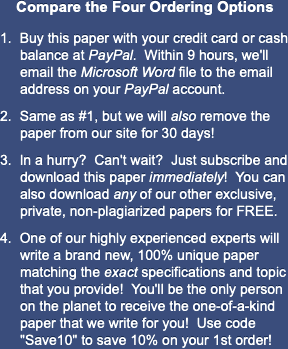 1. Buy the full, 10-page paper: $28.88
or
2. Buy + remove from all search engines
(Google, Yahoo, Bing) for 30 days: $38.88
or
3. Access all 175,000+ papers: $41.97/mo
or
4. Let us write a NEW paper for you!


Most popular!
Cite This Term Paper:
APA Format
Anthony Quinn. (2003, April 9). Retrieved June 26, 2019, from https://www.essaytown.com/subjects/paper/anthony-quinn-often-thought/4614790
MLA Format
"Anthony Quinn." 9 April 2003. Web. 26 June 2019. <https://www.essaytown.com/subjects/paper/anthony-quinn-often-thought/4614790>.
Chicago Format
"Anthony Quinn." Essaytown.com. April 9, 2003. Accessed June 26, 2019.
https://www.essaytown.com/subjects/paper/anthony-quinn-often-thought/4614790.