Case Study:
Awards Gold Standards Empowering Employees
Pages: 15 (4161 words) · Bibliography Sources: 1+ · Level: College Senior · Topic: Business · Buy This Paper
SAMPLE EXCERPT:

[. . .] Be aware of all fire and safety emergency procedures and report security risks immediately.

Protecting the assets of a Ritz-Carlton Hotel is the responsibility of every employee. Conserve energy, properly maintain our hotels and protect the environment ("Gold Standards").

It is these Gold Standards that have allowed Ritz-Carlton to not only become two-time winners of the Malcolm Baldrige Award, but also help them drive significant and sustainable change.

Empowering Employees to Implement an Award Winning Approach

For many patrons, "the most important element of their hotel stay is being pampered" (Barsky & Nash), and that is exactly what the Ritz-Carlton provides. In order to ensure that the highest levels of services are being provided to its customers, Ritz-Carlton empowers its employees to satisfy the customer, no matter what. Each employee's comprehensive training in the core set of corporate values is completed with certifications in guest service. Daily reinforcement of this commitment is also used to reiterate the company's commitment to quality service.

To further foster the employee's commitment to excellence in guest service, Ritz-Carlton frequently recognizes those who go above and beyond the call of duty. Employee appraisal systems hinge on the employee's deliverance of superior service. The expectation is simple: to do whatever it takes to make the customer happy. This is a high bar that has been set for the employees, and allows them to continually strive towards this level of excellence.

One of the innovative ways that the Ritz-Carlton maintains this culture of service excellence is through its Leadership Center. Embracing change, Ritz-Carlton opened the Leadership Center in 1999. The Center was originally created to support the phenomenal growth and expansion the Ritz-Carlton was experiencing. Today, "it has also flourished as a resource center for leading organizations interested in benchmarking many of the business practices that led to our becoming a two-time recipient of the coveted Malcolm Baldrige National Quality Award" ("Leadership Center").

At the Leadership Center, management from both the Ritz-Carlton and from outside companies learn how to increase employee and customer retention and loyalty, achieve service excellence in any industry, and how to effectively drive an organization through the use of culture, philosophy, vision and mission. These tools allow Ritz-Carlton, as well as their partner companies, to out-perform their competition and develop a "culture that promotes knowledge and sustainable change" ("Leadership Center").

The Ritz-Carlton is constantly looking to go one step beyond their competition, knowing that innovation and change go hand and are the true key to success. Inventive partnerships with companies such as Mercedes-Benz, for loaner vehicles to guests, go one step beyond what guests expect (Najjar). Even services such as the "compcierge," a computer savvy concierge to help patrons with any technical challenges they may come across, set the Ritz-Carlton on a higher plateau (Abernathy).

Check into any Ritz-Carlton hotel anywhere in the world and you will be greeted not only by the doorman, but also by a number of small, pleasant surprises. The hotel does not need to ask the name of your employer, your home address, whether you want a non-smoking room, or if your preference is for a non-allergenic pillow. All of this information was obtained during your previous visit to the Ritz-Carlton.

To your delight, the desk clerk greets you by name when you phone for a morning wake-up call and asks if you would, as usual, prefer breakfast in your room. When you awaken the next day, your favorite newspaper, The Wall Street Journal, is outside your door. You didn't even have to ask. Indeed, you sense that the hotel staff is somehow able to anticipate and respond to your every need, providing you with a feeling of satisfaction that comes from being among people who care about you as an individual. "Why would I ever stay anywhere else?" you wonder (Hart).

The Ritz-Carlton has gone to the trouble to create a database of its guests' preferences. This database lets hotel personnel know in advance customer's likes and dislikes, his schedule information, family and personal interests, his preferred credit card, and if there were any difficulties during their last visit, to ensure that they are not encountered again (Durrett).

Using TQM to Drive Change and Improve Customer Service

Total Quality Management (TQM) can be defined as a satisfaction of social shareholders via implementing effective planning, programs, policies, and strategies, as well as using human and other assets efficiently and continually within an organization" (Arasli). One of the most fundamental features of TQM is commitment to the process, by management. Management must not only support the various tasks of TQM, but they must participate in the process as well. At Ritz-Carlton, all levels of management are committed to TQM, knowing how it drives change, which continually improves upon quality, the lifeblood of their organization.

Ritz-Carlton management has developed their Gold Standards, their mission statement, and their entire environment around quality improvement. If any challenge is discovered to the process, the management at Ritz-Carlton acts immediately, removing these barriers from the deliverance and improvement of the highest levels of customer service in the industry. Furthermore, Ritz-Carlton's organizational structure was designed to facilitate the TQM process. An executive steering committee helps develop and implement the plans to improve customer service year in and year out, reviewing the progress of plans that have been recently implemented.

As mentioned previously, employees of Ritz-Carlton receive extensive training prior to working with the customer. Not only are they trained in the details of their specific job duties, but also the Ritz-Carlton Gold Standards are engrained into them. Included in this training are problem solving skills, to meet and anticipate the needs of each and every customer. When an employee completes their training, they know that it is expected of them to meet and fulfill every guest's needs both expressed and anticipated. Reeducation is an important part of the TQM program at Ritz-Carlton, as well. With annual employee training, each and every employee receives a refresher course on how to provide the high levels of service that Ritz-Carlton expects.

As part of TQM, Ritz-Carlton is continuously seeking to improve their processes and procedures in an effort to continually improve customer service. It is this continuous improvement that truly fosters change in the organization. And, it is this change that allows Ritz-Carlton to stay at the forefront of their industry, in quality, garnering them a competitive advantage that few others can match.

As a director of training at the Ritz-Carlton, Boston once put to his employees, "The Gold Standards are part of your uniform, just like your name tag, but remember, it's just a laminated card until you put it into action" (qtd. In Hemp). And put into action is exactly what the Ritz-Carlton employees are charged with doing. Each shift is started in the exact way to promote this action.

Just as in a restaurant where, in most cases, the chef will line up the waiters before the doors open to tell them about the specials of the day, Ritz-Carlton has 'line-ups'. All 22,000 staff have a meeting with their supervisor, manager, the vice-president or the chief executive at the start of their shift. No more than 15 minutes is spent on this two-way communication, but it covers all the essential items, from which VIPs are staying in the hotel today to staff suggestions (Mosely).

Every employee, around the world, receives the same 10 to 15 minute class on the topic of the day (Smith), ensuring that everyone is on the same page.

Employees have not only been trained in these methods of providing the highest levels of service, but they have been given the tools to make them happen, no matter what the price tag. "At the Ritz-Carlton organization, for example, the bellhop has a $2,000-per-incident budget for solving problems" ("Why HR Branding"). There is no fear of retribution in ensuring that a patron is satisfied with their experience at the hotel. Employees know that this is their number one priority, period, because Ritz-Carlton knows the value of a satisfied customer.

Loyal customers do more than patronize a hotel; they also encourage other people to try the property. Positive experiences shared by colleagues reduce a person's risk in picking an unknown hotel. Loyal customers create positive word of mouth by being strong advocates for a hotel. Almost one out of five respondents (19.3%) strongly agreed (a rating of 7) that they would go out of their way to mention a hotel to which they were loyal when the topic of hotels came tip (a total 0f 41.5% gave a 6 or 7 rating), in addition, respondents stated that they told a mean of 12 people (median 10) positive things about the hotel to which they claimed loyalty. Several years ago Ritz-Carlton placed the value of a loyal customer at more than $100,000 (Bowen & Shoemaker).

These tools help the employees do their job better. The procedures put in place to deal with customers has built quality into each and every interaction with… [END OF PREVIEW]
Four Different Ordering Options:
?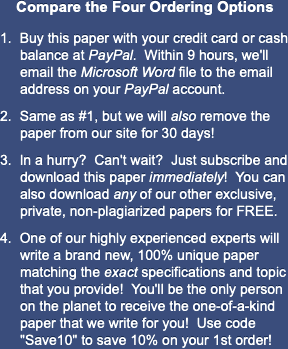 1. Buy the full, 15-page paper: $28.88
or
2. Buy + remove from all search engines
(Google, Yahoo, Bing) for 30 days: $38.88
or
3. Access all 175,000+ papers: $41.97/mo
or
4. Let us write a NEW paper for you!


Most popular!
Cite This Case Study:
APA Format
Awards Gold Standards Empowering Employees. (2004, August 12). Retrieved June 26, 2019, from https://www.essaytown.com/subjects/paper/awards-gold-standards-empowering-employees/3922978
MLA Format
"Awards Gold Standards Empowering Employees." 12 August 2004. Web. 26 June 2019. <https://www.essaytown.com/subjects/paper/awards-gold-standards-empowering-employees/3922978>.
Chicago Format
"Awards Gold Standards Empowering Employees." Essaytown.com. August 12, 2004. Accessed June 26, 2019.
https://www.essaytown.com/subjects/paper/awards-gold-standards-empowering-employees/3922978.