Essay:
BP Oil Disaster Impact
Pages: 8 (2793 words) · Bibliography Sources: 7 · Level: College Junior · Topic: Energy · Buy This Paper
SAMPLE EXCERPT:

[. . .] , On the Edge).

Tourism is the largest non-governmental sector of the Gulf Coast economy in Mississippi (National Commission 101). Many resorts, hotels and casinos saw canceled conventions and beach vacations which hurt business. The New Orleans Convention & Visitors Bureau received $5 million of $15 million in tourism-marketing money BP gave Louisiana to respond to the negative publicity from the spill (Juhas 15). New Orleans in turn advertised the fact the spill was 100 miles from the French Quarter -- its most popular tourist location which helped improve tourism rates. TV campaigns featured clean beaches and people swimming in Gulf waters. . The overall marketing push helped attract 8.3 million travelers in the latter half of 2010 -- an estimated economic benefit of $5.3 billion for the city that year (Bruce, BP's Image).

The Deepwater Horizon oil well was successfully capped in mid-July 2010 (National Commission 103). In an effort to reshape public perception, BP spent $93 million in corporate advertising between April and July 2010 to keep Gulf Coast residents up to speed about the recovery effort (Bruce, BP's Image). The "Make It Right" campaign included a YouTube channel and national TV commercials, and delivered messages about the steps BP was taking to restore the Gulf Coast after the spill (Sisson 23). Initially, the campaign featured former BP CEO Tony Hayward assuring the public that BP was taking responsibility for the spill -- at no expense to tax payers. The campaign was later redeveloped to include images that had outraged the public early on. For example, wildlife commercials showed the oil-soaked pelican featured on the cover of Time Magazine oil free and being released into clean waters. In a Mississippi Fishermen message, once angry fishermen were shown happy again and open for business. BP reinterpreted their role in the disaster by pushing a new agenda -- "BP has got to make things right and that's why we are here." The ultimate goal was to improve the view of the organization in the eyes of the American public and company shareholders (Bruce, BP's Image). Still, the campaign was criticized for being too expensive -- taking dollars away from those impacted financially by the disaster (Klein 15).

BP has paid $6 billion to over 100,000 oil spill victims through a $20 billion trust it established in 2011, which makes it one of the largest class-action settlements in U.S. history (Juhas 15). The company also pledged $57 million to promote Gulf Coast tourism (Klein 20). BP has agreed to pay medical claims for cleanup and other workers who say they have illnesses related to exposure to chemicals used to disperse the oil (Weeks 683). Over $104 million in grant money was included in the BP Deepwater Horizon oil spill settlement (Walsh, The Spill's Psychic Toll). Health care services in southeastern Louisiana will get a large portion cover five years of services, include $50 million for a Primary Care Capacity Project to expand and improve access to health care in underserved coastal communities, $36 million for behavioral and mental health needs, and $4 million to train community health workers (Bruce, BP's Settlement). Another $15 million will be used to expand environmental health expertise and literacy and finance a new online library of information about the spill.

It is hoped that at the end of the program, Gulf coastal communities will have higher quality care, more sustainable and more responsive and interlinked health care services, especially as it relates to primary care, environmental health and mental and behavioral health services (Walsh, The Spill's Psychic Toll) The project will reach out to children and their families in particular since surveys revealed that coastal residents affected by the spill were experiencing more mental and behavioral health problems than those who were not affected (National Commission 105). Louisiana will receive $14.4 million, or 40% of the mental and behavioral health grant. Alabama and Mississippi will both receive $8.28 million or 23%, and the Florida panhandle will receive $5.04 million, or 14% (Guarino, BP Oil Settlement).

The official deadline to file BP claims is April 22, 2014, and plaintiffs are allowed to appeal the amount they are awarded. If plaintiffs accept the settlement, they are prohibited from taking further legal action against BP, although they could still pursue litigation against Transocean and Halliburton. Some of the Transocean rig workers and their families are yet to settle injury and death claims resulting from the explosion.

The spill has taught the world many lessons. The Interior Department has undergone major changes. One month after the oil spill began, Interior Secretary Ken Salazar implemented an aggressive overhaul of his department's offshore oil and gas drilling management (Juhas 15). He announced that the much-maligned Minerals Management Service would be split into three agencies to minimize the conflict of interest created when leasing, revenue collection, and drilling inspections were done under the same umbrella. He also established more rigorous drilling and safety standards, enhanced environmental reviews, and more systematic workplace rules and regulations (Sisson 22).

The oil and gas industry, led by the American Petroleum Institute, have now created four task forces to examine deepwater drilling safety (Klein 18). Other major reform efforts include the creation of the Marine Well Containment Company and the Helix Well Containment Group to improve industry's ability to contain a spill in deep waters (Juhas 15). New standards will benefit U.S. companies and others around the world. President Obama instituted a spill commission that determined that systemic failures throughout the industry caused the spill and that better regulatory oversight and corporate social responsibility is needed (National Commission 105).

The spill's environmental impact is legally tied up and won't be released until the legal challenges related to the ecological impacts are either settled or go to court, which could take years (Guarino, BP Oil Settlement). Scientists are measuring the impact in other ways, such as looking at the reproductive downturn of Gulf wildlife like shrimp as a signal of the spill's detrimental impact. Some scientists have also linked the recent discovery of oiled, dead dolphins to the spill, but much of that information is also being kept confidential. It is clear however, that better technological methods and standards in drilling are required.

Change is evident. Regulators have toughened inspections. Oil companies have adopted more rigorous safeguards. University and corporate laboratories developing new cleanup technologies, and spill drills are now a regular part of coastal community emergency preparedness planning. Experts are looking for ways to create a more foolproof blowout preventer and safer drilling techniques. Government has greater recognition of the environmental and economic risks associated with over-reliance on fossil fuel and is working on new taxation for the burning of oil and other fuels. There is renewed effort to find cleaner, lower cost alternatives to oil -- to safeguard human life, wildlife, the environment and the overall global ecology.

References

Australian National Research Centre for Occupational Health & Safety Regulation. Management Walk-Arounds: Lessons from the Gulf of Mexico Oil Well Blowout. Published February 2011.

Bruce, Horovitz. "BP's image won't be easy to clean." USA Today n.d.: Academic Search Premier. Web. 24 June 2012.

Guarino, M. "BP oil spill settlement: Justice for 100,000 Gulf Coast victims?" Christian Science Monitor. p. N.PAG. Web. 24 June 2012.

Juhas, Antonia. "Two Years Later: Bp's Toxic Legacy. Special Investigation." Nation 294.19 (2012): 11-15. Academic Search Premier. Web. 24 June 2012.

Klein, Naomi. "After The Spill." Nation 292.5 (2011): 11-18. Academic Search Premier. Web. 24 June 2012.

National Commission on the BP Deepwater Horizon Oil Spill and Offshore Drilling. Report to the President of the National Commission on the BP Deepwater Horizon Oil Spill and Offshore… [END OF PREVIEW]
Four Different Ordering Options:
?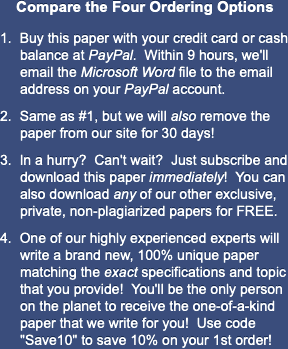 1. Buy the full, 8-page paper: $28.88
or
2. Buy + remove from all search engines
(Google, Yahoo, Bing) for 30 days: $38.88
or
3. Access all 175,000+ papers: $41.97/mo
or
4. Let us write a NEW paper for you!


Most popular!
Cite This Essay:
APA Format
BP Oil Disaster Impact. (2012, June 24). Retrieved June 15, 2019, from https://www.essaytown.com/subjects/paper/bp-oil-disaster-impact/4009658
MLA Format
"BP Oil Disaster Impact." 24 June 2012. Web. 15 June 2019. <https://www.essaytown.com/subjects/paper/bp-oil-disaster-impact/4009658>.
Chicago Format
"BP Oil Disaster Impact." Essaytown.com. June 24, 2012. Accessed June 15, 2019.
https://www.essaytown.com/subjects/paper/bp-oil-disaster-impact/4009658.