Research Paper:
Budget Plan Is a Quantitative
Pages: 8 (2353 words) · Bibliography Sources: 2 · Level: Master's · Topic: Economics · Buy This Paper
SAMPLE EXCERPT:

[. . .] The annual expenditure is more than the annual revenue. Typically, the School District uses approximately $10 Million to fund the balance leaving $3 Million for the future year.

Syracuse Revenue Category

Amount

Percentage

State Aid (Net of STAR)

City School District

$250,186,031

AIM State Aid

$71,758,584

Mortgage Tax

$1,000,000

State Highway Maintenance

$174,690

State Highway Aid

$2,183,060

State Aid-Traffic Control Center

$294,388

Youth Projects

$30,000

$325,626,753.00

52.7%

Real Property Taxes

School Property Tax Levy

$64,094,544

City Property Tax Levy

$33,212,083

$97,306,627.00

15.7%

Real Property Tax Items

Payments in Lieu of Taxes

$5,374,335

Special Lighting Tax

$212,900

Assessable Improvements

$305,000

Tax Fees and Penalties

$920,000

Prior Years' Tax Collections

$2,264,000

Less: Uncollected City and the School Taxes

($4,868,340)

$4,207,895.00

0.7%

Non-Property Taxes

Sales Tax

$73,787,263

Utilities Gross Receipts Tax

$2,300,000

CATV Franchise Tax

$1,500,000

$77,587,263.00

12.6%

Other Revenues

Departmental Revenues

$15,152,410

Special Funds

$57,988,086

City School District and Other Revenues

$9,829,450

General City and Other Revenues

$11,179,075

City School District- the Surpluses & Balances

$10,000,000

General City- the Surpluses & Balances

$13,000,000

Less: Interfund Revenues

($4,025,000)

$113,124,021.00

18.3%

TOTAL

$617,852,559.00

Syracuse Expenditure

Amount

Percentages

Education

City School District:

Including Debt Service and Capital Appropriation

$334,110,025

54.1%

Capital Appropriation & Debt Service (City)

Capital Appropriation

$3,131,000

0.5%

Principal Interest on Bonds & a Notes

$17,461,720

2.8%

Operation and Maintenance (City)

Police

$45,354,435

7.4%

Fire

$29,928,835

4.8%

Pubilc Works

$31,390,606

5.1%

Water

$16,587,808

2.7%

Sewer

$4,025,052

0.7%

Parks and Recreation

$822,860

3.8%

Aviation

$23,634,651

3.8%

Engineering

$8,682,956

0.2%

$1,667,771

0.3%

Finance, Audit, Assessment

$2,710,104

0.4%

Neighborhood & Business Development

$3,973,952

0.6%

Executive

$3,030,347

0.5%

City Clerk, Common Council

and Citizen Review

Board

$822,860

0.1%

Employee Benefits

$82,149,184

13.3%

All Other Net Appropriations

$8,682,956

1.4%

TOTAL

$617,852,559.00

Analysis and Evaluation of the Capital Budget

Capital budget is different from operating budget in the sense that capital budget provides the strategy that an organization employs to invest capital assets in order to generate cash flow benefits for more than one year.

"The capital program is generally financed by borrowing money, usually through the sale of bonds. This differs from the city's Expense Budget, which covers day-to-day operating expenditures and is financed by city taxes and other revenues along with state and federal aid. In fiscal year 2011-2012, over 75% of the capital program was city funded, and the rest was supported by state, federal, and private grants" (New York City, 2010 P. 2).

The Syracuse City engages in capital projects that range from building schools, repaving street to buying fire trucks. Typically, the City capital project consumes a significant amount of 2011- 2012 budget because the City engages in the capital expenditure to achieve its capital budget objective. For example, the City Capital Appropriation for the 2011-2012 budgets is $3.13 Million which is 0.5% of overall budget. Moreover, Principal and Interest on Bonds and Notes are the parts of the capital expenditures of the City totalled $17.5 Million which is 2.8% of the overall budget.

The capital project is good for the city because it enhances the overall capital improvement. Part of the capital project embarked by the City includes:

Community Center Repairs

Fire Station Rehabilitation

Park Facility Improvements

Park & Playground Safety Improvements

City School District (See Table 3).

Table 3: 2011/12 CAPITAL IMPROVEMENT PROGRAM

Method of Financing

Total

Cash

Borrow ed

Program/Project

Cost

Capital

Funds

Other

Source

CITY SCHOOL DISTRICT

Joint School Construction

$0

NYS School Funding Plan

Motor Vehicles:

$500,000

$500,000

TOTAL CITY SCHOOL DISTRICT

$500,000

$0

$500,000

$0

TOTAL ALL CITY FUNDS & SCHOOL DISTRICT

$105,547,890

$8,056,550

$16,170,030

$81,321,310

Despite the capital expenditure embarked by the City, is essential to realize that much of the capital project embarked by City is being financed by the bonds. The City capital programs are generally financed by the borrowed money raised through the sale of bonds. Overview of the budget reveals that the City is paying approximately $17.5 Million on interests on the money raised from the bonds. Thus, much of the City expenditure goes directly to fund debt raised by the City, and this is really affecting the budget of the City. In the 2011-2012, budget, the overall capital expenditure on capital project on community and economic development is approximately $800,000. The capital expenditure on fire is $1.4 Million. The City also embarks on capital expenditure for the police improvement and park improvement worth $6.5 Million and $2 Million respectively. The project on public works totalled $45.5 Million and the project on building improvement totalled $9.5 Million. (Miner, 2013). Despite the importance of this entire capital project, the City is not going to realize any immediate financial benefits from these projects. However, much of this project is for community development where the City is not generating revenue from them.

Improvement of the Budget Process and Public Presentation

The City needs to devise another strategy to generate funds rather than solely relying on aids from New York government. The city should embark on the capital project that could earn revenues for the city. For example, the City should build more amusement parks that… [END OF PREVIEW]
Four Different Ordering Options:
?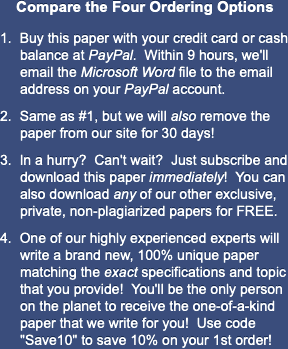 1. Buy the full, 8-page paper: $28.88
or
2. Buy + remove from all search engines
(Google, Yahoo, Bing) for 30 days: $38.88
or
3. Access all 175,000+ papers: $41.97/mo
or
4. Let us write a NEW paper for you!


Most popular!
Cite This Research Paper:
APA Format
Budget Plan Is a Quantitative. (2013, May 10). Retrieved May 23, 2019, from https://www.essaytown.com/subjects/paper/budget-plan-quantitative/2273425
MLA Format
"Budget Plan Is a Quantitative." 10 May 2013. Web. 23 May 2019. <https://www.essaytown.com/subjects/paper/budget-plan-quantitative/2273425>.
Chicago Format
"Budget Plan Is a Quantitative." Essaytown.com. May 10, 2013. Accessed May 23, 2019.
https://www.essaytown.com/subjects/paper/budget-plan-quantitative/2273425.