Research Paper:
Capacity and Demand Reconcilliation
Pages: 8 (2913 words) · Bibliography Sources: 8 · Level: Master's · Topic: Teaching · Buy This Paper
SAMPLE EXCERPT:

[. . .] Library staff is encouraged to identify and reserve on-campus spaces that have electrical and Internet connections which could be accessed during peak hours. For instance, classrooms that have conveniently accessed electrical connections sit idle during evening hours, and these classrooms can be fitted with wireless modems to enable use by students with laptops that are configured for wireless use.

Most students have laptops with wireless modems. For those who do not, of whom there is likely to be a limited number, the library is encouraged to work with campus facility maintenance, local electrical inspectors, and the local Fire Marshall to explore the use of ancillary electrical connections and Internet connections. Upon approval from the appropriate authorities, surge protectors on construction grade extension cords could be secured to the floor with threshold-type encasements to prevent damage from foot traffic and to prevent students from tripping on the cords. These electrical extensions could be run along the walls of the library where carrels dominate or where tables are situated away from windows. If this component of the short-term strategies is not implementable due to fire prevention and safety regulations, it is quite reasonable to expect that a reduced demand for tables proximal to actual electrical and Internet connections will offset and accommodate the demand for these spaces by students who do not have wireless capacity in their laptops.

The effective capacity of the private study and meeting rooms is reduced when a single student occupies the space for study. This is further compounded by the fact that private study and meeting rooms typically offer electrical and Internet connections. Essentially, when one student occupies a private study or meeting room intended for six people, the design capacity of the private room is substantively constricted. In addition, the overall capacity of other spaces in the library is impacted when one person occupies a private study and meeting room designed for six to eight people, as those potential occupants are forced to find other space in which to study, effectively exacerbating the overall capacity strain of the library. Private study and meeting rooms in the library that are fitted with electrical and Internet connections can be used to greater capacity by enforcing the rule that study and meeting rooms must be used by more than one person. In addition, at high-volume usage times, students will be directed to use any available campus-wide library space for study.

Medium-term strategy. The medium -term strategies employed include the following:

1. Determine capacity -- demand factors for library system as a whole.

2. Reconsideration of library use of space for reference materials and collections.

The library has used an aggregated planning system to achieve a broad view of the aggregate demand and capacity issues. By employing the use of GIS in order to monitor and analyze library study space demands, confirmation of the appropriateness of a chase demand strategy was achieved. The greatest challenges to the library are not related to an assessment of the demand for study space; in fact, this has been effectively achieved. The library must address the design capacity and effective capacity issues of the library facility through a temporary consideration of space usage other than that available in the ABC library.

To address the cumulative demand that was discerned by aggregating data about student use of study space at all the libraries, management decided to treat all the on-campus libraries as components of a larger whole. All library hours were evaluated against the capacity -- demand issues of the ABC Library. As a result of this analysis, the hours at the Aungier Street library and the Dame Street library will be adjusted to augment and complement the hours at the ABC Library. During peak weekday and weekend usage, all libraries will extend their hours to accommodate study demand. Staffing costs should remain close to the same levels as before this adjustment. The patterns of library usage have been clearly established enabling adjustments in staffing to better reflect demand. For instance, the libraries will be closed weekday mornings and Saturday mornings until 10:00 A.M., closed Friday afternoons after 3:00 P.M. And closed Sundays until 1:00 P.M. As very few students access the library during marginal hours.

Perhaps the most important consideration for library space use is the impact of digitization on library collections and reference materials (Carlson 2009). This is both a medium-term strategy and a long-term strategy. In the medium term, librarians must consider what hard-copy materials they can locate in remote stacks in order to create study space (O'Connor & Jilovsky 2008). With more students accessing the Internet, this trade off may have less impact than librarians may immediately wish to concede (Schoenfeld & Housewright 2009).

Long-term strategy. The long-term strategies employed include the following:

1. Install card-reader technology capable of sorting library usage types.

2. Commission a technology platform for usage-sensing on mobile digital devices.

The recommendations from the capacity -- demand study at ABC Library will become part of the Dublin Business School's capital expenditures long-range report. As such, recommendation may include the addition of budget items assigned to capacity development stages across 10 years. Given the continually changing technology landscape, recommendations are provided herein for several technological systems that will address issues related to capacity -- demand fluctuations and the increased number of enrolled students. One such system, which is rudimentary with regard to application to room capacity and usage, is the Geographic Information System (GIS) maps platform. GIS was used to monitor and assess space usage at the University of Arizona Main Library, "manipulating a spatial dataset and presenting the occupancy of study space in visualized forms" (Xia 2005: 220). The GIS system was not entirely effective in this adaptation, as it required assumptions and accommodations related to its original technological purpose. For instance, the GIS could discriminate between a single chair being used at study table, and other unused chairs at the table. The following are recommendations from the capacity -- space reconciliation study:

Recommendations include the installation of information technology that tracks the number of students entering and exiting various discrete spaces within the library. This technology would enable library staff to monitor student's intentions with regard to use of space, as this could be easily tracked by using separate card readers designated by intended use at the point of entry and exit. Or the technology can utilize simple RFID tracking (Howard 2009). Based on the fluctuations in this data, library staff would be able to show real-time library capacity for the various study spaces in the library across the campus.

Further, an added attraction to incoming students and university admission applicants would be a high concept technology platform for mobile digital devices that has usage-sensing capacity across the on-campus libraries. The recommendations include outright purchase -- or commissioning the development -- of a download for mobile digital devices that enables students to assess available study space options from their phones prior to making commitments to use study spaces. This technology would employ a platform similar to what is used to monitor commute traffic and accidents on major highways. The end result is that, rather than having library staff request after-the-fact access to overflow classrooms, students would have the ability to make those assessments on their own and make a priori decisions about where to study from their mobile digital devices.

References

Carlson, S. 2006, September 1 Library Renovation Leads to Soul Searching at Cal Poly. The Chronicle of Higher Education. Retrieved http://chronicle.com/free/v53/i02/02a05901.htm.

Cohen, A. 2011, May 4. Kindle lending library -- (e-book) learning environment. [Blog]. Aaron Cohen Associates. Retrieved http://www.acohen.com/blog/?tag=library-space-planning

Cohen, A. And Cohen, E. 1979 Designing and space planning for libraries: A behavioral guide. New York, NY: R.R.Bowker. Retrieved http://www.textbooksrus.com / search/BookDetail/?isbn=0835211509&kbid=1067

Howard, J. 2009, October 16 Special collections as laboratories [Blog], Wired Campus, Chronicles of Higher Education. Retrieved http://chronicle.com/blogs/wiredcampus / special-collections-as-laboratories/8490

O'Connor, S., and Jilovsky, C. 2008 Approaches to the storage of low use and last copy research materials. Library Collections, Acquisitions, and Technical Services 32, no. 3-4: 121-126.

Schoenfeld, R.C. And Housewright, R. 2009, September 29 What to withdraw? Print collections management in the wake of digitization. Ithaka S+R. Retrieved http://www.ithaka.org/ithaka-s-r/research/what-to-withdraw/

What%20to%20Withdraw%20-%20Print%20Collections%20Management

%20in%20the%20Wake%20of%20Digitization.pdf

Slack, N., Chambers, S., and Johnston, R. 2009 Operations management, 6th ed. Retrieved http://ebookee.org/dl/Operations-Management-By-Nigel-Slack-Stuart-Chambers-Robert-Johnston-6th-edition/

Xia, J. 2005 Visualizing occupancy of library study space with GIS maps. New Library World, 106 (1212-1213), 219- 233. Bingley, UK: Emerald Group Publishing. doi10.1108//03074800510595832. [END OF PREVIEW]
Four Different Ordering Options:
?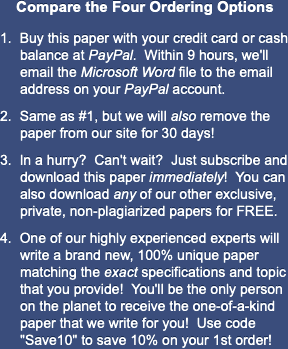 1. Buy the full, 8-page paper: $28.88
or
2. Buy + remove from all search engines
(Google, Yahoo, Bing) for 30 days: $38.88
or
3. Access all 175,000+ papers: $41.97/mo
or
4. Let us write a NEW paper for you!


Most popular!
Cite This Research Paper:
APA Format
Capacity and Demand Reconcilliation. (2011, May 5). Retrieved June 16, 2019, from https://www.essaytown.com/subjects/paper/capacity-demand-reconcilliation/1353896
MLA Format
"Capacity and Demand Reconcilliation." 5 May 2011. Web. 16 June 2019. <https://www.essaytown.com/subjects/paper/capacity-demand-reconcilliation/1353896>.
Chicago Format
"Capacity and Demand Reconcilliation." Essaytown.com. May 5, 2011. Accessed June 16, 2019.
https://www.essaytown.com/subjects/paper/capacity-demand-reconcilliation/1353896.