Data Analysis Chapter:
Catholic Voices Data Analysis
Pages: 10 (2900 words) · Style: Harvard · Bibliography Sources: 10 · Level: Master's · Topic: Mythology - Religion · Buy This Paper
SAMPLE EXCERPT:

[. . .] " (Allen, 2010) It is stated that what is needed is "to reflect on this experience, how well it went and what we can learn from it, and then think about the future. Of course, the future will require funding, where it will come from and so on. Without a papal visit on the horizon, will there be the same generosity we've had from this team?" (Allen, 2010)

Allen (2010) reports that the debate with Christopher Hitchens and Archbishop John Onaiyekan of Nigeria was "a massacre. They started out about sixty percent against the motion and they ended up being 95% against it or something like that. The motion was "the Catholic Church is a force for good in the world," so it wasn't exactly hard-hitting. That debate led to all sorts of conversations, especially because it was around that time the papal visit was announced. It was the coincidence of those two things. The debate also led to a cri de coeur, in the Catholic papers particularly, of where are the articulate Catholics, where are the public intellectuals who can take a stand? Why don't we have debaters of the quality of Stephen Fry and Christopher Hitchens? We have Catholics like Ann Widdecombe who are very good at a certain kind of response. But when you're taking on atheists, secularists and humanists, there's a certain language you need to speak. Because of the upcoming papal visit, the question for us was, who are the Catholics they're going to go to?" (Allen, 2010)

Process of Selection

It was asked in the interview if they were seeking individuals who could "go toe-to-toe with the Richard Dawkins and Christopher Hitchens of the world?" The interview answered by stating: "Actually, no. What we wanted to do was to create a team that would make itself available to studios. It was really conceived as a means of filling the chairs in the studios during the visit. But we also knew that there would be debates, and there have been, and we thought some of these Catholic voices would be good for that. Primarily, it's a media project." (Allen, 2010) When Allen asked the interview how Catholic voice is defined the answer given is that they first "…came up with a selection procedure. We had about ninety who applied, which amazed us actually, because it wasn't widely publicized." (Allen, 2010)Stated to be the criterion for the selection of the individuals who form the Catholic Voices were the following: (1) They would need to be available every two weeks in London and they needed to be residing in or near London because this is where the studios are; (2) Presentation skills must be excellent; and (3) The third criterion was that of Catholicity and that is precisely where "the controversy arises. We defined it in two ways. We wanted people, obviously, who are regular Mass-goers, but also who are part of the church in lots of ways. They might belong to a church organization, but in some way they just understand and know the church. The second thing was that they have to be comfortable with all aspects of church teaching, comfortable enough to put the church's view across in a way that doesn't make them squirm. Interestingly, that did automatically exclude people who are critical of the bishops from either side." (Allen, 2010) It is noted that the ability and capacity to clearly articulate what the individual is attempting to convey was key in the process of selection of the Catholic Voices. These individuals were required to be of the nature that have the ability to enter into dialogue with those who are vehemently in opposition in viewpoint and these individuals have to be able to negotiate such discourse fluently and smoothly without allowing emotions to interplay in the discourse. These individuals were chosen for a great part upon the basis of their emotional intelligence as well as an excellent ability to enter into discourse.

Frequency of Appearances

The frequency that these individuals appeared would also serve well to judge the impact that they had upon the Papal Visit of September, 2010, and upon the situation since that time. Allen (2010) asks the question of whether or not the frequency of the appearances of the Catholic Voices have been tracked, and the interviewee answers by stating as follows: "It's like trying to catch raindrops at the moment. We set out to try to record both radio and TV and put it up on our web site, but it's been impossible in the last few days because there's been so much. In the evaluation we're all going to be self-critical about that. We needed one person actually just to record. We actually started much earlier than we thought we would, because the demand started earlier. In the last three or four weeks it's been heavy, becoming heavier the closer it got. I don't know for sure, but we're certainly over a hundred radio and TV appearances. That covers everything from local radio to the "Today" program on Radio Four, and it covers everything from some obscured TV station nobody's ever heard of up to News 24 and News at Ten and News Night and so on." (Allen, 2010) According to the interviewee, the role of the Church worldwide is the promotion of the rights of "the elderly, the unborn, immigrants… the whole Catholic social vision is unfamiliar to many of the people listening to the radio or watching TV, and by the way, was unfamiliar to most of the Catholic voices." (Allen, 2010)

Allen asks if it is possible that the Catholic Voices have "stumbled across a model for adult faith formation" and the interviewee responds by stating "Whatever we do about the speakers and media training, we want to create some kind of forum, almost an academy, for Catholic public intellectuals. The relationships we've formed with the experts have been enormously helpful. They've been delighted, because the idea has so appealed to people. I think what the pope has been saying in these days, in these speeches, underscores the need for something like this. There's been a constant summons to the lay faithful to take their place in the public square. That's the great theme of this visit, to combat aggressive secularism and so on. How do we obey the pope's call through Catholic Voices? It is really about reviving the art of apologetics." (Allen, 2010)

Success of Catholic Voices

When asked how the interviewee believes that the initiative is proceeding he answers by stating that it is going "…fantastically. I knew the incredibly negative coverage before he arrived was actually doing us a favor. I knew that the pope would defy people's expectations, because he always does that. But I've been amazed by how successful it has been. One the newspaper editorials today said, "British people are listening with curiosity and respect." Before the trip began, I said I would judge its success by one criterion only -- did people listen? I think they are listening. There are obviously people who are going to listen and then disagree, but I think he's struck a chord. Now, this visit comes at a very propitious time politically. When this visit was first announced by the previous government, the common agenda between the government and the Holy See was all about international development and poverty. It's been fascinating to see how the new government has reframed the visit, keeping that but adding the contributions of faith to building community. It's David Cameron's "Big Society" agenda, which really comes from Philip Blond, the author of Red Tory, who is a disciple of John Milbank. I recently saw them both in Rimini [the annual gathering of the Communion and Liberation movement in Italy]. Blond told the audience that his ideas had been formed by coming to Rimini over the last four years. Of course, Rimini is Catholic civil society in action and on display, it's really impressive. So, there you have Cameron's chief advisor, who's created the idea of the "Big Society," getting it from the Catholic social teaching and subsidiary… [END OF PREVIEW]
Four Different Ordering Options:
?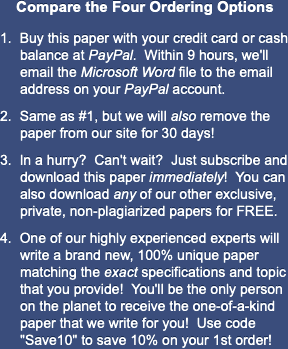 1. Buy the full, 10-page paper: $28.88
or
2. Buy + remove from all search engines
(Google, Yahoo, Bing) for 30 days: $38.88
or
3. Access all 175,000+ papers: $41.97/mo
or
4. Let us write a NEW paper for you!


Most popular!
Cite This Data Analysis Chapter:
APA Format
Catholic Voices Data Analysis. (2011, April 24). Retrieved May 20, 2019, from https://www.essaytown.com/subjects/paper/catholic-voices-data-analysis/4143070
MLA Format
"Catholic Voices Data Analysis." 24 April 2011. Web. 20 May 2019. <https://www.essaytown.com/subjects/paper/catholic-voices-data-analysis/4143070>.
Chicago Format
"Catholic Voices Data Analysis." Essaytown.com. April 24, 2011. Accessed May 20, 2019.
https://www.essaytown.com/subjects/paper/catholic-voices-data-analysis/4143070.