Term Paper:
Clery Act the Freedom Information
Pages: 20 (5610 words) · Bibliography Sources: 1+ · Level: College Senior · Topic: Criminal Justice · Buy This Paper
SAMPLE EXCERPT:

[. . .] In 1990, he reported that violent crime went down to more than 50% chiefly as a result of increased crime awareness in the community.

Through the court action they took against the murderer and Lehigh, the Clerys and their associates realized and emphasized the gravity of the responsibility of campus administrators in protecting their students against crime (Security On Campus). They also believed that only court litigation appeared to be the most effective way of compelling these administrators to confront the reality of campus violence and to act on it promptly and appropriately.

Security On Campus, Inc. also established in 1989 the Campus Victims Litigation

Program, the first of its kind in the country, which produced a database of case law in civil actions by victims or their families of campus crimes, as well as victims of administrative cover-ups of such crimes. The organization makes this valuable legal information to victims, their counsels, their families and other parties who wish to contribute something in preventing campus crimes.

The Clery Act made more waves. Just last month, the U.S. Department of Education regional office in Philadelphia sought a $385,000 fine from Salem International University for failure to comply with the Jeanne Clery Act reporting requirements, according to the Security on Campus, Inc. (2004). In its February 2000 Final Program Review Determination Letter to the Department of Education, Salem Police Chief ET Howell recommended 14 separate fines on the school, each at a maximum of $27,000. Five of these fines were for failing to report and for improperly handling five forcible sex offenses between 1997 and 1999 (Security On Campus). The Administrative Actions and Appeals Division (AAAD), a separate entity within the Department, could impose the fines and the school could appeal the action at an administrative court. The development was viewed and welcomed by Security on Campus Inc. As a very strong signal to other violating colleges and universities to become more transparent with crime occurrences in their campuses and to come clean with them. It said that students everywhere needed to have this information so that they could avoid these campus crimes and have something they can use in pressuring their schools to do something when the crimes happened.

The Salem development was preceded by the fining of Mt. St. Clare College in Iowa, which was fined with $25,000, but later settled it at $15,000 in 2000.

A lawsuit filed by Lisa Simpson through her lawyer, Kim Hult, in 2002 brought the attention of the educational community and the public to the University of Colorado. This was reported by Erik Brady at USA Today and featured at the Security On Campus, Inc. The issue was a mixture of sexual, football, alcohol and violence against women violations and invoking Title IX on sexual harassment in campuses. This Title bans sex discrimination at schools that receive federal funding and is most frequently practiced during sports competitions for a three-part formula that determines if a particular school is fairly apportioning opportunities to play. It was, however, not widely known that schools could be sued for monetary damages for allowing sexual harassment in any setting or event, under Title X, including sports.

Three women reported that they had been raped by Colorado football players or recruits during or after an off-campus party in Boulder, Colorado in 2001 and filed federal lawsuits against them. They complained that the atmosphere at Colorado University football program was hostile to women recruits by holding parties where sexual favors were expected from them (Security On Campus).

The National School Boards Association of Alexandria, Virginia said that it was making its own observations on the incidents and the trend, according to its counsel, Tom Hutton. Another lawyer, Christopher Parent, from Denver, specializes in sports laws and has written on Title IX and sexual harassment. He said that if the suits progressed in favor of the complainants, the athletic departments of schools where athletes have been accused of sexual assault could be similarly sued in court.

The complainants were nine women who accused Colorado football players or recruits of assault during a 1997 recruiting party. They did not file charges then but the state attorney-general decided that no charges were warranted: the women did not prove rape in order to prevail (Brady). But in collecting monetary damages, they had to prove that the University was aware of the claimed hostile environment and refused to take necessary measures to stop it. They further needed to prove that the alleged harassment deprived them access to educational opportunity and that the harassment occurred during an educational program or activity (Brady as qtd in Security On Campus). These matters had to emphasized, because players in other schools, such as the University of Alabama at Birmingham and the University of Oklahoma State in recent years but these were settled and, therefore, could not set the precedence as regards Title X on the sexual harassment law.

Complainant Simpson's lawyer Kim Hult commented that schools today cannot just allow women to be used just to assure the success of a football team and that female students should be respected and valued in the same way as football players (Brady). One of the women complainants also alleged race discrimination and retaliation.

The Federal Magistrate Judge Craig Shaffer said that procedural disagreements over depositions could postpone the trial to next year and that the women complainants could change their suits in response to new developments resulting from the spread of the scandal.

In the Davis vs. Monroe County Board of Education verdict in 1999 (526 U.S. 629, 650), a claim for monetary damage/s under Title X must clearly establish that the defendant school was deliberately indifferent to sexual harassment, had actual knowledge of it, and the harassment was so severe, pervasive and objectively offensive that it denied the complainant/s of access to educational opportunities or benefits made available by the school.

It was a different scenario for four former students at Morehead State University in Kentucky who were sued in court for sexual crimes (Security On Campus). After hearing the testimony of a state police detective and that of the victim's father, Rowan County Circuit Judge Beth Maze last month cancelled the two-year sentence she had earlier imposed on the young men accused of having sex or watching others have sex with the then drunk 17-year-old complainant in a campus dormitory (Associated Press 2004 as qtd in Security On Campus).

Student demonstrations in the eastern Kentucky campus called public attention when these demonstrations accused university officials of hiding the incident. The four accused, ages ranging from 19 to 21, pleaded guilty to facilitation of the use of a minor in a sexual performance (AP). A fifth defendant was previously freed of charges for cooperating with the police and the prosecutors from the start of the case.

Kentucky State Police Sgt Brian Bowling investigated the case, which occurred at Waterfield Hall on September 14, 2002 when the complainant was drunk and, thus, could remember little about the incident. Sgt Bowling at first filed a rape case, but the victim could not remember what happened and others in that hall said that the complainant was a willing participant in that incident (AP).

She sought treatment at a campus clinic, which denied it, since it said that she needed parental consent. Two days later, she was treated at a northern Kentucky hospital for internal injury and ankle bruises. Sgt Bowling, however, said that the campus clinic should not only have treated her but also reported the matter to the police, but neither was done.

Meanwhile, federal police officials are investigating the improper reports made by the West Virginia University that made its campus look safer (The Pittsburgh Channel 2004 as qtd in Security On Campus). Officers Robert Ryan and Ken Fike and former officer Dan Holsinger won a case against the University, which misrepresented burglaries in its dormitory rooms as larcenies. The officers said that larceny is only a misdemeanor, while a burglary is a felony and that schools should report felonies only to the public. All three said that the University asked them to mislabel the reports, which numbered in hundreds.

There have been accounts that some reports were indeed mislabeled, but what was asked of the three police officers was deliberate (The Pittsburgh Channel).

The police had an ally inside who was feeding them with the correct figures, but which kept going back. This ally resigned later. The West Virginia University case can indicate that many other colleges may be mislabeling crimes because the Clery Act is hard to follow, according to Brett Sokolow, a campus crime legal expert. The unsettling outcome is misinformation, a false sense of security, he said, as he stressed that mislabeled crimes, unpublished information, and undisclosed statistics place the members of the college community at a risk. The officers expressed the hope that this case won over West Virginia University would lead all colleges… [END OF PREVIEW]
Four Different Ordering Options:
?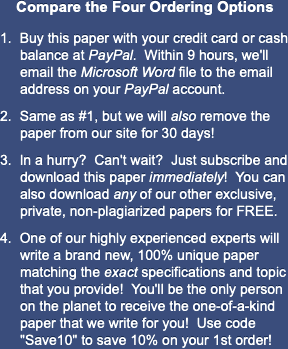 1. Buy the full, 20-page paper: $28.88
or
2. Buy + remove from all search engines
(Google, Yahoo, Bing) for 30 days: $38.88
or
3. Access all 175,000+ papers: $41.97/mo
or
4. Let us write a NEW paper for you!


Most popular!
Cite This Term Paper:
APA Format
Clery Act the Freedom Information. (2004, June 1). Retrieved June 17, 2019, from https://www.essaytown.com/subjects/paper/clery-act-freedom-information/8334074
MLA Format
"Clery Act the Freedom Information." 1 June 2004. Web. 17 June 2019. <https://www.essaytown.com/subjects/paper/clery-act-freedom-information/8334074>.
Chicago Format
"Clery Act the Freedom Information." Essaytown.com. June 1, 2004. Accessed June 17, 2019.
https://www.essaytown.com/subjects/paper/clery-act-freedom-information/8334074.