Research Paper:
Community Analysis: Columbus, Ohio
Pages: 20 (7841 words) · Bibliography Sources: 20 · Level: Doctorate · Topic: Healthcare · Buy This Paper
SAMPLE EXCERPT:

[. . .] They promise to bring a higher standard of living, attract residents with higher incomes, and lead to the establishment of more services for all of the residents.

Community Resources

An assessment of community resources for help and family's to achieve the optical level of wellness focus is on Mount Carmel Health System. Their won the largest hospitals in Central Ohio and there are few services, either general or specialty that cannot be found on the campus. Residents who have Health Insurance or who receive assistance by way of Medicare or Medicaid have easy access to the services at this facility and will not be the focus of the study. The study will address resources that are available for those who do not have access to Mount Carmel Health System due to a lack of insurance or other resources such as transportation or cost.

Citizens in both the Franklinton and Hilltop areas have access to numerous resources integrator Columbus area. The public transportation in Columbus gives them easy access to any other area of Columbus. Columbus has a wealth of resources available to promote the optimal level of wellness. The resources available in the greater Columbus area should also be considered in the assessment of resources available to the Franklinton and Hilltop communities. Columbus literally has thousands of not-for-profit, government and private resources available to meet every health need imaginable. In terms of resources, Mount caramel Health System is the biggest resource in the community.

Because the Westside of Columbus is a depressed area, it has become a priority for the provision of services by the Columbus Public Health Department. The Columbus Health Department main facility is located at 240 Persons Avenue (Columbus Public Health, 2011a). This facility is located near downtown, but on the opposite side of the Franklinton and Hilltop area. It is not within walking distance of either area. However, it is easily excess of the by the public transportation system.

The Columbus Public Health Department takes an active role in promoting public health in all areas of the city. They have main issue gives and programs designed to help improve health in the city as a whole, and in individual neighborhoods. They have regular services available on a year round basis, and special events such as wellness fairs, community events, and educational programs. Their programs include an infectious disease program to help track and educate the citizens about infectious disease and its prevention. They have an environmental health program that includes animal control, food production, lead control programs, and a number of other related services. They offer programs to help raise awareness of the importance of preparedness for a disaster and they provide information on help citizens can take control and responsibility of their own personal health, as well as that of their family.

The Columbus Public Health Department offers many other programs and services that address health issues on a citywide basis. However, the most relevant program to this study is the healthy neighborhoods program. This office reaches out to individual communities within the Columbus area. It targets local communities with many of the same programs that are targeted in the citywide health initiatives. They provide health and information and outreach to individual communities, as well as local community health events. They sponsor services through the Columbus Neighborhood Health Center, Inc., which is a federally qualified health center that operates five Health Centers in Columbus that provide primary Health Services to local residents (Columbus Public Health, 2011b).

Community Neighborhood Resource Centers provide not only offer Health Services themselves, they partner with other work local resources to provide what their local residents need. They concentrate on services for low income persons, who may not otherwise have access to community Health Resources. They offer services for many culturally diverse communities, such as those for the Asian-American community through Ohio State University Hospital. The closest free clinics in the Franklinton and Hilltop areas were located at 2300 West Broadstreet 1180 East Main Street, and 1934 North Fourth Street. None of these are located in the Franklinton or the Hilltop Area. The close this is at least a 35 to 40 minute bus ride. Some clinics only see a small number of patients or have very limited hours (Columbus Public Health Department, 2011c). They are not readily accessible to low income patients in the area.

The Franklinton and Hilltop areas have a wealth of resources just a short distance away. The problem is not the number of resources available to the highly visible low income population in the area makes it apparent that not all citizens are able to obtain the healthcare that they need. On the Columbus Public Health Department website it appears that in large number of resources are available to persons within individual communities. However, when one examines these resources more closely, a severe deficiency in the resources available to low income residents in the neighborhood is problematic. Special populations, or persons located in certain areas of town do not have resources available to them and the resources that they are that are available are inadequate. This is the case for the Franklinton area in particular.

The problem is twofold. The first part of the problem is that resources need to be available for low income persons, or special populations within the Franklinton and Hilltop areas. The second problem is making certain that all citizens have access to them. Transportation is the number one issue found in taking advantage of the city's low income Health Care Resources. The bus routes provide access to all areas of the city. Cab services are also available, but these may be cost prohibitive.

Free transportation services for the disabled, handicapped, elderly, and veterans are available, that offer their services free of charge for those who qualify. However, for those that do not fall into one of these categories, transportation may be prohibited in obtaining the services available. In addition, like the programs themselves, transportation services are limited and can only serve a fraction of those that need their services.

There are few services available outside of the Mount Carmel Health System in the area. In terms of school and occupational Health Services, mental health, pharmacies, dentists, private doctors, department's operated by the health department, safety and protective services, mental health, support groups, or shelters, none could be located within the limits of the neighborhood. During the windshield survey, several Neighborhood Watch signs were found in both areas, but it cannot be determined how active or effective these groups are in the community. Residents have access to services such as these largely through Ohio State University and the major healthcare systems throughout the city, if they have transportation and the funds necessary to access them.

Fire protection is provided by the Columbus division of fire. Police protection is provided by the Columbus police department. Services are considered adequate for the area and it is assumed that they are in compliance with the appropriate standards and guidelines, as dictated by the city of Columbus. Hilltop and Franklinton have a reputation for being high crime areas.

There is also a high level of drug addiction and homelessness in the area. All of the drug rehabilitation centers in Columbus, except for Maryhaven only accept patients who have insurance or the means to pay. Maryhaven has a long waiting list and it is difficult to actually get into the program. Maryhaven is a 501 (c)(3) program and operates through donations (Maryhaven, 2011). The program at Maryhaven does not appear to even come close to resolving the issues in the area. This single program is largely inadequate to serve the needs of the entire community. This is a significant area of need that was identified during the study.

Meals on wheels are provided by private contractors and by local churches in the area. Many of these services, such as Lifecare Alliance, have offices located in downtown Columbus, but they serve the Franklinton and Hilltop areas. Services for the elderly can be accessed by contacting the Franklin County office on aging (Franklin County Office on Aging, 2011). Senior Independence offers many of the same services as the office on aging, only they focus more on adult education, day centers, hospice, and Home Health Care. This agency also holds wellness clinics throughout city (Senior Independence, 2011). There are 29 agencies in the Columbus area that service all of the Columbus area of providing Home Healthcare Services for seniors (Yelloepages.com, 2011). It appears that seniors have a wealth of resources available to them throughout the city in that most of them only require a phone call. These are the most accessible services found throughout the course of this study. Seniors have access to services as long as they have access to a phone.

It appears that seniors have sufficient access to services as long as they have a phone. Problem with access to the services is getting the information to… [END OF PREVIEW]
Four Different Ordering Options:
?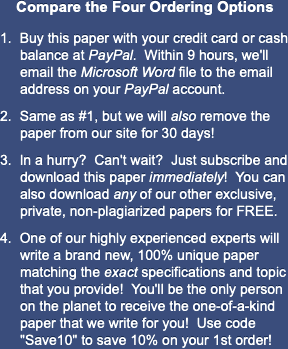 1. Buy the full, 20-page paper: $28.88
or
2. Buy + remove from all search engines
(Google, Yahoo, Bing) for 30 days: $38.88
or
3. Access all 175,000+ papers: $41.97/mo
or
4. Let us write a NEW paper for you!


Most popular!
Cite This Research Paper:
APA Format
Community Analysis: Columbus, Ohio. (2011, July 31). Retrieved June 17, 2019, from https://www.essaytown.com/subjects/paper/community-analysis-columbus-ohio/8714075
MLA Format
"Community Analysis: Columbus, Ohio." 31 July 2011. Web. 17 June 2019. <https://www.essaytown.com/subjects/paper/community-analysis-columbus-ohio/8714075>.
Chicago Format
"Community Analysis: Columbus, Ohio." Essaytown.com. July 31, 2011. Accessed June 17, 2019.
https://www.essaytown.com/subjects/paper/community-analysis-columbus-ohio/8714075.