Research Paper:
Congregation Should Have for Their
Pages: 11 (3531 words) · Bibliography Sources: 10 · Level: Master's · Topic: Mythology - Religion · Buy This Paper
SAMPLE EXCERPT:

[. . .] As one scholar notes, "Discipleship is as dynamic and costly as the gospel. Disciples can give up anything, go anywhere, and risk everything because the gospel has filled us with good things that can never be taken away" (Starke, 2013). This sentiment encapsulates the heart of what is at the process of being a disciple: being a disciple means that one is forging and has forged a truly dynamic and lasting relationship with God: one can thus give up so much of the tantalizing earthly treats because one has essentially been given and guaranteed the kingdom of God. Thus, giving up baser inclinations and the pursuit of material goods is a simple, worthwhile process.

However, the process of removing oneself from the baser tendencies of earthly life are not simply limited to material goods and baser pleasures. Colossians 3:1-17: "But now you must also rid yourselves of all such things as these: anger, rage, malice, slander, and filthy language from your lips. Do not lie to each other, since you have taken off your old self with its practices and have put on the new self, which is being renewed in knowledge in the image of its Creator. Here there is no Gentile or Jew, circumcised or uncircumcised, barbarian, Scythian, slave or free, but Christ is all, and is in all" (biblegateway.com). This is yet another aspect of earthly life that scripture is using one to leave behind which can be used as a tool for transformation: leaving behind the pettiness of judging one another, along with the exclusivity beliefs and tendencies that allow things like racism and sexism to persist. These are all ideas which urge one to engage in a higher level of existence in the world, and to shrug off all bad earthly habits which keep one at a baser level of interaction in the world. These baser ideologies keep one held back in the dark ages of spirituality and keep one's interactions with others in the world on a more one-dimensional plane. In order for the real evolution and transformation necessary to be a disciple to take place, the disintegration of these biased thought processes and skewed communication methods needs to occur.

Mark 13:9-11-Self Preparation

One of the biggest tools that all congregation members will need to harness is the ability to prepare oneself to commit to their discipleship and to be prepared for scorn and derision. As evolved as our modern society has become, there is still the ability for certain people to scorn and persecute the religious beliefs of others if they so choose. As a congregation member who is becoming a disciple, one needs to be prepared for this and to educate oneself on how to behave and to respond when this should occur. Mark 13:9-11 expresses this most aptly: "You must be on your guard. You will be handed over to the local councils and flogged in the synagogues. On account of me you will stand before governors and kings as witnesses to them. And the gospel must first be preached to all nations. Whenever you are arrested and brought to trial, do not worry beforehand about what to say. Just say whatever is given you at the time, for it is not you speaking, but the Holy Spirit" (Biblegateway.com).

Jesus told his disciples to keep following Him even when the religious and government leaders turn against them and charge them with crimes. He does not promise protection or deliverance from the consequences of going against the leaders, but He does promise the Holy Spirit will be there. Jesus says the disciples will be persecuted because they believe in Him. Base on Jesus' initial warning to the disciples we should not walk around blindly, but to should be observant and intentional in our lives. The Holy Spirit will guide and use us when we are opposed for following the will of God. The reality is that religious persecution is still alive and well today, and all individuals who want to engage in becoming a disciple in a real and sincere manner need to be prepared to be met with negativity from certain factions of the outside world. "Religious persecution isn't just something from the history books. The early 21st century will go down as an age of martyrs, and the situation is only getting worse. It's hard to believe, but today, more than a billion people live under governments that suppress religious liberty. In many nations, the lack of religious freedom is a matter of life and death. Believers and non-believers alike suffer as a result of intolerance" (Dolan, 2013). Thus, all members of the congregation who embark on this special and unique process of becoming a disciple need to be aware of these factors and need to take specific steps to protect themselves from those who wish to cause them harm, be it physical or verbal.

Romans 12:1-2- Living Sacrifice

Being prepared, willing and engaged in committing oneself as a living sacrifice in one's journey of being a disciple is absolutely important and one of the pillars of the entire process. Because fundamentally, all of these aspects work together to force each individual to live their life in such a manner that their lives are in fact a living sacrifice. This sentiment is expressed in Romans 12:1-2, "Therefore, I urge you, brothers and sisters, in view of God's mercy, to offer your bodies as a living sacrifice, holy and pleasing to God -- this is your true and proper worship. Do not conform to the pattern of this world, but be transformed by the renewing of your mind. Then you will be able to test and approve what God's will is -- his good, pleasing and perfect will" (biblegateway.com). In this section of the righteousness of God is not only expressed, but the righteousness of what each member of the congregation possess in that they are able to engage in this process. This is not a small aspect: it's quite large. Living one's life so that one is a complete sacrifice to God is a tremendous endeavor and one which should not be viewed lightly. This speaks to the conduct of the believer and the importance of renewing one's mind and following the way of Jesus Christ. Another crucial aspect of this sentiment to keep in mind is that this sort of self-sacrifice isn't about giving up; it's about giving to God, as selflessly as he has given to us (Holliday, 2013). "As a practice, sacrifice means intentionally leaving from the safety of sustaining our own needs as an affirmation of trust in God's provisions. In this meaning we connect with generosity. Being generous gently loosens our grip on the money, things, and people we hold captive with our expectations, clamoring for security, and need to control. In the Old Testament, sacrifice was thought of as the specific act of making an offering to God. People made sacrificial offerings to honor God, gain favor, and atone for wrongdoings" (Holliday, 2013). This is such a pivotal idea to engage with during the process of one's own discipleship.

One needs to bear in mind that in sacrifice, there is still the act of generosity and giving, and there is still the necessity of living one's life in complete fairness and equality. In this case, the act of sacrifice is completely selfless and involves actually a process of giving and giving. The sacrifice that a member of the congregation would be undergoing would actually be an intensive act of generosity to God and an act which would no doubt inspire others. This needs to be done in concrete ways as a form of sacrificial generosity as a lifestyle. For some people, this will mean opening up your home to others, and for other people this will mean sharing food, or pursuing justice for the rights of the oppressed. Sometimes self-sacrifice will mean that you simply devote your time to helping others in ways that they need to excel, helping them to develop their talents.

Lev 19:18b -- Loving others as yourself

The final pillar that one needs to lean on during the transformation from member of the congregation to disciple of the Lord is evocative of the first pillar, which was simply love. Looking to Leviticus 19:18, one remembers: "You shall not take vengeance or bear a grudge against the sons of your own people, but you shall love your neighbor as yourself: I am the Lord" (biblegateway.com). This is definitively one of the most meaningful and important pillars of becoming a disciple to keep in mind: if all else fails, one needs to love one's neighbor as oneself in order to engage in an existence which is unselfish and generous. This is an existence which desires not to judge, but to assist in helping others. Often times, this… [END OF PREVIEW]
Four Different Ordering Options:
?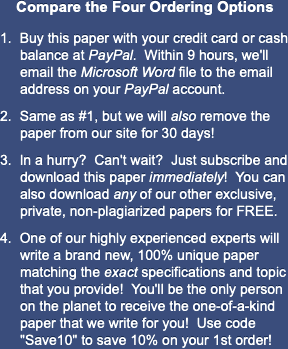 1. Buy the full, 11-page paper: $28.88
or
2. Buy + remove from all search engines
(Google, Yahoo, Bing) for 30 days: $38.88
or
3. Access all 175,000+ papers: $41.97/mo
or
4. Let us write a NEW paper for you!


Most popular!
Cite This Research Paper:
APA Format
Congregation Should Have for Their. (2013, November 6). Retrieved July 15, 2019, from https://www.essaytown.com/subjects/paper/congregation/4747460
MLA Format
"Congregation Should Have for Their." 6 November 2013. Web. 15 July 2019. <https://www.essaytown.com/subjects/paper/congregation/4747460>.
Chicago Format
"Congregation Should Have for Their." Essaytown.com. November 6, 2013. Accessed July 15, 2019.
https://www.essaytown.com/subjects/paper/congregation/4747460.