Research Paper:
Elements of Business
Pages: 6 (1902 words) · Bibliography Sources: 6 · Level: College Junior · Topic: Business · Buy This Paper
TESCO'S LEGAL, SOCIAL and ECONOMIC ENVIRONMENT

Elements of Business

Analyses of Tesco's legal, social and economic environment

Tesco is the world's 3rd largest grocery retailer with operations in 14 countries. UK is the biggest market of Tesco. It also has non-food ranges which accounts for 21% of group turnover in 2008. Tesco has a well-established and consistent strategy for growth .The rationale for the strategy is to broaden the scope of the business to enable it to deliver strong sustainable long-term growth by following the customer into large expanding markets at home - such as financial services, non-food and telecoms - and new markets abroad, initially in Central Europe and Asia, and more recently in the United States (Palmer, 2010)

Legal Factors:

Various government legislations and policies have a direct impact on the performance of Tesco. For instance, the Food Retailing Commission (FRC) suggested an enforceable Code of Practice should be set up banning many of the current practices, such as demanding payments from suppliers and changing agreed prices retrospectively or without notice (Mintel Report, 2004). The government's anti-monopoly policies and reduction of buyers' power can limit entry to this sector with controls such as license requirements and limits on access to raw materials (Finch, 2004)

Political Factors:

Tesco is a global organization consequently it is influenced by the political environment & legislations in the European Union as well as the rest of the world. Since Tesco is a retail sector business as well as has products with its own brand, it is labor-intensive. From manufacturing, supplies, distribution, retail to advertising it use labor as a major input. Tesco employs all cadre of population from low skilled to high skilled workers, from students to professionals, and from disabled people to the elderly. Hence, it helps the government to reduce the unemployment levels in the society. In an industry where the staff turnover is high, students, disabled people & senior citizens are desirable employees for Tesco because of greater loyalty & moreover they are prepared to work at a lower wage rate (Palmer, 2010).

New store developments where on one hand generate employment; on the other hand they pose a threat to the survival of small local businesses. Those small businesses either shut down or have to lower their profit margins substantially in order to survive in that area. But that competition ultimately benefits the society as a whole because of lower prices (Metzger, 2006).

Economic Factors

Business cycles from high GDP growth to low-negative GDP growth affect all businesses but also validate the survival of the fittest theory. The weaker organizations are eliminated & the strongest, fittest ones survive the recession & grow more confidently afterwards. Tesco has proved its economic viability & resilience through the current recession. In fact apart from a few supermarkets (e.g. Woolworth), most of the grocery supermarkets have done very well globally even in the recession, giving them a label of recession proof businesses (Dennis, Enech, & Merrilees, 2005).

However, suffering economy does affect the retail sector also due to increase in the unemployment levels & reduced purchasing power of the consumer. In such economic climate, Tesco & other businesses have to cut down on their profits to get through the recession afloat.

The risk of lowering the cost is downsizing which increases the unemployment levels & thus could initiate a vicious circle & a downward spiral of the economy. This can be avoided by reducing the salaries starting from the top i.e. CEO level down to the ordinary laborer. This gives a company high moral standing & employees feel like they are part of a family where sacrifice begins from the top. Tesco's international business is growing pretty well but since the major market for Tesco is still the UK, it will face hard time till the UK economy recovers from the recession.

Socio-Cultural Factors

Tesco has increased the amount of non-food items (like clothing, stationery, medicines) as well in addition to the groceries as the current trends indicate that the British consumers have moved to one-stop & bulk shopping, probably because of time-saving & convenience. Demographic changes like ageing population, more women professionals, fast-paced lifestyle means less home cooking & thus Tesco & other retailers have increased their range of frozen meals. Consumers are very health-conscious nowadays & thus focusing on this awareness Tesco has a dedicated range of organic foods (Lewis, 2006).

In addition, the focus is now on, the own-label (Tesco label ), share of the business mix, the supply chain and other operational improvements, which can reduce costs of the business & hence increase profit margins ( Michael Porter's Cost leadership generic strategy ), for e.g. Tesco pure fruit juices ( not from concentrate ) competing with Tropicana pure juices & Tesco Chocolates competing with Cadbury Chocolates . But there are concerns about the suppliers of the own-label products that they are being underpaid & exploited. Tesco has to treat those suppliers a bit more fairly in order to retain them (Palmer, 2010).

Environmental Factors

Tesco is doing its bit for a greener environment in different ways. Tesco has got cheap alternative options for plastic bags such as the cloth bags if customers want a greener environment & many do. But even the plastic bags of Tesco are biodegradable thus of less harm as compared to the non-degradable plastic bags. Some Tesco stores have automated, recyclable material (cans, glass bottle) collection machines installed in the parking space, which shows Tesco's commitment to environmental protection (Palmer, 2010).

TESCO's managerial, operational, and financial issues

TESCO decision to enter in a consumer sector was very much strategic decision. TESCO plans an assault on Britain's crisis-ridden banking industry by offering mortgages and current accounts to shoppers for the first time. The supermarket giant, which defied the doom and gloom on the high street with half-year pre-tax profits of pound stg. 1.4 billion ($3.1 billion), said that its brand stood out as a safe haven for consumers worried about the safety of their money. Tesco set up Tesco Personal Finance, a joint venture with Royal Bank of Scotland, 11 years ago and offers a range of products from car insurance to credit cards. It bought out RBS in July for pound stg. 950 million and took full control (Ireland, 2011)

It has major span of customers from corporate world and other individual who requires personal finance for their personal needs and requirements. A well-run grocer is likely to produce decent financial results whatever the wider economic conditions. Tesco demonstrated just how sturdily it dealt with the recent economic tribulations with its annual results, but it also showed it is equipped to drive future profits forward in almost any environment. The 12.4 per cent rise in the full-year dividend may give investors the best idea of Tesco's strengths. The size of the increase not only reflects past achievements but also management's confidence in being able to sustain growth (Palmer, 2010).

In spite of the trading record, Tesco shares have done nothing special since the start of 2001. They have outperformed the market average but in absolute terms the shares are down 10 per cent in the past 18 months. However, there is every chance that Tesco's fundamental strengths will win it an increasingly enthusiastic following (Ireland, 2011).

Corporate Strategy for TESCO

TESCO has lined up high-profile banker Benny Higgins to head its personal finance business, indicating it is planning an aggressive expansion to take advantage of weak rivals. The capture of Higgins is also a signal that Tesco is close to sealing a £1bn deal to buy out Royal Bank of Scotland's half share in Tesco Personal Finance. A source confirmed the planned expansion of TPF, saying: 'It's a good time for them to push on when the market is weak.' The grocer has been casting around for a suitable candidate to take executive control of TPF since making an informal approach for RBS's stake in the joint venture a few months ago.

The partners have agreed a deal in principle. But sources said the pair is in talks with the regulator, which could take another four weeks. It is thought RBS would continue to provide banking services to TPF during a handover period and Tesco would then apply for its own banking licence from the Financial Services Authority (Ireland, 2011).

Tesco Competitive Priority Analysis

The UK's largest supermarket group is expected to report sales up by between five and ten per cent -- even though last year was also good with increases of 7.5 per cent. Underlining its dominance of the market, Tesco has delayed its trading statement in previous business results quarter. This contrasts with a number of struggling retailers forced to bring forward their results after a warning from the Financial Services Authority. Woolworths, Marks & Spencer and Ottakar's have already rushed out statements.

Tesco's results will make it the clear winner over the festive season, though its American-owned rival Asda is expected to show strong results. Sainsbury is still showing little improvement,… [END OF PREVIEW]
Four Different Ordering Options:
?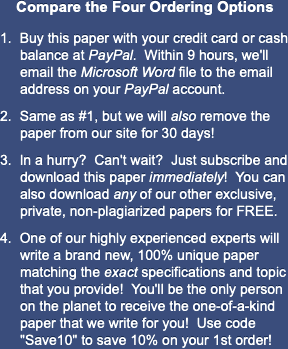 1. Buy the full, 6-page paper: $28.88
or
2. Buy + remove from all search engines
(Google, Yahoo, Bing) for 30 days: $38.88
or
3. Access all 175,000+ papers: $41.97/mo
or
4. Let us write a NEW paper for you!


Most popular!
Cite This Research Paper:
APA Format
Elements of Business. (2013, March 17). Retrieved May 19, 2019, from https://www.essaytown.com/subjects/paper/elements-business/9276427
MLA Format
"Elements of Business." 17 March 2013. Web. 19 May 2019. <https://www.essaytown.com/subjects/paper/elements-business/9276427>.
Chicago Format
"Elements of Business." Essaytown.com. March 17, 2013. Accessed May 19, 2019.
https://www.essaytown.com/subjects/paper/elements-business/9276427.