Research Paper:
Emsa Evidence-Based EMS Systems
Pages: 10 (2998 words) · Bibliography Sources: 7 · Level: Master's · Topic: Healthcare · Buy This Paper
SAMPLE EXCERPT:

[. . .] Ways and means to evaluate performance needed to be created with tangible and justifiable measures (Goman, 2007).

The insight of each agency had to be taken into account to ascertain parameters that would need reporting. Hospitals needed to be kept in the loop to know which data was accessible and could be transferred if the need arises. Another local agency of data accessibility is the fire department which should also be a party in the reporting process.

Having thus formed the framework, the next logical step is to zero in on the format of reporting in the most comprehensive manner possible (Gorman, 2007).

The last stage combines the effect created by all the above steps. The system plan making process involves inter-as well as intra-agency meetings. The reports have to be processed by proper evaluation and the JSA prepared has to be used to crystallize the system plan to address all agencies sought to be involved in the process.

Challenges

Workforce Issues

The Rural EMS, the Rural and Frontier EMS Agenda and various other assessments from several organizations have helped in specifying the issues that are being faced by the frontier emergency medical services environment and have taken a lot of attention in understanding the difficult component of the system of health care. Many of the problems are not rare but also inherent and persistent. The different challenges are:

Issues in retaining and recruiting various amount of career providers and volunteer of different skills: Emergency Medical Technician, Paramedic, Emergency Medical Technician -- basic, First Responder. There are a small amount of people who pay for the EMS services. The volunteer providers in 2005 respond to the emergencies in more than fifty percent of the entire country. Even the frontier and rural areas have salaries in career services which are commensurate and the providers can be lured easily somewhere else with high pays. With the shortfall in the staff, indirect and direct training is also an issue along with commitments for continuing and initial training, decreased or low benefits, decrease in volunteers, long hours, work of low volume and issues in getting some time off from the employees. Hiring the personnel also requires a satisfactory career unskilled or inadequate leadership, and not enough technical equipment or support.

The reimbursement for Nationwide Medicaid and Medicare of emergency medical system has not been adequate to cover the costs. The support of EMS has been coming from the mixture of government reimbursement and subsidies from the companies of insurance (Mohr, 2000). There is forty one percent of reimbursement among the bill insurers and there is lack of knowledge and resources which prevents a lot of billing system in the rural areas and there is no guarantee of reimbursement. Furthermore, the financial problems in the rural areas regarding EMS continue to be bringing complications because of long distances and transport along its high expenses. Moreover the present EMS system is created on incentives like not paying for health services and limiting the transport for patients.

Training/educational issues

The frontier and rural areas go through long distances for instructors and providers to receive continuing and initial training. Some issues can be addressed by the latest technologies of video lessons, tele-medicine or internet based on satellite classes. A lot of the courses are under development or have already been using certain models of delivery. Between 2000 to 2001, around 3 million people have enrolled in more than one million courses. From 2000 to 2004, a lot of students from the undergraduate programs were training through distant programs. Paramedics and EMTs are being faced by various programs and opportunities for initial education different from the traditional setting of a class room. The paramedics and EMTs working in the frontier or rural areas do not fully take advantage of the resources available to them. Dissemination or development of such resources should be improved where required (U.S. Department of Education and National Center for Education Statistics, 2003).

Definitive care in long distances requires a provider with good skills. The frontier and rural facilities in medicine are smaller and are also at a distance from each other and also contain less capability as compared to the ones that are located in the metropolitan areas. In a number of states, the qualified medical works in frontier and rural EMS system is of high concern. The physicians sometimes fulfill the need but the doctors there do not have proper training or incentives for active participation in EMS. The physicians and doctors have to receive good medical training for improvement in EMS (Bruce, 2004).

Benefits to the citizens

The medical and historic forces of medical have presented many characteristics of emergency medical services in U.S.. The changes have taken place since 1973 and many new medications and technologies continue to raise the care level as given by the technicians of EMS (The Forward Plan for the Health Services Administration, 1975). The reduction of trauma, stroke and heart disease was one of the main forces in EMS development. The medical and political leaders planned that by placing a good EMS system in the country, disability and death which is caused by the above mentioned diseases could be controlled. Without a good stimulus, the system might not have been improved but emphasis on cardiovascular and trauma diseases results in decent pre-hospital trauma and cardiac system (National Committee for Injury, 1989).

The program mentioned above has helped a lot of care providers in taking care of children and adults and prevention of certain injuries. There has been great emphasis on the geriatric patients through certain initiatives by National Council of State EMS Training Coordinators and American Geriatrics Society which is working on improving the workings of EMS staff. There has been great emphasis on technological advancements which will help to promote different medical courses and training that will eventually help the care providers in better medical services for the people (Boyd, 1982).

Conclusion

The development of EMS system grew high in 1960 and 1973, however many social, medical and historical forces have resulted in a lot of limitations. The leaders of EMS must take not of these forces and their limitations while they are developing a system which would provide great quality for the patients and participate to address certain national diseases as required by the community. The care providers must be highly qualified and highly trained so that they can provide good quality services and long-term services to the patients. EMS is not a full size position and the published Frontier and Rural EMS Agenda has further increase the awareness of policymakers and government people throughout the country about the workforce issues and features which are being faced by frontier and rural emergency medical systems.

The Agenda has presented many recommendations for improvements that are required in the pre-hospital EMS environment. The community leaders and government, policymakers and rural practitioners of health of different levels who interacted with the systems of EMS and frontier and rural EMS care providers and managers. In 2003, the federal government did not take initiative to talk about the issues that were being faced by the frontier and rural EMS have been identified clearly for rural development by government and state (Forging America's New Normalcy: Securing Our Homeland, Protecting Our Liberty, 2005).

Bibliography

Axelsson, H. (2012, 08-23). The Corporate Social and Environmental Responsibility and Human Resource Division Manager/Deputy Chief Operating Officer. (H. de Joussineau, Interviewer)

Bruce ML, Klonoski E. Schools Out! The pros and cons of distance education in EMS. Emerg Med Serv. 2004;33:49-54.

Boyd DR. The conceptual develop- ment of EMS systems in the United States: part II. Emerg Med Serv. 1982;11:27 -- 35.

http://www.med.und.nodak.edu/depts/rural/pdf/remsi.pdf. Accessed September 24, 2005

http://www.nrharural.org/groups/graphics/EMS_Book_9_17A.pdf. Accessed September 24, 2005

Gorman, K. (2007). EMS System Evaluation. Whidbey Island: Island County Fire District.

Forging America's New Normalcy: Securing Our Homeland, Protecting Our Liberty. The Fifth Annual Report to the President and Congress of the Advisory Panel to Assess Domestic Response Ca- pabilities for Terrorism Involving Weapons of Mass Destruction. Santa Monica, Calif: RAND Corporation;December 15, 2003. Available at: http://www.rand.org/nsrd/terrpanel / volume_v/volume_v_report_only.pdf. Accessed January 15, 2005.

Mohr, PE, Cheng, M, Mueller, CD, and Good, CD. Findings from the 1999 National Survey ofAmbulance Providers: Final Report. 2000. Bethesda, MD, Project HOPE Center for Health Affairs.

National Committee for Injury Pre- vention and Control. Injury prevention: meeting the challenge. Am J. Prev Med. 1989;5(Suppl 3):276 -- 277.

Organization, W.H. (2008). Emergency Medical Services Systems in EU. UK: Directorate General for Health and Consumers.

Pratt, F., Katz, S., & Pepe, P. (2007). Pre-hospital 911 Emergency Medical Response. U.S.: United States Fire Service in Delivery and Coordination.

Pollock III, P.H. (2009). The essentials of political analysis. Washington D.C.: CQ Press.

The Forward Plan for the Health Services Administration. Washington, DC: Department of Health, Education, and Welfare; 1975.

Thiengchanhxay, B. (2012, 09-06).Finance & Administration Department Manager. (H.deJoussineau, Interviewer)

U.S. Department of Education and National Center for Education Statistics. Distance Education at Degree-Granting Postsecondary Institutions: 2000-2001. Tiffany Waits, Laura Lewis. NCES… [END OF PREVIEW]
Four Different Ordering Options:
?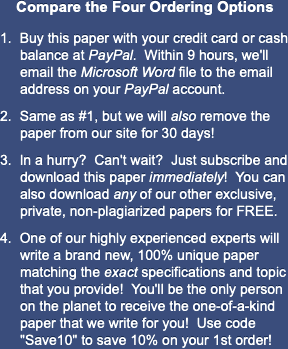 1. Buy the full, 10-page paper: $28.88
or
2. Buy + remove from all search engines
(Google, Yahoo, Bing) for 30 days: $38.88
or
3. Access all 175,000+ papers: $41.97/mo
or
4. Let us write a NEW paper for you!


Most popular!
Cite This Research Paper:
APA Format
Emsa Evidence-Based EMS Systems. (2014, September 5). Retrieved May 23, 2019, from https://www.essaytown.com/subjects/paper/emsa-evidence-based-ems-systems/9302664
MLA Format
"Emsa Evidence-Based EMS Systems." 5 September 2014. Web. 23 May 2019. <https://www.essaytown.com/subjects/paper/emsa-evidence-based-ems-systems/9302664>.
Chicago Format
"Emsa Evidence-Based EMS Systems." Essaytown.com. September 5, 2014. Accessed May 23, 2019.
https://www.essaytown.com/subjects/paper/emsa-evidence-based-ems-systems/9302664.