Case Study:
Fidelity Investments- Human Resources
Pages: 10 (3039 words) · Bibliography Sources: 10 · Level: College Senior · Topic: Business · Buy This Paper
SAMPLE EXCERPT:

[. . .] 238) were the main concerns within the financial services industry. To attain such success in concerning factors, financial services industry has also evolved and now process redesign and business process reengineering is used as a means to enhance competitiveness and leverage key knowledge present within the firm.

Ahadi (2004) mentioned 'organizational enablers' in business process redesigning. These enablers were identified as being 'electronic data interchange (EDI) and internet technology'. Thus, to offset the biggest concerns of Fidelity Investments as financial services provider i.e. business performance and retention of key people, HR function of the firm will trigger BPR enablers, namely the use of EDI and internet technology.

The biggest challenge of HR executives is to match the human capital management (HCM) with strategic goals of their respective organizations. The strategic goals hereby are those identified as 'outcomes' in the previous section whereas increasing collaboration and communication within organizational teams will be used as HCM tool to achieve those strategic outcomes. The learning and development (L&D) trainings should positively reflect on the strategic goals and this reflection should be specific, measurable, attainable, relevant, and time bound (SMART).

Currently, Fidelity Investments uses separate web portals for associates' teams in different geographical regions country wise. The current HR redesign will introduce a centralized portal as 'Fidelity Global Associates' Within the global portal, access to associates for information sharing will not be based upon individual countries but on regional basis (Americas and Canada, Europe, Asia Pacific, Middle East and North Africa MENA).

Figure 3- HR Redesign Elements

From: Current HR design To: HR Redesign

Individual teams (Country wise) Cross functional teams (region wise)

Country specific operations Region specific operations

USA, Japan, Canada, Austria, Germany, Hong Kong Americas & Canada, Middle East & Taiwan, U.K North Africa (MENA), Europe, Asia

Pacific

Hierarchical communication Cross-functional collaboration

Vertical Vertical, Horizontal, Diagonal

Unitary selling of mutual funds Cross-selling

Associates not allowed selling in adjoining countries Associates encouraged to sell across

Regional country since performance is region wise

Horizontal Job Enlargement Vertical Job Enrichment

Layoff centric Retention centric

Vertical performance analysis 360o Performance appraisal

Accountability

Accountability of training and development programs is also necessary and this allows monitoring gaps in implementation. Accountability is only defined when activities across the organization under such training program are drafted and respective personnel are delegated the task of implementing each set activities. Following set of activities will be conducted and each set of activities has 'person responsible' being mentioned against it. The learning and development (L&D) program being proposed is a five weeks program that each of the associate level employee will have to go through. No more than 40 participants will be selected for each 5-weeks training session. Following is the matrix that describes implementation schedule and accountability of the program.

The program is designed to be completed in 5 weeks and will only be implemented in newly defined Americas & Canada region. United States of America and Canada are member countries of this region and the Fidelity associate teams will not compete with each other in this region. Rather these teams will jointly sell mutual funds in their region. The competition of this region will be with other regions in terms of sales and business profitability. Week 1 orientation session will provide the participants with exposure to innovation in business context. The participants are expected to grasp the importance of innovation in existing and new industries with focus on financial services. Week 2 will also carry on with the innovation aspect of businesses and HR manager of the firm will facilitate the session. A guest speaker that belongs from technology oriented services industry will be invited to share experiences and results of adopting innovative business processes in his/her respective field. Questions and answers session will also be conducted after this. The first two session in week 1 & 2 will only test the level 1 (reaction) and level 2 (learning) aspects of program participants. The evaluation of first two sessions in the initial two weeks will be based on simple reaction forms and questionnaires administered by the HR manager. This will provide the facilitator of program with a chance to assess the ongoing effectiveness of this program. Week 3 of the program will expose the participants to strategic case studies of businesses that have utilized business strategy as means to gain market position. Level 2 learning is expected outcome of this component whereas same questionnaire tool will be used to evaluate the effectiveness of this session. Week 4 will cover the leadership program that will enable the participants to assume greater responsibility in a given situation while leveraging the strengths of their team members. This session will be conducted by a T&D specialist and facilitated by the HR manager. Session 5 in week 5 is where the participants will be guided as to how they can use collaborative technology tools to assume leadership in their respective region. They will be guided as to how the knowledge sharing platforms will allow the cross-country teams to sell more mutual funds and penetrate the market more as compared to what they can achieve individually and while competing each other in same region. The global web portal of Fidelity Investments will be inaugurated by the CEO of the firm at the end of this session while this session will also mark the beginning of new web tool used by associate teams to collaborate with each other in selling mutual funds in the Americas and Canada region. The program effectiveness will be evaluated by Mr. Robert Wilkinson and assisted by the HR manager. Sales performance of associate teams will be analyzed after each quarter and results will be shared with CFO and CEO of the firm. This will allow the firm to have greater accountability of this program.

Table 1- Implementation and Accountability of L&D program

Region- Time period

Training component

Facilitator/Adjudicator

Evaluation

Evaluation Tool

Americas & Canada Week 1

Innovation Documentary watching

HR Manager

Level 1

(Reaction)

Reaction forms

Week 2

Innovation: Guest Speaker and Q&A session

HR Manager

Level 2

(Learning)

Questionnaires

Week 3

Strategy:

Case studies

Ad-hoc social learning conducted through Google blog

T&D Specialist

Level 2

(Learning)

Questionnaires

Week 4

Leadership

Outdoor leadership exercise

T&D Specialist

Level 3

(Behavior)

Performance evaluation form

Week 5

Contingency planning

Case for increased regional collaboration for knowledge resource sharing

Session 1-

Robert Wilkinson, VP of Personal Investment Learning and Development

Session 2-

CEO

Level 4

(Results)

Performance evaluation sheet

Conclusion

The L&D program being proposed in this paper will allow Fidelity Investments to enable their associate employees to achieve current and strategic business goals of the firm. Exposing the associates to concepts and trends of innovation, strategy, leadership, and contingency planning will allow them to develop a rationale for this intervention of L&D program. Further, after assessing reactions and results, as well as modification in their behavior through evaluation tools, the case for using global portal based on regional access and knowledge sharing through blogs and other interactive media will be made. This will help one regions adopt cultural change regarding their current business context. While the main challenges faced by Fidelity investments is related to change management, communication, and use of technology tools, the wider industry research carried out in this paper indicates that the financial services industry's most visible challenges are also the business performance and retention of skilled staff. It is observed that due to declining business performance (this is turn also due to several factors related to competency development and competitiveness of specific businesses), many financial services firms are forced to lay off key employees. The intervention L&D program will enhance the communication and team skills of Fidelity associates and further enable the staff to collaborate through technology platforms such as blogs and interactive social media. The program is designed to bring sustainable changes to businesses processes, thus introducing greater collaboration requirement by the associate teams across different countries in a region. The desirable outcomes are SMART and thus will allow the HR executives as well as Chief financial officer (CFO), CEO and board members of the firm to evaluate the effectiveness of the proposed L&D program.

References

Ahadi, H.R. (2004). An examination of the role of organizational enablers in business process reengineering and the impact of information technology. Information Resources Management Journal (IRMJ), 17(4), 1-19.

Bontis, N., & Fitz-Enz, J. (2002). Intellectual capital ROI: a causal map of human capital antecedents and consequents. Journal of Intellectual Capital, 3(3), 223-247.

Deloitte. (2013). 2013 Financial Services Industry Outlook. Retrieved from Deloitte: [http://public.deloitte.com/media/0146/us_fsi_OutlooksConsolidatedDocument_021813.pdf]

Fidelity Investments. (N.d.). Our Business. Retrieved from Fidelity Investments: [http://www.fidelity.com/inside-fidelity/about-fidelity/our-businesses]

Fidelity. (2013, June). Mutual Funds Results. Fidelity Investments. Retrieved from: [https://www.fidelity.com/fund-screener/evaluator.shtml#!&ntf=Y&msr=4%2C5]

Holton, E. (2001). Foundations of human resource development. Berrett-Koehler Store.

Pace, A. (2010). Making the Business Case for Training and Development: 5 Steps for Success. The official ASTD Blog. Retrieved from: [http://www1.astd.org/Blog/post/Making-the-Business-Case-for-Training-and-Development-5-Steps-for-Success.aspx]

Ulrich, D. (1997). Human resource champions (pp. 163-170). Boston, MA: Harvard Business School Press. [END OF PREVIEW]
Four Different Ordering Options:
?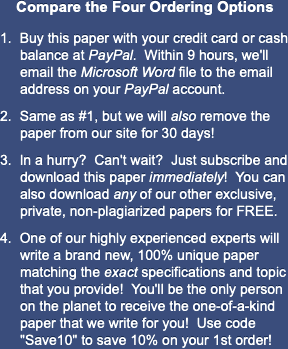 1. Buy the full, 10-page paper: $28.88
or
2. Buy + remove from all search engines
(Google, Yahoo, Bing) for 30 days: $38.88
or
3. Access all 175,000+ papers: $41.97/mo
or
4. Let us write a NEW paper for you!


Most popular!
Cite This Case Study:
APA Format
Fidelity Investments- Human Resources. (2013, August 8). Retrieved May 23, 2019, from https://www.essaytown.com/subjects/paper/fidelity-investments-human-resources/9824135
MLA Format
"Fidelity Investments- Human Resources." 8 August 2013. Web. 23 May 2019. <https://www.essaytown.com/subjects/paper/fidelity-investments-human-resources/9824135>.
Chicago Format
"Fidelity Investments- Human Resources." Essaytown.com. August 8, 2013. Accessed May 23, 2019.
https://www.essaytown.com/subjects/paper/fidelity-investments-human-resources/9824135.