Happiness?' in Modernity, People Struggle With Attaining

Term Paper

Pages: 4 (1470 words) · Bibliography Sources: 0 · File: .docx · Level: College Senior · Topic: Black Studies - Philosophy
Buy full


paper
for $19.77
¶ … happiness?'
In modernity, people struggle with attaining a state of happiness, just as they did in the ancient world. If attaining what we call 'a state of happiness' was not a challenge, then
self-help
books would not stock the shelves of so many bookstores nor would there be any need for antidepressants and therapy. However, when reviewing the writings of the
ancient philosophers
, such as Plato, it is important not to conflate our ideas of what constitutes 'happiness' with theirs. In the modern world, particularly in contemporary America, happiness is often seen as a synonym for success. Happiness is defined as having a certain level of income, a stable marriage, and a socially prestigious occupation. The fact that individuals who possess all of these attributes do not necessarily feel 'happy' or content is often forgotten.
In contrast, for Plato, happiness was synonymous with justice and symmetry, and creating a world in which human beings were perfectly suited to the roles they were called upon to fulfill. Plato's vision of happiness did not focus on the individual, but the individual's place in society and the larger cosmos. Plato created a sharp distinction between pleasure, or the mere satisfaction of bodily attributes, and attaining a state of true happiness. Happiness was living one's life in accordance to one's ideal purpose, effectively aligning one's life to that of the ideals which existed in the world of the forms, a world that the real one bore as little resemblance to as shadows upon the wall of a cave. Rather than an internal state that is created through actions striving to fulfill personal desires, Plato saw happiness a harmonious activity, integrating one's own life into the world of an ideal republic.
In fact, little credit is given in the Republic to the individual in terms of his or her ability to seek out personal 'happiness.' Someone who was deemed to be an ideal cobbler might unhappily strive to be a philosopher-king, but according to the rules of the republic, he or she must remain in his or her place. Of course, in Plato's view, because of the appropriate education given to all members of society, such a misplaced desire would be unlikely, and most people would not yearn to exceed the bounds of their social function. "When the cobbler or any other man whom nature designed to be a trader, having his heart lifted up by wealth or strength or the number of his followers, or any like advantage, attempts to force his way into the class of warriors, or a warrior into that of legislators and guardians, for which he is unfitted, and either to take the implements or the duties of the other; or when one man is trader, legislator, and warrior all in one, then I think you will agree with me in saying that this interchange and this meddling of one with another is the ruin of the State" (Plato 19). A society lacking in social mobility is a happy Platonic state. Democracy and social mobility means that 'unfit' individuals may enter positions for which they are unsuited; a happy state in one in which everyone performs the activities at what he or she is best.
There is some truth to what Plato says in the sense that finding one's true purpose in life can feel like an 'ah-ha moment.' But in contemporary culture we are allowed to find such arenas to excel in ourselves, without our lives being predetermined. The idea that infinite choice creates unhappiness and uncertainty is not confined to Plato's philosophy, but his ideal Republic offers a seemingly secure way of annihilating any chance that someone might suffer from the burdens of too much choice. Even the philosopher-kings who lead the republic do not have a choice other than to rule. By delivering humans of the evils of suffering under the regime of those unfit to rule, and incorporating their social contribution into a wider ideal, Plato believes he will provide human beings with a perfect society. All humans can transcends the base pleasures of merely fulfilling their own desires, including the desire of someone 'more fit' to be a cobbler to be philosopher. Of course, the
question
of who determines who is 'most fit' to rule remains unanswered in Plato, and the fact that bloody dictators or even self-satisfied and self-serving weak men might consider themselves 'born philosophers' is…
[END OF PREVIEW]
. . .
READ MORE
Two Ordering Options:
?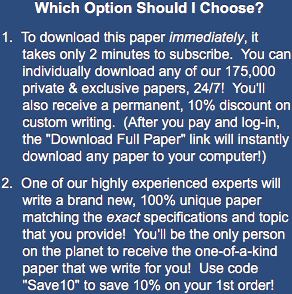 1.
Buy full paper (4 pages)
Download the perfectly formatted MS Word file!
- or -
2.
Write a NEW paper for me!
We'll follow your exact instructions!
Chat with the writer 24/7.
Cite This Term Paper:
APA Format
Happiness?' in Modernity, People Struggle With Attaining. (2011, May 31). Retrieved January 26, 2020, from https://www.essaytown.com/subjects/paper/happiness-modernity-people-struggle/2563
MLA Format
"Happiness?' in Modernity, People Struggle With Attaining." 31 May 2011. Web. 26 January 2020. <https://www.essaytown.com/subjects/paper/happiness-modernity-people-struggle/2563>.
Chicago Format
"Happiness?' in Modernity, People Struggle With Attaining." Essaytown.com. May 31, 2011. Accessed January 26, 2020.
https://www.essaytown.com/subjects/paper/happiness-modernity-people-struggle/2563.