Research Paper:
Health and Safety in Construction
Pages: 11 (3017 words) · Style: Harvard · Bibliography Sources: 14 · Level: Master's · Topic: Business - Management · Buy This Paper
SAMPLE EXCERPT:

[. . .] The construction industry in United Kingdom is regulated by Construction Design and Management (CDM) through its various regulations related to health and safety, CDM is a government body that regulates small and large builders along with contractors, sub-contractors, designers and workers. Another government body, Health and Safety Executive (HSE) provides meaningful resources and publications helping all the stakeholders understand their roles, rights and obligations related to health and safety in construction.

Guidelines related to health include various diseases and disorders seen in construction workers, for example the HSE provides brief guidelines over Asbestos on its website.

In April 2007 CDM announced a new set of regulations related to health and safety replacing the predecessors of 1994 and 1996. These regulations called for an overall improvement in planning and organisation of projects from the initial phase, identification of hazards early, more focused approach to health and safety with less bureaucracy. The effort made to mitigate or manage risks should be equivalent to the scope and complexity of the project with enhanced communication and training tools for the team members. Within these regulations the framework provided composed of;

HSE must be notified in case where a construction project lasts more than 30 days and involves more than 500 workers, these projects are being classified as notifiable projects.

All safety and health related precautions and risk plans must be documented in case of a notifiable project.

Provide pre-construction information to all stakeholders including risks related to health and safety.

Appointment of competent resources, with allocation of ample time to complete the project along with welfare benefits. Furthermore for notifiable project it is compulsory to appoint a CDM coordinator and a principal coordinator.

Ensure that no construction work starts before proper welfare facilities and risk documents are prepared.

Reduce risks in design phase; provide accessibility to CDM coordinator and principal coordinator.

Take account of and apply general rules of prevention while performing tasks.

A proper health and safety file should be maintained for notifiable projects including cleaning measures, maintenance, alterations, refurbishment plans with safety measures. Furthermore the scope, format and contents of the file must be agreed with the CDM coordinator.

The health and safety file must specify certain factors for better understanding and evaluation of the current system and situation:

Brief description of the work being carried out.

Brief description of underlying hazards and how they would be dealt with Brief plan having information on disposal of plants and wastage material

Key principals of construction and safety limit for work load, scaffolding and installation plan for heavy machinery

Details of hazardous materials used

Health and safety information about equipment used

The regulations promulgated by the government are farfetched and suffocating for the constructors. Daily telegraph claims that the hierarchy and systems followed by the government agencies are not democratic with less accountability and high paying jobs. Many critics see these regulatory bodies as a bureaucratic burden on businesses in shape of delays, authorizations, unnecessary health and safety checks along with soaring legal fees (Daily telegraph, 2010).

In April 2012, David Cameron criticised the HSE policies and sought to dismantle the bizarre elements of so many rules and regulations promulgating an over the top health and safety culture. He emphasised that 202 statuary laws were passed in 19th century while during the past decade more than 70 statuary laws have been passed by the HSE alone. This point to an overdone effort on the part of HSE and other regulating bodies with so many laws and guidelines one becomes hypersensitive to health and safety issues and eventually business and economy is harmed. No environment is risk free hence after providing basic guidelines and monitoring instruments adults are supposed to act responsibility in their own interests. (Mckinnon, 2012).

On a separate occasion, the prime minister declared that small businesses are bound by the red tape of health and safety and that compensation culture is destroying the economy. He went on to declare that his government would out a cap on lawyers percentage on claim received by the effected party. A positive health and safety system ensures reduction of risk and accidents but the current laws are interpreted in a complex way and media exaggerates the issues, more focus should be given to an acceptable risk management approach along without mountains of paper work, rules and regulations (Mckinnon, 2012).

Public organisations often assume the attributes of the leader, a political leader infuses his own personality in the government bodies hence government projects are usually fuelled by political objectives as a result so many projects fail or never see the implementation phase. The bureaucratic structure has inevitable inefficiencies and inflexibilities and a tendency to control all activities. The same phenomenon can be observed in the regulations promulgated by HSE and CDM, without understanding the impact on economy and the small business men they kept on introducing newer and newer regulations making the system inflexible (Jewit, 2012).

The obvious deficiencies of the framework provided by government authorities to all stakeholders in construction industry are;

Lack of support for public bodies. Resulting in health and safety related compensation claims that affect the small business significantly.

Excessive laws and regulations, in total more than 300 related laws to health and safety alone.

Lack of guidance provided to small business owners and contractors.

Bureaucratic system with red-tapism and excessive paper work resulting in delays.

Emphasis on safety rather than profitability regardless of the company size.

A defence mechanism about HSE was designed on a Television show called "Myth busters" and the mechanism designed on the show aggressively denied its inefficiencies and portrayed that it has a negative impact on the economy.

Spreading a Climate of fear in businesses that are regulated by health and safety authorities.

The construction industry is a rather, casual industry with construction entities for the public sector. Due to the exhibition of the most casual attitude, HSE needs to make a check list of paper work and a more practical approach including monitoring and effectiveness in incident reporting.

Suggestions and Recommendations:

The HSE and CDM need to relax their regulations for small business, giving them basic guidelines about health and safety only. With a proper more concrete claims system in place, workers would not fake injuries or raise claims for minor insignificant instances.

A single set of rules and regulation should be sufficient enough to guide construction companies along with other stake holders. The language used in these promulgated laws should be made simpler with user interactivity and engaging content.

A single leaflet should be published and made available to small construction business owners and a dedicated toll number should be made available.

Conclusion

Life is the dearest thing to anyone and anything that puts anyone's life at stake should be assessed in order to create a safer environment. Health and safety should be the priority of every project. The current systems analogy can provide a number of answers on how to make the environment safer for the workers involved in construction. As a result, better policies and regulations can be created or the present system can be amended. Once a concrete system has been created after reliable evaluation and assessment, that system should not be changed without proper logic.

Appendix A

Source: Construction Industry Fatalities Trend. 2011, Viewed 29 October 2012.

References:

Five steps to risk assessment. Viewed 27 October, 2012,

Hubbard, D. 2009. The failure of risk management: why it's broken and how to fix it. John Wiley & Sons. p. 46.

Health and safety executive. 2007. Managing health and safety in construction (Construction Design and Management) Regulations 2007 Approved Code of Practice.

Health and safety executive. 2011. Five steps to risk assessment, Viewed 28 October 2012

Health and safety executive. 2011. Health and safety made simple The basics for your business, Viewed 27 October 2012,

Health and Safety Executive. 2011. Construction Industries Fatalities rate. Viewed 27 October 2012,

Ireland, L.R. 2006. Project Management. McGraw-Hill Professional.

Jowit, J. 2012. Government orders building standards review,27 October 2012

Langdon, D. 2011, Health and safety in public sector construction procurement, Viewed 28 October 2012,

McKinnon, I. 2012. Completely bonkers safety monster bans conkers? Viewed 27 October 2012,

McKinnon, I. 2012, Government to ease health & safety burden on small business? viewed 27 October

2012,

National Institute of Occupational Safety and Health. 2012, Construction Safety and Health, viewed 27 October 2012,

Power, M. 2004.The risk management of everything rethinking the politics of uncertainty, Viewed 27 October 2012,

Political Deputy. 2010. 'Health and safety laws are costing jobs'. The Daily Telegraph (London). Viewed 27 October, 2012,

The Observer. 2012. The deadly scandal in the building trade, Viewed 28 October 2012,

Young, L. 2010, Common sense common safety, HM government, Viewed 27 October, 2012, [END OF PREVIEW]
Four Different Ordering Options:
?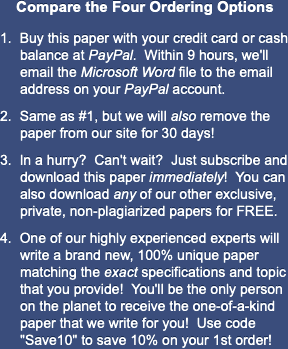 1. Buy the full, 11-page paper: $28.88
or
2. Buy + remove from all search engines
(Google, Yahoo, Bing) for 30 days: $38.88
or
3. Access all 175,000+ papers: $41.97/mo
or
4. Let us write a NEW paper for you!


Most popular!
Cite This Research Paper:
APA Format
Health and Safety in Construction. (2012, November 29). Retrieved May 20, 2019, from https://www.essaytown.com/subjects/paper/health-safety-construction/3320051
MLA Format
"Health and Safety in Construction." 29 November 2012. Web. 20 May 2019. <https://www.essaytown.com/subjects/paper/health-safety-construction/3320051>.
Chicago Format
"Health and Safety in Construction." Essaytown.com. November 29, 2012. Accessed May 20, 2019.
https://www.essaytown.com/subjects/paper/health-safety-construction/3320051.