Term Paper:
Healthcare for Mentally Impaired Patients
Pages: 13 (3532 words) · Bibliography Sources: 1+ · Level: College Senior · Topic: Psychology · Buy This Paper
SAMPLE EXCERPT:

[. . .] He says, "That's not what these buildings are. Patients receive a large number of services in such facilities, including skilled nursing and physician care that may not be replicated in a smaller setting." (Seidenberg, B.)

Albeit, while some nursing homes may lack sufficient staff to take proper care of residents, there is no excuse for the alarming statistics stating that -- according to a congressional report - many institutions have in the past been found guilty of violating abuse prevention standards. While the report identified nearly 5,300 nursing homes between January 1999 and January 2001, it also states that the percentage of nursing homes cited for abuse has doubled since 1996. In some cases the violations were "serious enough to cause actual harm to residents or to place the residents in immediate jeopardy of death or serious injury." (Nursing Home Current Events in Texas)

According to Nancy Walker, a certified nurse aide at a Hartford, Conn., nursing home, the average national wage for her position is just over $8 an hour. "As a result a lot of people leave Nursing Home work because they can earn more money working in a hospital or even a fast food joint," (ibid) she says. According to Walker, because most nursing homes are for-profit operations "they cut as many corners as they can" to maximize their profits. Conversely, Bruce Rosenthal, spokesman for the American Association of Homes and Services for the Aging says, "We don't want people who need nursing care to be scared and believe that they should not go into a nursing facility. Most caregivers are dedicated professionals." Rosenthal's organization represents non-profit and religiously affiliated nursing homes. "We don't condone the types of abuse that are addressed in this report; we believe nursing homes that exhibit consistently poor performance should either clean up their act or be put out of business," he says. (ibid) Albeit, legislation was subsequently introduced that would increase both federal payments to nursing homes and nurse staffing requirements, as well as impose tougher fines on nursing homes that violate rules.

Finding a suitable residential facility for a mentally disabled patient is often a difficult task. While the emphasis is placed on how the facility provides for the physical needs of a patient, of equal importance is how it cares for their mental or behavioral needs as well. Studies show that 18-25% of older adults in the community have mental health needs. (MH& A) Nursing homes that house mentally disabled patients provide nursing care and other health services with Clinical social workers as the primary providers of mental health services. When Congressman Peter Starke introduced the Medicare Social Work Equity Act of 1999 he said, "Without corrective legislation, nursing homes will be forced to reduce mental health services to needy seniors. Medicare will also have to pay significantly more for these services." The bill has been endorsed by the National Association of Social Workers, the Clinical Social Work Federation, and The American Geriatrics Society. (http://www.house.gov/stark/documents/documents/106th/socialworkintropress.html) The Mental Health Advocacy Project's legislative advocacy is primarily done on behalf of and in co-operation with the Mental Health Association in Illinois (MHAI) (www.mhai.org) and the Mental Health Summit http://mentalhealthsummit.uchicago.edu/

What alternative solutions are being investigated to solve the growing problem of providing an affordable home-like environment with adequate personal care for mentally impaired and emotionally disturbed individuals? A feasible and practical solution may be to section off a special wing of an existing nursing home to prevent grouping mentally disabled patients with geriatric patients. The benefits of this concept should be put to the relevant Government Department, together with an application for a grant allocation to contract select nursing home operators to fit out 15 apartment units that each comprises a single bedroom, bathroom/shower and small kitchenette. Providing mentally impaired and emotionally disturbed patients with a "place of their own" is a complementary form of treatment because it strengthens their sense of self-worth. Included in this "upliftment scheme" patients should have an APRN, a recreation person that specializes in care options that benefit mentally ill patients, and Nursing Aides that observe patients' physical, mental, and emotional conditions and report any change to the nursing or medical staff. A practical solution would be to initiate a pilot project to gauge the success factor of this proposed scheme before implementing it on a large scale.

On the other hand, perhaps a nursing home is not the best solution for a particular mentally ill patient. Fortunately the range of care options continues to expand to better meet the care and financial needs of individuals. Some alternative options include independent living, congregate care, assisted living and home health care. Independent living is for people who are well enough to take care of themselves and includes residing in one's own home, a retirement community, or apartment. While congregate care is similar to independent living, it features a community environment with one or more meals per day prepared and served in a community dining room. Other services may include transportation, access to a convenience store, bank, resident laundry, housekeeping, and security. Assisted living, which is apartment-style accommodation, is designed to bridge the gap between independent living and a nursing home. Services include assistance with daily living activities such as meals, housekeeping, medication assistance, laundry, and regular checks-ins. Intermediate care refers to nursing home care for patients who don't need significant nursing requirements but have need of assistance with activities of daily living. Home health care is provided by outside providers in the comfort of a patient's home; services range from basic assistance with household chores to skilled nursing services. (Nursing Home Info)

However, housing options that are being opposed by some communities is the idea of allowing mentally disabled patients to integrate into neighborhoods. While the idea of refurbishing apartment buildings to accommodate homeless mentally ill patients may seem feasible to most, some local communities and civil organizations oppose the concept on the grounds that these sites should not be located too close to schools and youth facilities such as playgrounds and parks and may also have an adverse affect on real estate sales. Yet, state-funded projects supersede any objections to the establishment of housing facilities, irrespective of the location. http://plugindoc.mozdev.org/faqs/)

Despite concerns that are voiced about anticipated problems regarding the specific location of a housing facility for mentally impaired and emotionally disturbed patients, the fact remains that these individuals also deserve to lead need-fulfilling lives within a home-like environment that adequately provides for their physical, emotional, educational, recreational, spiritual, and cultural needs. Perhaps now more than ever the time has come to urge communities to step-up their support of mentally disabled patients by identifying creative ways to help advance the healing process and their future well-being. Many believe that vulnerable populations will benefit greatly if given opportunities to take part in worthwhile activities in the community, which will serve as a form of self-healing. For instance, "Employment helps define us and our place in the world, in our eyes and in the eyes of others. We know that employment increases the level of independence and speeds the recovery of individuals with psychiatric disability -- people who want to make their own way in the community just like everyone else." (South Carolina Department of Mental Health) Similarly, the impact of providing volunteer support to institutions caring for mentally ill patients is vast and far-reaching. Opportunities include retail and fundraising, direct patient or family support and providing assistance to administrative staff. In the end we, as a community, are judged by how we treat our seniors and mentally ill citizens.

Legislation for 2004 outlines, amongst others, that those persons who are in a state-operated mental health facility have "specific substantive and procedural rights designed to insure adequate and humane care and services." (Mental Health Legislation: Summary of Changes Enacted During 2003) In addition, the legislation also announces proposed adjustments to the Mental Health Insurance Parity law to expand its scope. Yet, long-term solutions to the health care for the mentally incapacitated still have a number of problem areas that have to be overcome. In a recent study entitled Evaluating a Medicaid Home and Community-Based Physical Disability Waiver, the following statement sums up part of the problem. "In the absence of widespread social and environmental accommodations, people with disabilities have frequently had to improvise to ensure their receipt of needed health and medical services." (Fox and Kim, 37) The authors continue and state that "... individuals with disabilities are potentially disadvantaged due to barriers in their environment rather than physical or cognitive impairments. (Ibid) "Removing these barriers reflects a cultural acceptance to illness and disability that may lead to social benefits, especially if they serve to diffuse political tension associated with groups of people for whom significant benefits have been largely… [END OF PREVIEW]
Four Different Ordering Options:
?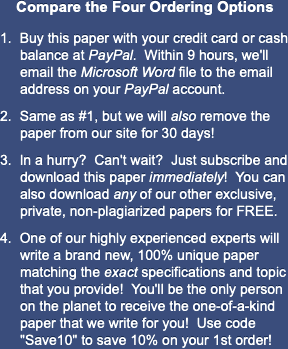 1. Buy the full, 13-page paper: $28.88
or
2. Buy + remove from all search engines
(Google, Yahoo, Bing) for 30 days: $38.88
or
3. Access all 175,000+ papers: $41.97/mo
or
4. Let us write a NEW paper for you!


Most popular!
Cite This Term Paper:
APA Format
Healthcare for Mentally Impaired Patients. (2004, February 14). Retrieved May 20, 2019, from https://www.essaytown.com/subjects/paper/healthcare-mentally-impaired-patients/5972700
MLA Format
"Healthcare for Mentally Impaired Patients." 14 February 2004. Web. 20 May 2019. <https://www.essaytown.com/subjects/paper/healthcare-mentally-impaired-patients/5972700>.
Chicago Format
"Healthcare for Mentally Impaired Patients." Essaytown.com. February 14, 2004. Accessed May 20, 2019.
https://www.essaytown.com/subjects/paper/healthcare-mentally-impaired-patients/5972700.