Term Paper:
Hindering) the Audience: Hitchcock's Usage
Pages: 8 (2175 words) · Bibliography Sources: 8 · Level: College Senior · Topic: Film · Buy This Paper
¶ … Hindering) the Audience: Hitchcock's Usage of Montage and False-Bottom in Psycho

Durgnat, Rebello, Kapsis and Truffaut state that Hitchcock's montages generate the plot misdirections at the heart of Psycho. Montage is the technique of editing separate slices of film in order to produce a single continuous sequence or whole. The simplest montage consists of two shots, one following the other, while a complex montage may extend for a number of shots edited in such a way as to produce a precise impact the viewer (also known as the Kuleshov Effect). Eisenstein, largely credited with introducing the montage technique, states that there are essentially five montage methods -- metric, rhythmic, tonal, overtonal, and intellectual (Eisenstein 72-82). Hitchcock makes extensive use of Eisenstein's method (rhythmic, tonal and intellectual) and himself describes how the montage may be used to convey certain elements of a character's personality (for example, a film shows a character frowning, cuts to an image of a child, a bowl of soup, or a woman in a bikini, then cuts back to the character now smiling; each image sandwiched between the two different facial expressions of the character will produce a different effect on the audience) ("Hitchcock Explains the Kuloshev Effect"). Psycho is filled with such montage effects.

With Psycho, Hitchcock asserted that he "was playing [the audience] like an organ" -- "I was directing the viewers." And Durgnat agrees: "Psycho works through suggestion, through atmosphere, not stating ideas, but generating them, in the minds of the audience" (Durgnat 1). This is evident in the montage sequence that opens the film. A panoramic view of downtown Phoenix (what Durgnat calls "God's Eye View") cuts to a "crotch-high view" of a barely dressed Marion in bed looking up at a shirtless Sam (Durgnat 24). The camera is level with Sam's crotch (as Durgnat notes), a position that emphasizes sexuality. Marion's prone position is exchanged for a more assertive one (she sits up), until Sam embraces her on the bed again. The embrace, however, is only momentary: Marion now stands and begins to dress; Sam awkwardly fusses with the bed sheet (foreshadowing Norman's fussiness with the motel bed sheets); they argue, embrace, and argue again. As Berne notes, "some games are played to exploit or fight off sexual impulses" (Berne 123). In Psycho, the opening montage both exploits and fights off the sexual impulse, giving the viewer the impression that the film is about Marion and Sam's love affair and that the protagonist (Marion) must overcome the antagonist (appetite, social stigma, and economic disadvantage) in order to stabilize her relationship. Hitchcock ultimately represents Berne's idea in the encounter between Norman and Marion; earlier, between Marion and Cassidy; and, earlier still, as just explained, between Marion and Sam (Durgnat 49).

The montage sequence seems to suggest "romance," a standard genre already thoroughly explored by Hitchcock in previous films; but there are hints along the way which show that Psycho is actually an "anti-romance" (Kapsis 56) -- in fact, a horror film, unlike anything he had made before. These hints come in the very beginning with the title sequence. The opening credit sequence anticipates the fractured personality of both Norman Bates (the anti-hero) and Marion Crane (Norman's unstable but less psychotic double). The splitting of the letters of the title (in unexpected directions -- up and down as opposed to a sideways movement already established by the gray bands) suggests a schizophrenic theme. The film literally splits apart with the murder of the female lead in scene 114 and reveals the actual, brutal direction of the narrative: Hitchcock is not making a woman-on-the-run film nor a tangled-romance thriller but something completely different: he is making a horror film based on the study of a psychologically disturbed young man (Rebello; Spoto).

Marion's own incongruous actions and mental disturbance foreshadow the actual focus of the film -- the "doubled or split personality" (Spoto 264). For example, at lunchtime we see that she does not eat but instead makes love; at work she does not work, but instead begs off; instead of going to the bank to deposit the money, she steals it and lays it on the bed where earlier in the day she made love. Her behavior does not match behavioral norms: as Durgnat notes, "on the one hand Marion…is unselfish, devoted; but on the other hand (and in Psycho there's always another hand), she's trying to thrust [herself] on Sam" (Durgnat 62). Her mental disturbance, witnessed as she drives away from Phoenix, is illustrated in a tonal and intellectual montage, in which Hitchcock utilizes voice over to convey the thoughts in Marion's head. Moreover, Hitchcock plays with the idea of incongruity by fooling the audience with a false bottom. The restoration of sanity in scene 113 (after, ironically, a chat with Norman) is meant to make the audience feel that all is well. But all is not well. Undressing (for the third time in the film) Marion causes the viewer to question himself as he witnesses her getting into the shower: is the viewer as voyeuristic as Norman who just moments earlier watched Marion undress? Rebello explains that the thrill of voyeurism is a trick: Hitchcock promises nudity only to say, "Gotcha!" As the audience leans forward to see what (the Hays Code censors state) it should not. This trick is emphasized by screenwriter Joseph Stefano, who reveals: "Once we got to the motel, the whole game changed for me. From then on, we were into manipulation of the highest order. Torturing the audience was the intention. Because there was no precedent for Psycho in Hitchcock's body of work, I went at it with an incredible and surprising amount of freedom" (Rebello 42). The "freedom" and "license" of the 60s is precisely what Hitchcock sets out to exploit (Spoto 420), promising "thrills" yet "directing" the audience in every way imaginable -- from cinematic tricks to admission policies (no person was to be admitted "once the film began") (Spoto 420).

The Shower Scene

The shower scene montage also begins as a misdirection. Spoto notes Truffaut's "observation that Hitchcock filmed scenes of murder as if they were love scenes, and love scenes as if they were murder scenes" (Spoto 331). Hitchcock's shower montage horrifically combines love and murder (the audience's/Norman's love/lust for Marion coupled with Mom's shocking murder of Marion). What seems like it will be an erotic scene becomes a brutally horrific scene of murder, in which both violence and nudity must be kept to a strict minimum. As Durgnat states, "Hitchcock's solution is extreme shot dissection -- a montage flurry of actions and reactions, conveyed by close-ups and 'marginal' parts of the body" (Durgnat 125). In this manner, Hitchcock breaks through the false bottom -- Marion's return to purity: she dies, erasing any chance of restoring her reputation. Plus, expecting to "glimpse" the female form, the audience is dealt images of Marion only in cubistic fragments -- accompanied first by silence then by Herrmann's slashing soundtrack (Durgnat is provocative on the integrative challenge of that musical score); we see Marion from discontinuous angles up/down, near/far; her image -- and Mom's -- migrates from left to right and up/down and reverse; so that the two figures' relative sizes and lightings change and move from left-right and reverse; that the "circles" (eye/mouth/drain) oscillate among clockwise and counter-clockwise movements.

The very movements of the camera emphasize the fun-house nature of the film -- the clockwise and counter-clockwise movements of, say, a Ferris wheel; or the disjointed reflections of a house of mirrors. As Kapsis notes, viewers found the scene to be, in fact, "sickening" (Kapsis 63). The camera cuts are so incongruous that they produce a nauseating effect on an unsuspecting audience. As Durgnat observes, "It's mostly bold cuts, more like montage Eisenstein-style…[with] a flow of 'fleeting impressions'" (Durgnat 133). The sequence is cut to jar -- to release of flood of violent impressions that flow over the viewer just as quickly and suddenly as Marion's blood flows down the drain. The narrative is suddenly jolted off track; the identity of the killer is unknown (and his intrusion into the film completely surprising for the uninitiated); the potential eroticism that the shower scene seems to promise turns into a shocking, psychological assault. Hitchcock startles his audience so badly by killing off the female lead just when she has resolved to amend her ways that the camera intuitively senses the audience's unease and reflects this with its sudden shattering of the frame into fragments.

Hitchcock's shower scene montage is rooted in the art of subtlety and suggestion. As Truffaut states, "it is the art of creating a specific dramatic mood without recourse to dialogue, and finally the art of leading us from one emotion to another, at the rhythm of our own sensitivity" (Truffaut 19). Kapsis observes that Hitchcock's art incorporated "the challenge of shooting & #8230;to suggest rather than to show nudity so as to placate the censors" (Kapsis 59). In other words, Hitchcock is… [END OF PREVIEW]
Four Different Ordering Options:
?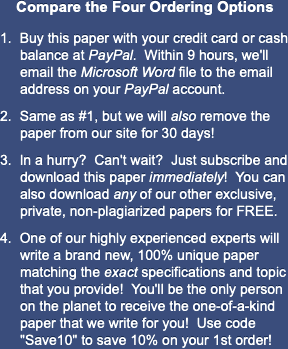 1. Buy the full, 8-page paper: $28.88
or
2. Buy + remove from all search engines
(Google, Yahoo, Bing) for 30 days: $38.88
or
3. Access all 175,000+ papers: $41.97/mo
or
4. Let us write a NEW paper for you!


Most popular!
Cite This Term Paper:
APA Format
Hindering) the Audience: Hitchcock's Usage. (2013, April 7). Retrieved June 15, 2019, from https://www.essaytown.com/subjects/paper/hindering-audience-hitchcock-usage/3948939
MLA Format
"Hindering) the Audience: Hitchcock's Usage." 7 April 2013. Web. 15 June 2019. <https://www.essaytown.com/subjects/paper/hindering-audience-hitchcock-usage/3948939>.
Chicago Format
"Hindering) the Audience: Hitchcock's Usage." Essaytown.com. April 7, 2013. Accessed June 15, 2019.
https://www.essaytown.com/subjects/paper/hindering-audience-hitchcock-usage/3948939.