Term Paper:
Libqual+ to Assess the Performance
Pages: 9 (2588 words) · Bibliography Sources: 1+ · Level: College Senior · Topic: Business · Buy This Paper
SAMPLE EXCERPT:

[. . .] According to the ARL, "The growing community of participants and its extensive dataset are rich resources for improving library services" (What is LibQUAL+? 2004:3).

Advantages of LibQUAL+.

Most dimensions of quality and the customer's resultant sense of satisfaction are not permanently established at the time of exchange (transaction point); when the provider maintains post-transactional control over certain dimensions, it is possible to manage the customer's perceptions of quality and value received and therefore, of satisfaction (Crosby, Devito & Pearson 2003). In this regard, LibQUAL+ provides library users with the opportunity to share their personal experiences and insights concerning areas that require management attention so that more timely interventions can be used to improve library services from a customer satisfaction perspective.

The ARL states that, "You can develop services that better meet your users' expectations by comparing your library's data with that of peer institutions and examining the practices of those libraries that are evaluated highly by their users" (What is LibQUAL+? 2004:4). According to the LibQUAL+ literature, "Library administrators have successfully used LibQUAL+(TM) survey data to identify best practices, analyze deficits, and effectively allocate resources" (Welcome to LibQUAL 2004:3).

Among the benefits to participating institutions are:

Institutional data and reports that enable you to assess whether your library services are meeting user expectations

Aggregate data and reports that allow you to compare your library's performance with that of peer institutions

Workshops designed specifically for LibQUAL+(TM) participants

Access to an online library of LibQUAL+(TM) research articles

Opportunity to become part of a community interested in developing excellence in library services

There is also an ease-of-use quality to LibQUAL+. According to the ARL, "Conducting the LibQUAL+ survey requires little technical expertise on your part. You invite your users to take the survey, distributing the URL for your library's Web form via e-mail" (What is LibQUAL+? 2004:6). The survey respondents simply complete the survey form and forward their answers to a central database; the data are then analyzed and presented to library managers in reports describing their users' desired, perceived, and minimum expectations of service (What is LibQUAL+? 2004).

The penultimate benefit is the relatively fast turnaround time provided by the LibQUAL+ approach. The ARL reports that based on their past experience, the total time commitment involved (August - June) is minimal, and requires only about 50-60 hours. In fact, the LibQUAL+ team handles the most time-consuming parts of the process by providing administration of the web survey as well as the data analysis and report preparation.

While libraries may participate in the LibQUAL+ survey individually, the ARL emphasizes that there are a number of benefits to participating in LibQUAL+ as part of a consortial group. "Consortium participation in LibQUAL+ is viewed as a mutually beneficial arrangement through which the consortium obtains valuable service quality information and comparisons across their membership, while ARL benefits from the large number of participants" (What is LibQUAL+? 2004:11)

Such arrangements also emphasize the importance of securing the continuing commitment and participation of consortium members in the LibQUAL+ program to assist the growth and development of the LibQUAL+ project. Participation in a consortia also provides a library with the opportunity to add five group questions to the survey, as well as a consortium results notebook that is distributed to all consortium participants, including aggregate results for the group (What is LibQUAL+? 2004).

Disadvantages of LibQUAL+. While the body of transaction data continues to grow, there remains a paucity of specialized metrics in the LibQUAL+ database in some library settings. For example, a comprehensive study by Cook and Thompson (2001) involving 4,407 participants investigated the psychometric integrity of scores on thirty-four items of the LibQUAL+ evaluation of perceived library quality. According to these researchers, "The study investigated LibQUAL+ score structure, score reliability, score correlation and concurrent validity coefficients, scale means, and scale standardized norms" (Cook & Thompson 2001:17). Based on their findings, these researchers report that there remains a paucity of data and there is a specific need for both generic and specialized norms to be developed for a large sample of users at Association of Research Libraries (ARL) institutions, LibQUAL+. However, if this data can be collected through additional research, though, these norms could then be used facilitate the ultimate application of LibQUAL+, which is identifying areas of potential improvement at any given library, and identifying similar libraries with more favorable profiles whose behavior could be replicated in a best practices model to help provide even better service to library users at other libraries (Cook & Thompson 2001).

Finally, while the LibQUAL+ may be easy to use and provide rapid results, the survey itself is not cheap. The participation fee for the 2004 LibQUAL+ survey was $2,250 per library, and if individual libraries within institutions want to distinguish their findings by requesting separate handling and deliverables, the fee is still $2,250 per unit of analysis (What is LibQUAL+? 2004).

Summary, Conclusion and Recommendations.

The research showed that LibQUAL+ is a recent descendant of SERVQUAL, an early model designed to help managers better understand how their customers perceived the quality of service being provided. While it may not be inexpensive, participating in a LibQUAL+ consortia provides an individual library will a lot of "bang for the research buck," and it is recommended that our library participate as soon as the resources become available from the general fund, or, in the alternative, that such participation be made a mandated budget item in the next fiscal year. If you have any questions or comments, please feel free to contact me at any time.

Works Cited

Cook, Colleen and Bruce Thompson. (2001). Psychometric Properties of Scores from the Web- Based LibQUAL+ Study of Perceptions of Library Service Quality. Library Trends, Spring.

Crosby, Leon B., Raffaele Devito and J. Michael Pearson. Manage Your Customers' Perception of Quality. Review of Business, 24(1):18.

Jun, Minjoon and Zhilin Yang. (2002). Consumer Perception of E-Service Quality: From Internet Purchaser and Non-Purchaser Perspectives. Journal of Business Strategies, 19(1):19.

Parasuraman, A., Zeithaml, V.A. And L.L. Berry, L.L. (1988). SERVQUAL: A multiple-item scale for measuring consumer perceptions of service quality. Journal of Retailing, 64(1):12.

Rafaeli, A. (1989). When cashiers meet customers: An analysis of the role of supermarket cashiers. Academy of Management Journal, 32:245-73.

Sasser, W.E., Olsen R.P. And D.D. Wyckoff, D.D. Management of Service Operations; Text and Cases. Boston: Allyn & Bacon, 1978.

Syed S. Andaleeb and… [END OF PREVIEW]
Four Different Ordering Options:
?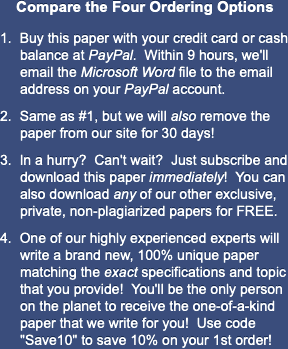 1. Buy the full, 9-page paper: $28.88
or
2. Buy + remove from all search engines
(Google, Yahoo, Bing) for 30 days: $38.88
or
3. Access all 175,000+ papers: $41.97/mo
or
4. Let us write a NEW paper for you!


Most popular!
Cite This Term Paper:
APA Format
Libqual+ to Assess the Performance. (2004, August 27). Retrieved May 21, 2019, from https://www.essaytown.com/subjects/paper/libqual-assess-performance/6383013
MLA Format
"Libqual+ to Assess the Performance." 27 August 2004. Web. 21 May 2019. <https://www.essaytown.com/subjects/paper/libqual-assess-performance/6383013>.
Chicago Format
"Libqual+ to Assess the Performance." Essaytown.com. August 27, 2004. Accessed May 21, 2019.
https://www.essaytown.com/subjects/paper/libqual-assess-performance/6383013.