Research Proposal:
Life Experience of Personal Care
Pages: 10 (3495 words) · Style: APA · Bibliography Sources: 0 · Level: Master's · Topic: Race · Buy This Paper
SAMPLE EXCERPT:

[. . .] Diabetes is reported as "twice as common in American Indian and Alaska Native communities as in the general population (15.3% compared with 7.3%), and it is steadily increasing." (NIAMS, 2006 in: National Association of Chronic Disease Directors, 2012, p.3)

Methodology

The study conducted is to be a qualitative phenomenological study. Lester (2009) states "The purpose of the phenomenological approach is to illuminate the specific, to identify phenomena through how they are perceived by the actors in a situation. In the human sphere, this normally translates into gathering 'deep' information and perceptions through inductive, qualitative methods such as interviews, discussions and participant observation, and representing it from the perspective of the research participant(s). Phenomenology is concerned with the study of experience from the perspective of the individual, 'bracketing' taken-for-granted assumptions and usual ways of perceiving. Epistemologically, phenomenological approaches are based in a paradigm of personal knowledge and subjectivity, and emphasize the importance of personal perspective and interpretation. As such they are powerful for understanding subjective experience, gaining insights into people's motivations and actions, and cutting through the clutter of taken-for-granted assumptions and conventional wisdom." (p.1) Giorgi holds that the operative word in phenomenological research is 'describe' as the researcher's aim is to describe "as accurately as possible the phenomenon, refraining from any pre-given framework, but remaining true to the facts." (Groenwald, 2004 ) The philosophy of Husserl on phenomenology is reported to have "provided a point of departure for Alfred Schulz who turned it 'toward the ways in which ordinary members of society attend to their everyday lives." (Groenwald, 2004) Van Manen (1997) translated the words of Van den Berg who captured the essence of phenomenology stating as follows:

"[Phenomena] have something to say to us -- this is common knowledge among poets and painters. Therefore, poets and painters are born phenomenologists. Or rather, we are all born phenomenologists; the poets and painters among us, however, understand very well their task of sharing, by means of word and image, their insights with others -- an artfulness that is also laboriously practiced by the professional phenomenologist." (Groenwald, 2004)

The core idea of phenomenological research is reported to be the fact that the analysis "does not start with the objective world 'out there', as is the case in the natural sciences and is such of the social sciences as well, but with 'mental directedness' or that which the mental is about or directed to." (Aspers, 2009, p.3)

Ethical Issues

Ethical issues in phenomenological research are addressed through obtaining a signed informed consent by participants in the study. The informed consent that will be signed by all participants is included in this document as Appendix A to the study.

Research Design

The study proposed herein this document is to be in the nature of a qualitative phenomenological research study, which examines the experience of personal care assistants in Anchorage, Alaska who have cared for older adults.

Sampling

Data Collection & Analysis

Bibliography

Adler, R. (2004) Introduction to cross-cultural health care for older adults. In R. Adler and H. Kamel (Eds.) Doorway Thoughts: Cross-Cultural Health Care for Older Adults. Boston: Jones and Bartlett Publishers. 2-15.

Alvord, L.A., & Van Pelt, E. (1999). The Scalpel and the Silver Bear: The first Navajo woman surgeon combines Western medicine and traditional healing. New York: Bantam Books.

American Psychological Association (2000). Working Group on assisted suicide and end-of-life decisions. Report to the Board of directors, Weshingto DC. Author (available: www.apa.org/pi/aseolf.html

Andrews, M. & Boyle, J. (1995). Transcultural Concepts in Nursing Care. Philadelphia: J.P. Lippincott.

Barresi, C. & Stull, D. (1993). Ethnic Elderly & Long-Term Care. New York: Springer Publishing Co.

Beach, M., Price, E., Gary, T., et al. (2005) Cultural Competence: A systematic review of health care provider education interventions. Medical Care, 43(4):356-373.

Berlin, A. & Fowkes, W. (1983). A teaching framework for cross-cultural health care -- Application in family practice. In Cross-cultural medicine (Special Issue). Western Journal of Medicine, 139:934-938.

Blazer, D. (1984) Evaluating the family of the elderly patient. In D. Blazer and I. Sigler (eds.) A Family Approach to Health Care of the Elderly. Addison-Wesley Publishing Co.: Menlo Park, CA. 13-32.

California Department of Finance, Population Research Unit (1988). Projected total population for California by race/ethnicity. Sacramento, California. Author Cross, T.L., Bazron, B.J., Dennis, K.W., & Isaacs, M.R. (1989). Towards a culturally competent system of care: A monograph on effective services for minority children who are severely emotionally disturbed. Washington, DC: Child and Adolescent Service System Program (CASSP), CASSP Technical Assistance Center, Georgetown University Child Development Center.

Cuellar, J. (1988) A model for the study of ethnicity and aging. Presentation for the Stanford Geriatric Education (SGEC) Quarterly.

Damron-Rodriguez, J., Wallace, S.P., & Kington, R. (1994). Service utilization and minority elderly: Appropriateness, accessibility and acceptability. Gerontology and Geriatrics Education, 15:1 45-64.

Diabetes and Depression Among American Indian and Alaska Native Elders (2012) National Association of Chronic Disease Directors. Retrieved from: http://www.cdc.gov/aging/pdf/hap-issue-brief-aian.pdf

Diaz-Duque, O.F. (1982). Overcoming the language barrier: advice for an interpreter. American Journal of Nursing, 82, 1380-2.

Easley, C., Charles, G. (Kauaqlak), Graves, K. (2004) Our View of Dignified Aging: Qualitative Report Conferences of Alaska Native Elders. National Resource Center for American Indian, Alaska Native, and Native Hawaiian Elders. University of Alaska, Anchorage, Alaska.

Federal Interagency Forum on Aging-Related Statistics (2004, November). Older Americans 2004, Key indicators of well-being. Federal Interagency Forum on Aging-Related Statistics, Washington D.C., U.S. Government Printing Office.

Fillenbaum, G.G., Heyman, A., Huber, M.S., Woodbury, M.A., Leiss, J., Schmader, K., E., Bohannon, A., & Trapp-Moen, B. (1998). The prevalence and 3-year incidence of dementia in older Black and White community residents. Journal of Clinical Epidemiology, 51(7), 587-595.

Foster, B.G., Jackson, G., Cross, W.E., Jackson, B., & Hardiman, R. (1988, April). Training and Development Journal, pp. 1-4.

Fried, S.B. & Mehrotra, C.M. (1998). Aging and Diversity: An Active Learning Experience. Washington, DC: Taylor and Francis.

Gelfand, D. (1995). Ethnicity. In Maddox, G. Atchley, R., Evans, J.G., Finch, C, Hultsch, D., Kane, R., Mezey, M., & Siegler (Eds.) The Encyclopedia of Aging, 2nd Ed. New York: Springer Publishing Co.

Green, J.W., & Leigh, J.W. (1989). Teaching ethnographic methods to social service workers. Practicing Anthropology, 11:8-10.

Groenwald, T. (2004) A Phenomenological Research Design Illustrated. International Journal of Qualitative Methods 3(1). April 2004. Retrieved from: http://www.ualberta.ca/~iiqm/backissues/3_1/pdf/groenewald.pdf

Guerin, T. And Pendergast. E. (1975). Evaluation of family system and genogram. In T.J. Guerin (ed.) Family therapy: theory and practice. New York, Gardner Press.

Gurland,, B.J., Wilder, D.E., Cross, P., Teresi, J., & et al. (1992). Screening scales for dementia: Toward reconciliation of conflicting cross-cultural findings. International Journal of Geriatric Psychiatry, 7(2), 105-113.

Henderson, N., Alexander, L.G., & Mayka, M.G. (1990). Minority Alzheimer's Caregivers: Removing Barriers to Community Services. Tampa, FL: Suncoast Gerontology Center, University of South Florida.

Hendrix, L (2001) Health and health care for American Indian/Alaska Native elders. In G. Yeo (Ed.) Ethnic Specific Modules of the Curriculum in Ethnogeriatrics: A Project of the Collaborative on Ethnogeriatrics. Palo Alto, CA: Stanford Geriatric Education Center.

Hooyman, N. & Kiyak, H.A. (1999). Social Gerontology, 5th Ed. Boston: Allyn & Bacon.

Hopp, F. (2000) Preferences for surrogate decision makers, informal communication and advance directives among community-dwelling elders: Result from a national study. Gerontologist,40, 449-457.

Jackson, J.J. (1985) ace, national origin, ethnicity, and aging. In Binstock, R. And Shanas, E. (Eds.) Handbook of Aging and Social Sciences, New York:Van Nostrand Rheinhold, 264-268.

Klein, S.(Ed.) (1996). Ethnogeriatrics. In A National Agenda for Geriatric Education: White Papers. Washington, DC: Bureau of Health Professions, Health Resources and Services Administration.

Kramer, B.J. (1996). American Indians. In J.G. Lipson, S.L. Dibble, & P.A. Minarik (Eds.). Culture & nursing care: A pocket guide (chap. 3, pp. 11-22). San Francisco: University of California San Francisco Nursing Press.

Lavizzo-Mourey, RJ. & Mackenzie, E. (1995). Cultural competence -- an essential hybrid for delivering high quality care in the 1990s and beyond. Transactions of the American Clinical Association, 107,226-237.

Leininger, M. (1997). Overview and reflection of the theory of culture care and the ethnonursing research method. Journal of Transcultural Nursing, 8, 32-52.

Lester, S. (2009) An Introduction to Phenomenological Research. Retrieved from: http://www.sld.demon.co.uk/resmethy.pdf

Lin, K.M., Poland, R.E., & Nakasaki, G. (Eds.) (1993) Psychopharmacology and Psychobiology of Ethnicity. Washington, DC: American Psychiatry Press.

Liu, W.T. & Yu, E. (1985) Asian/Pacific American elderly: Mortality differentials, health status and use of health services. Journal of Applied Gerontology, 4:35-64.

Markides, K., Liang, J., & Jackson, J. (1990) Race, Ethnicity, and Aging: Conceptual and Methodological Issues. In Binstock, RH. & George, L.K. Handbook of Aging and the Social Sciences, 3rd Ed. San Diego: Academy Press, Inc.

Markides, K.S. (1995). Minorities and Aging. In Maddox, G. Atchley, R, Evans, J.G., Finch, C, Hultsch, D., Kane, R, Mezey, M., & Siegler (Eds.) The Encyclopedia of Aging, 2nd Ed. New York: Springer Publishing Co.

McBride, M. (2012) Ethnogeriatrics and Cultural Competence for Nursing Practice. Hartford Institute for Geriatric Nursing. ConsultGeriRN.org Retrieved from: http://consultgerirn.org/topics/ethnogeriatrics_and_cultural_competence_for_nursing_practice/want_to_know_more

McBride, M.R. & Lewis, I.D. (2004). African-American and Asian-American elders: An ethnogeriatric perspective.… [END OF PREVIEW]
Four Different Ordering Options:
?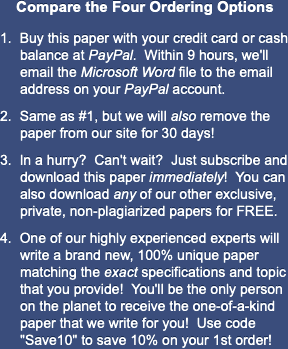 1. Buy the full, 10-page paper: $28.88
or
2. Buy + remove from all search engines
(Google, Yahoo, Bing) for 30 days: $38.88
or
3. Access all 175,000+ papers: $41.97/mo
or
4. Let us write a NEW paper for you!


Most popular!
Cite This Research Proposal:
APA Format
Life Experience of Personal Care. (2013, January 16). Retrieved June 15, 2019, from https://www.essaytown.com/subjects/paper/life-experience-personal-care/8736448
MLA Format
"Life Experience of Personal Care." 16 January 2013. Web. 15 June 2019. <https://www.essaytown.com/subjects/paper/life-experience-personal-care/8736448>.
Chicago Format
"Life Experience of Personal Care." Essaytown.com. January 16, 2013. Accessed June 15, 2019.
https://www.essaytown.com/subjects/paper/life-experience-personal-care/8736448.