Term Paper:
Market Orientation of Medical Diagnostic
Pages: 76 (21636 words) · Bibliography Sources: 1+ · Level: College Senior · Topic: Healthcare · Buy This Paper
SAMPLE EXCERPT:

[. . .] Services at the HHS, MDU's are not planning to be eliminated, but to be more efficient through improved discharge planning, more efficient ways to canalize patient, increase training and skills and more effective clinical and technological test taking of patients. The MDU used as a sample for this research project has an acceptance of approximately 3588 patients a year in the Echocardiography laboratory, 37856 patient for Electrocardiography, 1633 for Holter Monitoring, 2839 for Stress Test, and a 16,102 per year for diversity of cardiac and related non-cardiac diagnostic technologic tests. Having a total of 62018 tests at this particular Unit.

The four units at the corporation have approximately 167,489 invasive and non- invasive cardiovascular tests (including a small number of neurology test) done a year. I do not feel that an exhaustive evaluation of administration is appropriate at this time. Rather, I suggest to examine the overall market for the type of cardiac departments that specialize in a non-invasive technology and to give emphasis to the areas of quality improvement geared toward maximizing efficiencies and increasingly accountability and examines the market orientation of a cardiac department of a recent merged organization. In that sense, I am proposing to identify problems, propose solutions and evaluate processes. This proposal represents the details of an initial study of an MDU administration of a non-invasive technique laboratory using applied methodologies; i.e., financial, human resources, marketing, operational and organizational culture observations, etc.

The MDU is a key element for the development of cardiac investigation and diagnosis of cardiac disease and cardiac pathologies. The MDU medical market is at the present time directed by technical personnel with a technical approach to management. In addition the people that direct it have worked in related areas of expertise before and were promoted from technical and nursing ranks to management.

The decreasing fund and budged to these centers have created the need for a better business-medical type of direction. It is especially taught to deal with the dearth of resources... outdated equipment's, instruments, and a lot more of physical resources. The MDUs' rely heavily on inpatient referrals from services-hospital area physicians and third party referral sources and at the present time many forces are affecting their referral patterns. The impact of the movement of care from inpatient to outsettings, and from nursing homes to home care is affecting the effectiveness, and accessibility, particularly for persons with chronic conditions.

The factors that influence access to cardiac diagnostics services are socioeconomic, cultural and geographic and state of health factors (many MDU patients have physical limitations in the kinds of activities they can do, and they need support in accessing services). The reality of the situation is that patient market share competitiveness is out in the open, more aggressively conducted, and more integrated in nature. "The changes occurring in the department's external environment directly influences its internal operations" (an old management saying).

The future direction of this type of department will require well-prepared personnel. Therefore, the one way to measure the performance of cardiac managers could be attributed to specific criteria for this departments: growth in revenue (funding), percent of revenue (funding), return on capital, quality service, new service-facilities improvement, and control of operational expenses.

OBSERVATIONS AND RECOMMENDATIONS

The Medical Diagnostic Units need to put the customer at the center of their thinking, and foster behaviors and implement processes and technologies that support co-ordinated customer interaction throughout all customer channels. The MDUs' need to fundamentally change their approach, from focusing on staff productivity and administrative efficiency to a more customer-centric model that creates loyalty. MDUs' need to focus on long-term customers, learn how to assess the true life-time value of customers and actively work to keep them.

Empowered consumers will create impatient patients; consequently consumers are starting to spend more of their own personal income on health and making more decisions about their own treatments. MDUs' have to adapt or disappear and have to have realistic expectations of the kind of quality and quantity of tests they provide. MDUs' also need to enhance the quality, appropriateness, and effectiveness of it health diagnostic services, and access to such services, through the establishment of customer services, to promote the quality measurement and improvement of diagnostic services and integrate cardiology technology computer information services, in order to expect better outcomes.

Management will have to improve decision-making at all levels of the program, and in particular, what works, when, and at what cost, identify strategies to improve access, reduce unnecessary expenditures, improve access and promote cost-effective health care resources.

Management will have to address outcomes, quality, access to, cost and use of services, cost-sharing mechanisms, evaluation of the appropriateness of different data sources, and development and evaluation of methods using data to improve quality of care, communication and co-ordination of services among cardiac employees.

MDUs' need to improve communication between technologists, doctor's clinicians and patients, satisfaction with care, processes of care, cost and effectiveness of care applicable to patient with different health conditions. Job enrichment, decreased turnover, cost saving, greater productivity, and improved patient care... all depend on employee satisfaction. (Paula Stamps, "nurses and work satisfaction"). The MDUs' could improve the delivery of care, if some of the recommendations are implemented, the implementation can be in stages and adopts them whenever needs of circumstances change. All of this can be a business strategy designed to optimize profitability, revenue, employee and customer satisfaction. "Such moves would require investments in people, products, services and infrastructure." vi. GROWTH

The medical diagnostic markets are expected to continue to show strong growth because of increasing consumer demands, particularly in the medical cardiac image area and vascular studies (these areas, which may be particularly demanding for Cardiac Ultrasound). In addition, the non-invasive cardiac diagnostic test Echocardiography is one of the growing cardiac diagnostic techniques of medical image, followed by Nuclear Cardiac Medicine, an other non-invasive cardiac diagnostic tests i.e., Electrocardiography, Holter Monitoring, Stress Test. The more popular those cardiac diagnostic tests become (because the increase of the aging population), the more demanding the provision of quality patient services will become.

A vii. METHODOLOGY

As noted above, the purpose of the study is to examine the relationship between market orientation and employees' satisfaction, and the relationship between employee's satisfaction and service quality in non-for profit medical diagnostic units. The MDU inclusion will be based on the willingness of directors, managers, patients, and staff to participate in the study and on the participation of the MDU's of the respective hospitals.

The traditional approaches to understanding the economics involved in a healthcare organization involve issues and analyses of events related to the efficiency and effectiveness of goods, money, and services "where maximum satisfaction related to need or want is the outcome" (Turkel & Ray, 2000 p. 310). This "invisible hand" in the healthcare marketplace has created new structures that have significantly impacted on the provision of quality and timely healthcare. However, by studying these processes in terms of what the driving force behind them really is, and by recognizing that change is the only constant, nursing professionals will be in a better position take advantage of opportunities which present themselves instead of being lost in a sea of misinformation and confusion (Turkel & Ray, 2000 p. 311). Researchers on previous studies of market orientation such as Narver and Slater (1990), (worked with subjective measures of performance as the dependent variables) and Jaworski and Kohll (1991), (worked with subjective measures "overall performance" but not objective measures of performance), both researchers found that a strong market orientation is an important determinant of an organization performance.

The methodology used in this study is similar to the Narver and Slater (1990) study in that the data were obtained from a single organization. One important difference is the number of unit examined in the study. Narver and Slater (1990) contained 140 business units, whereas the corporation examined in the study has four MDU comprised units in total. Kohli and Jaworski (1990) suggest that market orientation afford benefits to employees and that there is a positive relationship between a firm's market orientation and customer satisfaction. Kohli and Jaworski (1993) found that the market orientation of a business is an important determinant of its performance.

This study uses a survey approach to identify opportunities for improving healthcare delivery services and patient satisfaction with the objective of improving patient care and treatment outcomes. The survey instrument was crafted based on a critical review of the relevant literature. Wood and Ellis (2003) identified the following as important outcomes of a well conducted literature review:

It helps describe a topic of interest and refine either research questions or directions in which to look;

It presents a clear description and evaluation of the theories and concepts that have informed research into the topic of interest;

It clarifies the relationship to previous research and highlights where new research may contribute by identifying research possibilities which have been overlooked so far in the literature;

It provides insights… [END OF PREVIEW]
Four Different Ordering Options:
?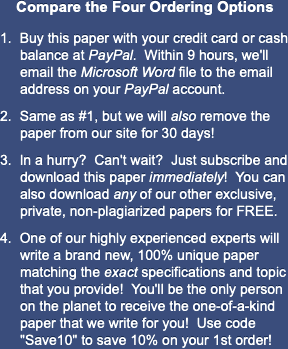 1. Buy the full, 76-page paper: $28.88
or
2. Buy + remove from all search engines
(Google, Yahoo, Bing) for 30 days: $38.88
or
3. Access all 175,000+ papers: $41.97/mo
or
4. Let us write a NEW paper for you!


Most popular!
Cite This Term Paper:
APA Format
Market Orientation of Medical Diagnostic. (2004, September 7). Retrieved May 20, 2019, from https://www.essaytown.com/subjects/paper/market-orientation-medical-diagnostic/3320251
MLA Format
"Market Orientation of Medical Diagnostic." 7 September 2004. Web. 20 May 2019. <https://www.essaytown.com/subjects/paper/market-orientation-medical-diagnostic/3320251>.
Chicago Format
"Market Orientation of Medical Diagnostic." Essaytown.com. September 7, 2004. Accessed May 20, 2019.
https://www.essaytown.com/subjects/paper/market-orientation-medical-diagnostic/3320251.