Literature Review Chapter:
Nice Standards Nice Compliance
Pages: 10 (2746 words) · Style: Harvard · Bibliography Sources: 7 · Level: Master's · Topic: Healthcare · Buy This Paper
SAMPLE EXCERPT:

[. . .] All of these risk factors pose an additional risk for thrombosis. Complications that may additionally increase the risk for thrombosis may include a recent hip fracture or knee replacement or surgery which may increase immobility (DH, 2010). Factors that may impose an increased bleeding risk may include acquired bleeding disorders, use of certain medications including anticoagulants, acute stroke, thrombocytopenia, uncontrolled hypertension, inherited bleeding disorders including haemophilia, lumbar puncture during a recent epidural or spinal anesthesia, or other procedures that increase the risk of high bleeding (DH, 2010). These factors when combined dramatically increase the risk for VTE.

VTE Prevention and Implementation

Prevention is key to survival. The purpose of NICE is essentially, risk management, which falls in the category of prevention. Education and assessment are essential to risk management. The first step in this process is providing guidelines to healthcare professionals so they can implement NICE guidelines. These guidelines outline the steps and procedures that healthcare organisations should follow to ensure that patients are appropriately monitored for complications and risks prior to admission, during their stay, following surgery, and after discharge. A patient's risk for VTE may change at any point during each of these phases. Prevention also occurs with the patient. During a patient's stay, and after their discharge, it is important that they receive essential education that teaches them what their condition is, and what they can do to help prevent post-op VTE. This may include mobility training as soon as possible following surgery. It may also include instruction on the use of mechanical devices like stockings.

Implementation should include uniform training and protocols followed by all professional personnel. It may include training among healthcare centers and community agencies. It may even include training and education among family members. NICE has developed seven quality VTE prevention standards to help prevent venous thrombosis. These standards, published by the NICE (2011) institute, paraphrased and printed on their guidelines list, are as follows:

(1) Ensure that every patient, following admission to a Hospital or medical inpatient facility, receive a full assessment of potential bleeding and VTE risk using the proper risk assessment criteria as per the national tool. This includes a checklist that health assessors can use to assess bleeding risk, including recent acute events or medications that may increase bleeding risk.

(2) All patients be provided with appropriate written educational material that describes prevention of VTE when admitted to the Hospital and that this is part of the routine process of admitting all patients. Patients should understand these materials, or a translator should be available in the event the patient does not understand the material provided to them.

(3) All patients admitted are provided with appropriate VTE preventive materials, which may include anti-embolism stockings, which are appropriately fitted and reviewed according to standards and guidance established by the NICE guidelines. The patient must be measured for these stockings, and understand how to use them, including when the patient is discharged, as non-compliance with the use of these stockings following discharge may result in VTE post-discharge. This is another area where education is critical to the success or failure of VTE and NICE guidelines and protocols.

(4) All patients, within 24 hours of admission to a facility, are assessed again to ensure risks are accounted for with regard to VTE and bleeding. This will include an extensive consultation and work up with the patient or the patient's family members.

(5) Patients considered at high risk for VTE are provided or considered for VTE preventive treatment according to the guidelines provided by the NICE protocols. This may include the use of anticoagulants, aspirin, mechanical devices or other measures as deemed appropriate. Patients may be required to be mobile to help prevent the risk of VTE, before or after surgical intervention.

(6) All patients before they are released and discharged are provided appropriate written and oral instruction regarding proper risk management and VTE prevention. This may include requiring the patient to be mobile, and asking other members or health professionals to assist the patient in these measures.

(7) All patients are provided follow up care post-discharge that adheres to the guidelines provided by the NICE institute.

This information is provided in full accordance with the standards published by the NICE quality care guidelines (2011). These guidelines may be altered to suit the individual's needs of a particular unit or hospital, as long as the core or essential seven functions are not altered significantly.

Patient Education

Patient education should have several core components. Among these should include the following key components: (1) include information regarding the importance of VTE preventive care, and the side effects of such prophylactic care (including pharmacological side-effects); (2) correct use of prophylactic care, including use of stockings, or other compression devices; (3) information regarding other interventions, including hydration; (4) instruction on appropriate exercises to reduce the risks of VTE; (5) education regarding the risks associated with VTE; (6) signs and symptoms of DVT and PE; (7) correct duration for VTE treatment while at home; (8) signs and symptoms of adverse events that may be related to inappropriate use of prophylaxis care while at home; (9) when to call a doctor following discharge; (10) information about when to seek medical care, or when to call for an emergency, signs and symptoms accordingly (NICE, 2010, p. 46).

Other NICE Guidance

There is specific NICE guidance available for specific procedures. This depends on the population and condition addressed. For example, NICE has offered the following other guidance related to VTE treatment:

(1) Provide pharmacological VTE prophylaxis for all patients with a high risk of VTE; choices may include: * fondaparinux sodium; *low molecular weight heparin (enoxaparin, tinzaparin, daltaparin); * unfractionated heparin for patients that have renal failure

(2) Begin pharmacological VTE prophylaxis immediately following risk assessment, once completed.

(3) Continue such treatment until the patient is no longer at an increased risk for VTE.

(NICE guidelines, 2010: January 1).

Each patient requires independent assessment and continuing assessment during treatment and following discharge to ensure they continue to remain at reduced risk or free from increased risk for VTE. Education is as mentioned, of utmost importance for patients at various levels of treatment; depending on their condition prior to assessment, at admission, during the course of treatment, and post discharge. The literature review emphasizes the need for protocols emphasizing involvement at all levels of care, inclusive of pre-admission, admission, post-surgery, at discharge and following discharge. Information is provided at the patient level, medical/professional level, caregiver level, and community level to ensure protocols address all levels of need.

References:

Department of Health (DH). (2010 March). "Venous Thromboembolism (VTE) Risk

Assessment." Department of Health. Retrieved July 23, 2011: Publications PolicyAndGuidance

NHS Evidence. (2011). NHS Evidence: Evidence in Health and Social Care. NHS Evidence,

Retrieved July 23, 2011: http://www.evidence.nhs.uk/

NICE. (2011). "About NICE." National Institute for Health and Clinical Excellence. Retrieved July 23, 2011: http://www.nice.org.uk/aboutnice/

NICE. (2010 Jan). NICE Issues Guidance on Reducing the Risk of VTE for Adults Admitted

To Hospital as Inpatients. NICE, Retrieved July 23, 2011: http://www.nelm.nhs.uk/en/NeLM-Area/Evidence/Guidelines/NICE-issues-guidance-on-reducing-the-risk-of-VTE-for-adults-admitted-to-hospital-as-inpatients/

NICE. (2011). "Published Clinical Guidelines. National Institute for Health and Clinical

Excellence." Retrieved July 23, 2011: http://www.nice.org.uk/guidance/index.jsp?action=byType&type=2&status=3… [END OF PREVIEW]
Four Different Ordering Options:
?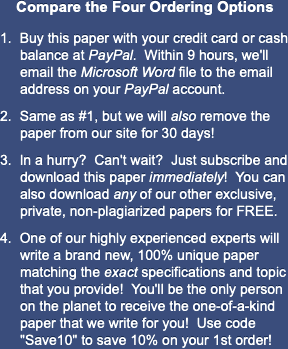 1. Buy the full, 10-page paper: $28.88
or
2. Buy + remove from all search engines
(Google, Yahoo, Bing) for 30 days: $38.88
or
3. Access all 175,000+ papers: $41.97/mo
or
4. Let us write a NEW paper for you!


Most popular!
Cite This Literature Review Chapter:
APA Format
Nice Standards Nice Compliance. (2011, July 25). Retrieved June 20, 2019, from https://www.essaytown.com/subjects/paper/nice-standards-compliance/8707195
MLA Format
"Nice Standards Nice Compliance." 25 July 2011. Web. 20 June 2019. <https://www.essaytown.com/subjects/paper/nice-standards-compliance/8707195>.
Chicago Format
"Nice Standards Nice Compliance." Essaytown.com. July 25, 2011. Accessed June 20, 2019.
https://www.essaytown.com/subjects/paper/nice-standards-compliance/8707195.