Research Paper:
Pressure Ulcers in the Elderly
Pages: 8 (2569 words) · Bibliography Sources: 1+ · Level: Master's · Topic: Health - Nursing · Buy This Paper
SAMPLE EXCERPT:

[. . .] (2008), these are some of the extrinsic risk factors for pressure ulcers. The extended nursing role in this model includes patient history taking, ordering diagnostic tests and prescribing treatment. One of the definitive objectives of the model relates to timeliness. Each patient is reviewed and progress recorded every 48 hours, while an advanced practice nurse sees new admissions within one hour. This system would ensure that formations of pressure ulcers early on in a patient's hospital stay would be identified very early. An analysis of the nurse practitioner's role conducted by Schroeder (2008) further emphasizes the qualifications and educational preparation that makes the advanced practice nurse well suited for such a role in the hospital.

Improving care in Practice Area: Action Plan and Measurable Outcomes

Currently, the resources in the author's practice area are overloaded. Trends are towards shorter hospital stay for patients, leading frequently to a breakdown of the continuity of care. In the groundbreaking report, "To Err is Human: Building a Safer Health System," published in 2000, the National Institute of Medicine identified breakdown of communication, time of day and electronic monitoring as major sources of errors leading to adverse events in the hospital. These are precisely the kinds of errors seen in the practice area that undermine the treatment of pressure ulcers. Each can be addressed in a specific way.

Communication breakdown occurs most often when the patient is transferred from the emergency room to an intensive care unit or a hospital ward. Either first signs of pressure ulcers are not documented or treatment is initiated but not adequately communicated to the receiving hospital unit. Treatment is aborted, the pressure ulcers continue to grow and the patient's condition worsens. One specific way for an advanced practice nurse to change this problem is to implement a checklist. More attention must be paid to pressure ulcers in a patient's primary assessment and continued monitoring must be ensured. A checklist in the patient's chart listing risk factors that apply to the patient can improve the continuity of treatment.

Further, given the difficulty of diagnosing early stage pressure ulcers, it may be helpful to implement a new standardized diagnostic tool. The Pressure Ulcer Scale for Healing (PUSH) has been shown to provide a valid measure of pressure ulcer healing over time and accurately differentiates between a healing and a non-healing pressure ulcer (Gardner, Frantz, Bergquist & Shin, 2005). PUSH scores decreased significantly over time in ulcers that healed but not in those that did not heal. This tool can be implemented at first admission of the patient. Measurable objectives of improvement would be higher rates of early pressure ulcer identification. According to studies, early identification improves outcomes for pressure ulcers so a higher reported incidence of early detection can lead to faster implementation of treatment and better patient outcomes.

Errors linked to the time of day and electronic progress monitoring have a negative impact on the delivery of care when resources are in jeopardy. Pressure ulcer treatment is a preventative measure, and the staff needed to consistently turn a patient is often shifted to other patients needing more intensive interventions. As an advanced practice nurse, implementation of the Whafedale Model (Clegg, Bradley, Smith & Kirk, 2006) mentioned above could help to improve available resources. Increasing the number of qualified staff can provide a better diagnostic determination of the pressure ulcers and reduce errors related to stress and overload at night and on weekends and improve progress reports and patient checkups. An objective outcome measure for improvement in this area would be a comprehensive weekly review of patient charts for continued monitoring of pressure ulcers in patients at high risk. Implementation of these changes must be done throughout the medical system. Patients move through the system and pressure ulcer formation must be monitored throughout their stay in the hospital and afterwards.

Conclusion

The incidence of pressure ulcers in the U.S. healthcare system remains high. They significantly increase the cost of hospital stays and can often be fatal to a frail, elderly patient. The overload and extreme financial pressure on many healthcare organizations undermines the extensive monitoring required by patients at risk for pressure ulcers. Early detection of pressure ulcers can be improved by raising awareness of the risk factors, which include low body mass index, immobility, dry skin and poor nutritional status. System-wide implementation of the PUSH diagnostic system and a greater staff that can enable an advanced practice nurse to pay personal attention to a patient can improve preventative treatment of pressure ulcers and overall patient outcomes.

References

Baumgarten, M., Margolis, D.J., Localio, A.R., Kagan, S.H., et al. (2006). Pressure Ulcers Among Elderly Patients Early in the Hospital Stay. The Journals of Gerontology, 61, 7, 749-754.

Baumgarten, M., Margolis, D.J. Localio, A.R., Kagan, S.H., Lowe, R.A., Kinosian, B., Abbuhl, S.B., Kavesh, W., Holmes, J.H., Ruffin, A., Mehari, T., et al. (2008). Extrinsic Risk Factors for Pressure Ulcers Early in the Hospital Stay: A Nested Case-Control Study. The Journals of Gerontology, 63, 4, 408-413.

Cara, C. (2003). Continuing Education: A Pragmatic View of Jean Watson's Caring Theory. International Journal of Human Caring, 7, 3, 51-61.

Clegg, A., Bradley, M., Smith, P., Kirk, Z. (2006). Developing the nurse's role in the care of older people. Nursing Older People, 18, 5, 26-30.

Compher, C., Kinosian, B.P., Ratcliffe, S.J., Baumgarten, M. (2007). Obesity Reduces the Risk of Pressure Ulcers in Elderly Hospitalized Patients. The Journals of Gerontology, 62, 11, 1310-1320.

Cuddigan, J., Berlowitz, D.R., Ayello, E.A. (2001). Pressure Ulcers in America: Prevalence, Incidence, and Implications for the Future: An Executive Summary of the National Pressure Ulcer Advisory Panel Monograph. Advances in Skin & Wound Care, 14, 4, 208 -- 15.

Gardner, S.E., Frantz, R.A., Bergquist, S., Shin, C.D. (2005). A Prospective Study of the Pressure Ulcer Scale for Healing (PUSH). The Journals of Gerontology, 60, 1, 93-7.

Kohn, L.T., Corrigan, J.M., Donaldson, M.S. (2000). To Err is Human: Building a Safer Health System. Institute of Medicine Committee on Quality of Health Care in America.

Schroeder, J.L. (2008). Acute Care Nurse Practitioner: An Advanced Practice Role for Rn First Assistants. Association of Operating Room Nurses, 87, 6, 1205-1215.

Sergi, G., Coin, A., Mulone, S., Castegnaro, E., et al. (2007). Resting Energy Expenditure and Body Composition in Bedridden Institutionalized Elderly Women with Advanced-Stage Pressure Sores. The Journals of Gerontology, 62, 3, 317-322.… [END OF PREVIEW]
Four Different Ordering Options:
?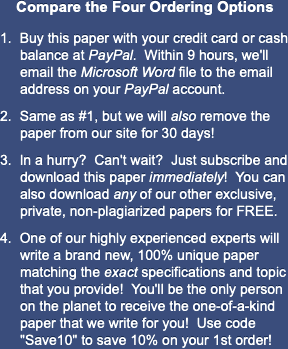 1. Buy the full, 8-page paper: $28.88
or
2. Buy + remove from all search engines
(Google, Yahoo, Bing) for 30 days: $38.88
or
3. Access all 175,000+ papers: $41.97/mo
or
4. Let us write a NEW paper for you!


Most popular!
Cite This Research Paper:
APA Format
Pressure Ulcers in the Elderly. (2011, November 13). Retrieved July 17, 2019, from https://www.essaytown.com/subjects/paper/pressure-ulcers-elderly/7088073
MLA Format
"Pressure Ulcers in the Elderly." 13 November 2011. Web. 17 July 2019. <https://www.essaytown.com/subjects/paper/pressure-ulcers-elderly/7088073>.
Chicago Format
"Pressure Ulcers in the Elderly." Essaytown.com. November 13, 2011. Accessed July 17, 2019.
https://www.essaytown.com/subjects/paper/pressure-ulcers-elderly/7088073.