Research Paper:
Quality of Life Among Tawau
Pages: 15 (5746 words) · Bibliography Sources: 1+ · Level: College Senior · Topic: Disease · Buy This Paper
SAMPLE EXCERPT:

[. . .] In a study that was conducted under the PraxArt project, it was found that OA has a negative effect on the quality of life of patients. The study also reveals that when a patient-centered intervention that allows for longer follow-up is not applied, the quality of life of patients which is measured by their satisfaction, presence of comorbidities and levels of stress and depression deteriorates Rosemann et al., 2005: 77

( ADDIN EN.CITE )

ADDIN EN.CITE

Jinks et al. (2007: 59)

also provide amodel for examining the quality of life of patients suffering from knee pain that may be associated with OA. Their study used a multi-method approach over a 12-month period and found that knee OA results to difficulties in conducting normal activities such as bending, domestic chores, climbing stairs, bathing, and getting in and out of a car. The study thus supported the findings of previous authors on the negative effects of knee OA on quality of life of patients.

OA represents a significant public health problem and contributes a major disease burden globally. It also makes daily activities to become slower, harder and painful to perform and it also can change people's lifestyle Brooks, 2002: 575.

It is also a long-term problem since it has no cure and it can only be managed by educating the public, controlling pain, increasing fitness and strengthening muscles. These can improve joint mobility, limit functional impairment and slow the progression of OA. OA is been considered as one of the chronic illnesses. A research study on the impact of OA on QoL shows that the impact of OA on QoL, especially on pain and disability, does not differ between female or male patients Okanlawon, 2012: 31.

The study also shows that OA of the knee usually begins at the age of 40 and is most common in people over the age of 65 Ji et al., 2010: 672

( ADDIN EN.CITE )

. However, recent studies have shown that people in their 20s or 30s can also get OA Rodriguez-Fontenla et al., 2012: 907

( ADDIN EN.CITE )

. Some predisposing factors include overuse of the knee joint, occupational or sports-related injuries, and obesity. However, a study conducted by David T. Felson, showed that recreational walking, jogging or other self-reported activity has no relation with the development of knee OA which creates ambiquity over the cause of knee OA Felson et al., 2007: 534-540

( ADDIN EN.CITE )

By learning more about OA, the public will be able to understand how it impacts QoL and thus apply appropriate preventive measures. Practitioners will also be able to understand the impact of the disease on QoL of patients and thus develop and adopt appropriate control measures to improve patient outcomes.

Methodology

Research design

The research was designed to be a qualitative study. It was carried out in an outpatient physiotherapy setting where most of the patients is been referred from primary care (outpatient department) and orthopedic clinic. According to Lindlof and Taylor (2002: 19)

, the qualitative method is best when the researcher is looking to answer the why and how question regarding decision-making. Since this study dwells with why and how those suffering from knee OA have coped with their illness, the qualitative study method is chosen. Marshall and Rossman (1999: 52)

also state that qualitative research is best for focused samples which are what this study looks at. This study focuses on Tawau hospital staff suffering from knee OA which is a small cohort that is best focused on with the qualitative research method.

Setting

The study is to be conducted among the staff of Tawau Hospital which is located in Tawau. It is the biggest government hospital in the east coast of Sabah, Malaysia. Tawau Hospital is known as the central zone for main referral cases from other hospital in the East Coast zone of Sabah. Tawau Hospital is a teaching and learning hospital which provides training for new doctors, other allied health professionals from the private or local government healthcare facilities, local universities and international settings. Tawau Hospital also operates in collaboration with the Sabah Health Department.

Subjects

Purposive sampling study was used to identify study subjects. This sampling method was deemed best to help the researcher find a small sample which is accessible for in-depth interviews and whose findings can be generalized to the accessible population rather than the complete target population Denzin and Lincoln, 2005: 23(, Saldana, 2012: 74)

. Purposive sampling is a nonprobability sampling method which is used to include only those subjects who are relevant to the study Groves et al., 2009: 103.

As stated by Patton (1990: 61)

, purposive sampling is best when the study is designed to be qualitative for reasons such as it ensures the study is information-rich, it illustrates what is typical, average or normal, it is opportunistic meaning it follows new leads, it saves time, effort and money, and many others.

To be included in the study, participant had to fulfill the selection criteria which meant they had to be members of staff in the hospital and had to be suffering from knee OA or bilateral knee pain. They also have to have registered with the physiotherapy outpatient department between Jun and Dec 2012 and to be undergoing treatment at the facility. The physiotherapy session had to be for at least a month. To be included, the subject had to be able to communicate in Bahasa Malaysia or English. The researcher left the forms at the department after which willing participants contacted the researcher or left their contact number at the department. The researcher then chose 7 participants for the study.

Procedure

Data collection

After the participants were identified, they were introduced to the study and the purpose of the study was explained to them in detail. The date and time for an interview was then set at the convenience of both the researcher and the participant. The researcher then called the participants to remind them of the interview on the day of the interview. On the interview day, the participants were reminded that the interview will be tape-recorded but no personally identifiable information will be collected or used. The data collected was kept in a locker at the facility's physiotherapy unit and was coded to ensure it was not personally identifiable.

A semi-structured interview with open-ended questions was conducted with all 7 participants. The interviews were guided by the schedule attached in the appendix. The major reason for this was as given by Holloway and Wheeler (2002: 82)

, to ensure the interviewer maintains some control of the interview and to ensure external validity and reliability of the study. All information collected was treated as confidential and the patient's identity was kept anonymous.

Detail of instruments

A hand-held audio tape recorded with capability to record up to 60 minutes of audio was used to record the interviews. These were then transcribed in verbatim by playing, fast-forwarding or rewinding the audio. The transcripts were then analyzed to find themes that arose from the discussions.

Pilot study

A pilot study was conducted for several reasons. First was to test the tools which include the recruitment procedures, sampling and data collection methods. The pilot study thus allowed the researcher to find issues in the methodology and change them appropriately to ensure the success of the study. As suggested by Prescott and Soeken (1989: 60)

, it is important to do a pilot study in order to modify the materials and procedures of the study towards the better.

Data analysis

The interviews were transcribed in verbatim and reread to ensure they were in verbatim. This was done by two people who were not involved in the study. Where any differences arose, they were resolved by discussion. Once transcribed, the transcripts were then read repeatedly before being coded to find emerging themes and issues. A thematic content analysis was then conducted with an open coding system in order to accommodate emerging themes and issues. Member-checking was also used to ensure higher validity. This is where the participant was called in to check the transcript to ensure it was transcribed and coded correctly.

Ethical considerations

Ethical approval from the Teesside University and Tawau Hospital was sought before the study commenced. The researcher first had to register as a member of the National Medical Research Registry. The researcher then registered the study with the Medical Research and Ethics Committee who reviewed the project and provided approval. The study was also approved by the school research governance and ethics committee. To ensure internal and external validity and reliability of the study, the data was collected and held confidentially and stored securely. All participants were required to provide written informed consent after being informed of their right to confidentiality, anonymity and withdrawal at any time.

Results and discussion

The sample population of the study was 7 who were Tawau hospital staff. Table 1 below shows the study… [END OF PREVIEW]
Four Different Ordering Options:
?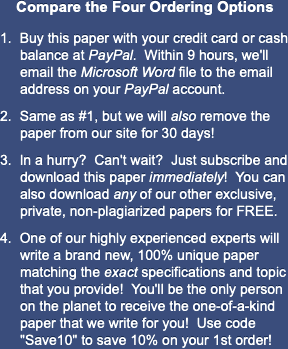 1. Buy the full, 15-page paper: $28.88
or
2. Buy + remove from all search engines
(Google, Yahoo, Bing) for 30 days: $38.88
or
3. Access all 175,000+ papers: $41.97/mo
or
4. Let us write a NEW paper for you!


Most popular!
Cite This Research Paper:
APA Format
Quality of Life Among Tawau. (2013, May 28). Retrieved June 19, 2019, from https://www.essaytown.com/subjects/paper/quality-life-among-tawau/5190759
MLA Format
"Quality of Life Among Tawau." 28 May 2013. Web. 19 June 2019. <https://www.essaytown.com/subjects/paper/quality-life-among-tawau/5190759>.
Chicago Format
"Quality of Life Among Tawau." Essaytown.com. May 28, 2013. Accessed June 19, 2019.
https://www.essaytown.com/subjects/paper/quality-life-among-tawau/5190759.