Business Proposal:
Request for Proposal
Pages: 10 (2678 words) · Bibliography Sources: 0 · Level: Master's · Topic: Business - Management · Buy This Paper
CRM Proposal

Started at Section 1 for the sake of clarity)

BUDGET and FINANCIAL TIME CONSTRAINTS

Customers are the lifeblood of any business, and for the International Market Centers, L.P. (IMC), the ability to stabilize and grow their tenant business is essential to attaining and growing profitability. Today IMC is experiencing an exceptionally high level of churn in its two primary types of leases, the permanent lease which ranges from 3 to 5 years and the short-term, highly volatile lease that lasts an average of just 6 days. This exceptionally high level of churn is attributable to the fact that four separate legacy, non-integrated CRM systems are being used for managing customer relationships. The bottom line is that these factors are causing IMC to lose sales and profitability quickly and urgent action must be undertaken from a CRM standpoint to stabilize tenant renewals and improve the conversion rate of lease and buyer prospects.

After evaluating over a dozen on-premise and Software-as-a-Service (SaaS) CRM applications the decision was made to pursue one based on the latter platform given its lower initial start-up costs, lower Total Cost of Ownership (TCO), in addition to the ease and speed of customization. These four factors make SaaS-based CRM the best possible CRM selection for IMC. Those vendors responding to this RFP will need to provide evidence of being able to support SaaS-based applications on a multitenant model, with their pricing and overall budget estimates reflecting the cost advantages of this technology platform.

Second, all vendors participating in this RFP must also provide a Total Cost of Ownership (TCO) analysis that is comparable in scope to those provided by leading cloud computing vendors, in addition to the one provided by Software Advice found here: http://www.softwareadvice.com/tco / . Software Advice provides a generic TCO calculator for evaluating on-premise vs. SaaS system implementations, and it is advisable for vendors participating in this RFP to provide a detailed analysis of how their SaaS CRM systems deliver significantly greater financial value over their on-premise systems. This is required to determine which SaaS-based CRM vendors have the greatest command of the economics of cloud computing, incorporating those factors into their business model.

The planned CRM implementation for the International Market Centers, L.P. (IMC) will not exceed $160,000 for all software licenses and initial contract fees, integration and legacy data migration services not exceeding $480,000. IMC projects that integration and legacy data migration services will be conservatively stated at 3 times the initial software licenses and initial contract fees based on industry standards observed throughout the CRM enterprise software industry.

1.1

BUDGET and FINANCIAL

The following are the costs associated with the proposed CRM implementation for the International Market Centers, L.P. (IMC). Those vendors bidding on the new CRM system need to provide password-protected access to accounting dashboards that provide cost component data in real-time to IMC, along with quarterly reviews of cost analysis relative to budget.

1.2

COST COMPONENTS

Variable Costs

The following are variable costs associated with the planned CRM implementation for IMC:

System Integration Planning and Development Costs. The proposed CRM system architecture is heavily reliant on integration to property management, billing and account systems. As the complexity and scope of adapter and connector complexity is dependent on development expertise, extent of data source commonality and availability of Application programmer Interface (API) support with the selected vendor, costs in this area are considered variable. The proposed CRM system must also integrate with Microsoft Office, specifically Word and Excel, so that specialized documents including leasing contracts, sales and leasing quotes, analytics and stakeholder-based reports can be produced.

Cross-CRM Legacy Systems Integration Planning and Development Cost. As IMC is currently supporting four separate legacy CRM systems that are not integrated today, additional cross-CRM legacy systems integration planning, development and testing will be required. These costs will be variable based on the extent of customization, testing and validation required before being put into actual production-level systems.

Business Process Management (BPM) and Business Process Re-engineering (BPR) estimation and workflow development for core CRM functions included in this RFP. These include lead management, pipeline management, company and contact management, notes and details support across all CRM applications and customer relationship data analysis (both current and historical). Process workflows will also need to support the following as well: deal and scenarios management; lease proposal generation, reviews and approvals; lead generation and contract management; and lease revisions.

Fixed Costs

The following are the fixed costs of the CRM implementation for the International Market Centers, L.P. These reflect the decision to pursue a SaaS-based CRM system over one that is entirely on-premise based:

Project implementation costs for each phase of the project

Change Management Planning and Implementation

Training Programs for Each Group of Stakeholders

Administrator Support and Servicer Training

Software Licenses for each of the Cloud Components and the Application

Platform-as-a-Service (Paas) licensing

SaaS-based CRM application licensing

Mobile Device Licensing

Time Constraints

As the International Market Centers, L.P. is experiencing a significant amount of churn in both short- and long-term leases, it is imperative that a new CRM system be completed within eight months. This must include integration of the four legacy systems and integration of core enterprise systems as well.

1.3

PROPOSED PROJECT BUDGET

2.0

IMPLEMENTATION PLAN

The International Market Centers, L.P. (IMC) CRM project includes legacy CRM system integration, enterprise-wide business process re-engineering (BPR) to better ensure the most critical processes become more customer-centric, and the launch of a state-of-the-art SaaS CRM application suite. The implementation plan includes definition of project phases and milestones that reflect legacy CRM integration, legacy data conversion, and extensive training on the new system as well. As IMC continues to experience significant tenant churn which is depleting profit margins, the company is also becoming more transaction-centric. This can be seen from the statistics provided in other sections of this RFP, which implicitly reflect the company becoming more transaction-oriented and less focused on relationships. A strategic priority for this project is to create a more unified, 360-degree view of the customer to further strengthen renewal rates on leases and lead to greater levels of profitability.

As this is a software-based project, there are four main phases of this development. These include the Design, Development, Testing and Deployment. As IMC is primarily in a services-based businesses that are heavily reliant on stakeholder perception of quality performance and support, each of the phases and milestones will also include a scorecard showing performance and when applicable, feedback from stakeholders. The majority of software projects fail due to a lack of continual feedback from stakeholders. Using an agile-based approach to managing this project is essential to keep it centered on the preferences, unmet needs and requirements of stakeholders.

2.1

PHASES and MILESTONES

There are multiple milestones created in order to track the overall progress of the project throughout its duration, including periodic reviews of deliverables based on feedback from appropriate stakeholders. This is specifically done to ensure scope creep does not occur, or the project gets dominated by the most persuasive or demanding of stakeholder groups., Keeping all needs and requirements in balance is essential for this CRM project to meet highly targeted, specific needs.

Phase 1: Design

The goal of this phase is to define the scope of the CRM project including the requirements of key stakeholders, definition of the BPM and BPR project plans and workflows, legacy CRM and baseline enterprise system integration strategies, and the which specific metrics will be used throughout the project to evaluate overall performance. Also included in this phase are periodic meetings to assess project progress and also ensure accountability regarding performance levels is achieved.

Milestone 1: Deliver Project Plan: May, 15, 2013

The objective of this initial project plan is to solidify expectations company-wide for the CRM project, define legacy CRM and enterprise-wide system integration roadmaps based on identification of manually-based workflows slowing leasing tasks today, and defining custom-build analytics and BI tools for monitoring the project overall. All of these elements will be included in the initial Project Plan. Ongoing stakeholder feedback will be continually solicited and assessed to ensure the entire project stays aligned to stated needs and requirements.

To further alleviate scope creep, a common source of failure for large-scale CRM projects, all changes to the project plan must be approved by International Market Centers, L.P. (IMC) senior management in addition to the majority of stakeholders as well. As IMC continues to experience significant revenue churn directly attributable to a lack of 360-degree view of tenants and lack of new lease prospects becoming tenants due to the confusion of four separate CRM systems contacting them, any change to the project plan or its ancillary parts must be approved by stakeholders.

In addition to full stakeholder approval being required for any changes to the project plan, the following requirements must also be met:

Written analysis and explanation of any milestone not being met and corrective action to ensure it is not a systemic problem in the project plan.

Creation of a secured knowledge management and… [END OF PREVIEW]
Four Different Ordering Options:
?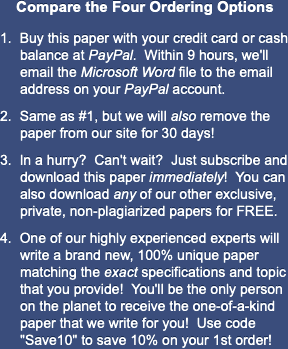 1. Buy the full, 10-page paper: $28.88
or
2. Buy + remove from all search engines
(Google, Yahoo, Bing) for 30 days: $38.88
or
3. Access all 175,000+ papers: $41.97/mo
or
4. Let us write a NEW paper for you!


Most popular!
Cite This Business Proposal:
APA Format
Request for Proposal. (2013, April 9). Retrieved July 22, 2019, from https://www.essaytown.com/subjects/paper/request-proposal/2285450
MLA Format
"Request for Proposal." 9 April 2013. Web. 22 July 2019. <https://www.essaytown.com/subjects/paper/request-proposal/2285450>.
Chicago Format
"Request for Proposal." Essaytown.com. April 9, 2013. Accessed July 22, 2019.
https://www.essaytown.com/subjects/paper/request-proposal/2285450.