Term Paper:
Sysco Corporation's Competitive Position Today
Pages: 22 (6184 words) · Bibliography Sources: 1+ · Level: Master's · Topic: Business · Buy This Paper
SAMPLE EXCERPT:

[. . .] 1.4.0. Five Forces competitive analysis.

1.4.1. Threat of new entrants. Because the company competes in the entire constellation of food service sectors, the threat of new entrants in any one of them at a given point in time as the result in changes in demographic patterns, economic conditions or other factors can introduce new entrants or eliminate existing players. For instance, the company's most recent annual report notes that, "Non-traditional competitors are becoming more of a factor in terms of competition within our industry, and consumer spending trends are gradually shifting more to fresh, natural and sustainably-produced products" (Sysco annual report, 2013).

1.4.2. Power of buyers. Increasing competition in the wholesale foodservice industry has amplified the power of buyers in the company's North American and Irish markets, thereby serving to keep prices highly competitive and profit margins razor thin (Sysco annual report, 2013).

1.4.3. Power of suppliers. As the largest wholesale foodservice company in the United States today, Sysco enjoys a competitive advantage by virtue of its far-flung network of thousands of subsidiaries (exact numbers varied according to the sources consulted), its enormous economies of scale in purchasing and distribution as well as the efficient value chain the company has established that eliminates waste at every opportunity while adding value whenever possible (Sysco annual report, 2013).

1.4.4. Threat of substitutes. There are lower cost substitutes available for virtually all of the company's products (Yeboah, Shaik & Quaicoe, 2012).

1.4.5. Intensity of rivalry. The wholesale foodservice industry is highly fragmented, competitive, and recent economic conditions have contributed to less-than-optimal sales for many competitors. For instance, the company's most recent annual report states "We believe the current general economic conditions, including pressure on consumer disposable income, have contributed to a decline in the foodservice market" (Sysco annual report, 2013, p. 3).

1.4.6. Summary of five forces competitive analysis. The company is faced with some profound constraints to growth, including a decline in the foodservice market, changing consumer preferences and the need to formulate an overarching corporate strategy that can effectively manage its far-flung business operations.

1.5.0 Competitive analysis

1.5.1 Industry competitors. The company's main competitors include privately held Meadowbrook Meat Company, Inc., Performance Food Group Company and S. Foods, Inc. (Sysco competitors, 2013).

1.5.2 Rivals anticipated strategic moves. A summary of Sysco's main competitors' strategic moves is provided in Table 1 below.

Table 1

Summary of Anticipated Moves by Sysco's Main Competitors

Competitor

Summary of Anticipated Moves

Meadowbrook Meat Company (MBM), Inc.

This company is one of the largest privately owned foodservice distributors in the nation. Meadowbrook specializes in providing food to more than 25,000 nationally franchised restaurants, including Arby's, Burger King, Captain D's, Chick-fil-A, and Darden Restaurants (Red Lobster, Olive Garden). Meadowbrook fills domestic and overseas customer orders through a nationwide network of more than 30 distribution centers J.R. Wordsworth founded MBM in 1947 as a retail food distributor. In 2012 the company announced it was being acquired by Texas-based and rival McLane for an undisclosed price (Meadowbrook corporate profile, 2013, p. 1). A press release from Meadowbrook preparatory to the acquisition insisted that, "MBM will continue to be run in the same prudent and professional manner as it has been for the past 65 years, led by the current executive management team, and operating out of its existing facilities in the same markets. The only change to MBM's business will be new access to enhanced resources, operational best practices and intellectual capital that will provide significant upside and opportunity for increased levels of success for MBM, McLane and the customers both companies serve" (McLane Company to Acquire Meadowbrook Meat Company, 2013, para. 1).

Performance Food Group Company

This company's (PFGC) corporate Web site states that, "As the parent company to a leading family of foodservice distributors, Performance Food Group delivers food and food-related products to more than 130,000 independent and national chain restaurants, quick-service eateries, pizzerias, theaters, schools, hotels, healthcare facilities and other institutions across the United States through its four business divisions -PERFORMANCE Foodservice, ROMA Food, Vistar and Customized" (About PFGC, 2013, para. 1). The company's Web site consistently stresses its triple-bottom line approach to growth and notes a current acquisition underway.

S Foods, Inc.

This Japanese competitor states that its current initiatives include: "Developing various meat products for professionals to make our customers realize and enjoy the high nutritional value and unique flavor of variety meat. We rapidly respond to the ever-changing preferences of customers by complying in detail with their demands, which vary according to their industry such as retailers, lunch box makers and restaurants and according to their menus; and develop revolutionary solutions such as improved package design and enhanced food safety" (Management philosophy, 2013)..

1.5.3 Summary of competitive analysis. The research showed that the environment in which Sysco competes is highly fragmented, fiercely competitive, with major actors such as Meadowbrook and S. Foods consistently threatening to encroach on Sysco's market share. In this environment, identifying key success factors also represents a timely and valuable enterprise, and these issues are discussed further below.

1.6.0 Key Success factors. Just as the company's drivers depend on the market and demographics of the environment in which it competes, the respective key success factors depend on what type of product line is involved as well as the types of retailers purchasing these products. According to Sills and Novosel (2012), "Companies that have responded proactively to a tougher market environment maximizing volume to maintain growth; optimizing the potential in emerging markets and looking for appropriate transaction opportunities as consolidation in the sector continues" (p. 7). Some of the general key success factors identified for the wholesale food industry include the following:

1. Identify new routes to growth. Prioritizing the right markets and making the right deals.

2. Increase adaptability and responsiveness. This requires innovation in supply chain management and the elimination of waste at every opportunity.

3. Deliver margin improvement. This means improving performance across all business functions.

4. Sharpen execution. This requires better awareness of what consumers are thinking about the brand.

5. Embrace sustainability. This requires implementing and supporting authentic corporate social responsibilities programs and initiatives (Sills & Novosel, 2012, p. 5).

2.0.0 Internal analysis

2.1.0 Organizational Analysis

2.1.1 Corporate Mission. The company 2013 annual report specifically states that, "Day-to-day, [Sysco's] business decisions are driven by the company's mission to market and deliver great products to our customers with exceptional service, with the aspirational vision of becoming each of our customers' most valued and trusted business partner" (p. 3).

2.1.2. Products and services. Sysco is the largest wholesale food distribution company in the U.S. with almost 400,000 restaurants and food service operators as part of it distribution network (Hess, 2012). Today, Sysco markets and distributes a range of food and related products primarily to the foodservice or food-away-from-home industry through its subsidiaries, including SYGMA (the company's chain restaurant distribution subsidiary), specialty produce companies, hotel supply operations, a company that distributes specialty imported products and a company that distributes to international customers. The company has its headquarters in Houston, Texas and was founded in 1969 (Company profile, 2013).

According to Sysco's corporate profile (2013), the company distributes:

1. A line of frozen foods (including meats),

2. Seafood,

3. Fully prepared entrees, fruits, vegetables, and desserts;

4. A line of canned and dry foods;

5. Fresh meats;

6. Dairy products;

7. Beverage products;

8. Imported specialties;

9. Fresh produce.

10. Various non-food items (including paper products such as disposable napkins, plates, and cups);

11. Tableware (including china and flatware);

12. Cookware (including pots, pans, and utensils);

13. Restaurant and kitchen equipment and supplies; and,

14. Cleaning supplies.

Besides its exhaustive list of commercial food and products, the company also offers personal care guest amenities, housekeeping supplies and equipment, room accessories, and textiles for hospitality industry as well as a range of products targeted to restaurants, healthcare providers and long-term care facilities, educational institutions, motels and hotels, industrial caterers, lodging establishments, as well as other foodservice customers through its far-flung distribution facilities (Corporate profile, 2013). The company reports that it regards its primary market to be foodservice in North America and estimates that Sysco has an18% annual share of this approximately $235 billion market (Sysco annual report, 2013).

2.1.3 Leadership. The company enjoys a strong leadership team that provides a coherent sense of vision and direction for Sysco employees. For instance, Kiger (2009) reports that, "Jim Hope, president of a Kansas City subsidiary of Sysco, station[ed] himself in the warehouse one morning before dawn, so that he could give a presentation on stock options to the company's truck drivers. 'We did a workplace-- climate survey,' Hope says, 'and one of the things it showed was that employees wanted to see top management in person more'" (p. 29). In response, the company ensured that its management teams conducted for management by walking around than in the past, but to avoid merely presenting a superficial interest in their employees and to take the time needed to learn what… [END OF PREVIEW]
Four Different Ordering Options:
?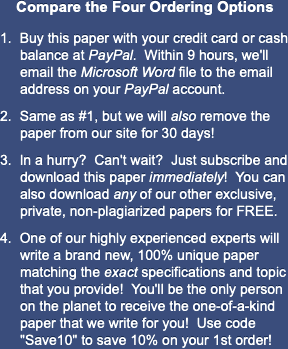 1. Buy the full, 22-page paper: $28.88
or
2. Buy + remove from all search engines
(Google, Yahoo, Bing) for 30 days: $38.88
or
3. Access all 175,000+ papers: $41.97/mo
or
4. Let us write a NEW paper for you!


Most popular!
Cite This Term Paper:
APA Format
Sysco Corporation's Competitive Position Today. (2013, October 21). Retrieved May 21, 2019, from https://www.essaytown.com/subjects/paper/sysco-corporation-competitive-position/9292900
MLA Format
"Sysco Corporation's Competitive Position Today." 21 October 2013. Web. 21 May 2019. <https://www.essaytown.com/subjects/paper/sysco-corporation-competitive-position/9292900>.
Chicago Format
"Sysco Corporation's Competitive Position Today." Essaytown.com. October 21, 2013. Accessed May 21, 2019.
https://www.essaytown.com/subjects/paper/sysco-corporation-competitive-position/9292900.