Term Paper:
Teaching Profoundly Mentally Retarded People
Pages: 8 (2592 words) · Bibliography Sources: 1+ · Level: College Senior · Topic: Teaching · Buy This Paper
SAMPLE EXCERPT:

[. . .] The use of completely segregated sites is something that is still being used depending on the severity of the disability and the age of the student. There are advantages to this type of teaching because the site can be constructed to measure success in many areas including living skills instead of the main focus being on academics. The disadvantage to this style of teaching is that segregation defeats the entire idea of inclusion.

In recent history there have been many technological breakthroughs that are currently used as assistive technologies for the purpose of leveling the playing field so they can take part in being educated. Things such as specialized computers, switches and hip talkers all work to mainstream the severely and profoundly mentally retarded into society with a minimum of disruption. Software that simplifies many of the academic lessons allows the student to experienced a measure of success, which experts have discovered is a strong motivator for future efforts. In addition many who are profoundly mentally retarded also have speech difficulties as well. To this end there have been several assistive technological tools developed to allow more clear communication. With the push of a button speech can be performed for the student through a computerized voice that allows the student to communicate their wants and answers to others.

One excellent example of teaching and training those who are profoundly mentally retarded is Mount Sinai, New York. In this group home many of the strategies discussed here have been put to use and according to recent research the home is successful by all accounts (Guzman, 1997).

Before the sun is out, there are lights on in Donna Ray's Mount Sinai window (Guzman, 1997). At 5:30 A.M. she is out of bed, taking a shower, brushing her short reddish hair, donning slacks and a sweater, pushing her glasses up on her nose and heading downstairs where cereal and coffee wait. Downstairs she and her housemates have breakfast before Donna, 50, heads off to work and then to class (Guzman, 1997). She offers to pour the milk over Jeffrey's Toasted O's, stops to clutch a new acquaintance in a gentle bear hug and finally sits down to her own bagel and juice. When a van comes to pick up Donna, she plays the ham, making sure her visitor is watching. Instead of heading off to pack volleyballs into boxes, she acts as if she were descending a velvet staircase, climbing into a limousine and heading for the Oscars (Guzman, 1997). With the exception of her grand exit, Donna's morning has been routine, as normal as any banker's before she heads for the 8:05 to Manhattan or as straightforward as a contractor's waking up early to hammer in some drywall nails at sunrise (Guzman, 1997). For most of us, normalcy and routine, even if a little bleary, is what we expect of the morning. But for Donna and her housemates it is a hard won luxury. A resident of the Willowbrook State School on Staten Island 25 years ago, Donna once lived in what Robert F. Kennedy once described as a "snake pit (Guzman, 1997)."

Today the housemates attend classes, jobs and perform relaxing chosen activities on their days off. Historically the mentally retarded were institutionalized and forgotten but the last 15 years have changed their lives dramatically.

While there are currently several options available to families of the mentally retarded it is not something that can be decided without constant and recurring review and assessment to be sure the plan in place is still the best plan for the education, training and happiness of the person in question (Davern, 1997).

In Pearl Buck's The Child Who Never Grew the author provided the reader with an insight to how far the education and training and treatment of the severely mentally retarded as come. Her daughter, born in 1920 was fortunate to have a caring, strong mother, but even then societal shunning and expectations for her treatment were a powerful force (Buck, 1992).

CONCLUSION

Years ago the profoundly mentally retarded were routinely shut away in institutions or lived out their lives at home with parents who worried endlessly about what would happen when they passed on. Today those who are severely mentally retarded are protected by federal mandate to be educated and live lives to the best of their ability within a non-disabled society. Whether it is academics or living skills the styles with which they are being taught have changed dramatically in the last 15 years. Academics can be difficult for those who are profoundly mentally retarded but they are being given the opportunity to learn to their maximum potential and the living skills they are being taught allow them to live on their own with a paid companion. Each of these things are important, with the academics building confidence and the living skills building independence. Today's mindset regarding the severely mentally retarded has come full circle to abuse and neglect to equal treatment as is their birth right.

REFERENCES

Robert H. Horner; Edward G. Carr, BEHAVIORAL SUPPORT FOR STUDENTS WITH SEVERE DISABILITIES: FUNCTIONAL ASSESSMENT AND COMPREHENSIVE INTERVENTION. Vol. 31, Journal of Special Education, 04-15-1997.

Isaac Guzman, WHERE SUCCESS IS ROUTINE / THE STORY OF A GROUP HOME IN MOUNT SINAI AND THE PEOPLE WHO LIVE SUCCESSFUL LIVES THERE., Newsday, 02-19-1997, pp B04.

Daniel Mont Special to The Washington Post, All in the Family; As Their Parents Age or Die, More People Are Assuming Responsibility for the Care of Siblings With Severe Mental and Developmental Disabilities., The Washington Post, 10-08-2002, pp F01.

Gunsett, R.P., Mulick, J.A., Fernald, W.B., & Martin, J.L. (1989). Brief report: Indications for medical screening prior to behavioral programming for severely and profoundly mentally retarded clients. Journal of Autism and Developmental Disorders, 19, 167-172.

Harding, J., Wacker, D., Cooper, L., Millard, T., & Jensen-Kovalan, P. (1994). Brief hierarchical assessment of potential treatment components with children in an out-patient clinic. Journal of Applied Behavior Analysis, 27, 291-300.

Haring, T.G., & Kennedy, C.H. (1990). Contextual control of problem behavior in students with severe disabilities. Journal of Applied Behavior Analysis, 23, 235-243.

Horner, R. (1980). The effects of an environmental "enrichment" program on the behavior of institutionalized profoundly retarded children. Journal of Applied Behavior Analysis, 13, 473-491.

Davern, Linda. Ford, Alison. The Syracuse Community-Referenced Curriculum Guide for Students with Moderate and Severe Disabilities by Alison, PH.D. Ford (Editor), Jim Black (Editor), Linda, M.S. Davern (Editor)

Paul H. Brookes Pub Co; (September 1997)

Snell,… [END OF PREVIEW]
Four Different Ordering Options:
?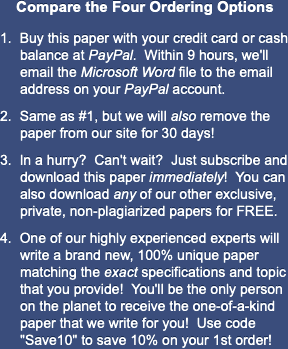 1. Buy the full, 8-page paper: $28.88
or
2. Buy + remove from all search engines
(Google, Yahoo, Bing) for 30 days: $38.88
or
3. Access all 175,000+ papers: $41.97/mo
or
4. Let us write a NEW paper for you!


Most popular!
Cite This Term Paper:
APA Format
Teaching Profoundly Mentally Retarded People. (2003, June 18). Retrieved May 21, 2019, from https://www.essaytown.com/subjects/paper/teaching-profoundly-mentally-retarded/1386781
MLA Format
"Teaching Profoundly Mentally Retarded People." 18 June 2003. Web. 21 May 2019. <https://www.essaytown.com/subjects/paper/teaching-profoundly-mentally-retarded/1386781>.
Chicago Format
"Teaching Profoundly Mentally Retarded People." Essaytown.com. June 18, 2003. Accessed May 21, 2019.
https://www.essaytown.com/subjects/paper/teaching-profoundly-mentally-retarded/1386781.