Term Paper:
Technological Explosion of the Past
Pages: 11 (3190 words) · Bibliography Sources: 0 · Level: College Senior · Topic: Teaching · Buy This Paper
SAMPLE EXCERPT:

[. . .] With people around the world accessing the course, there's no doubt it has filled a niche. Among the high-profile organisations using it to train their staff are the U.S.-based Hewlett-Packard and NASA Jet Propulsion (Courses, 1996). Demand has been so strong that the course is now offered by 38 overseas universities with many more in line -- Mr. Brown is approached by three or four institutions a day wanting to offer the course. Other clients include students taking business computing at other universities. Mr. Brown's original idea was that learning institutions around the world would share their Internet teaching packages, but so far the exchange seems to have been largely one-way. Not that he's unduly bothered by that. The future lies in establishing a presence in a global sense, and the fact that CIT's chief executive could go to an international conference on education on the Internet and see CIT's course software "up" on many computer terminals would suggest the institution already has an international "name (Courses, 1996)." "

'Imagine sleeping in every morning, not walking to class and not fighting traffic driving to school. Imagine rolling out of bed, walking to a computer and attending class via the Internet. This could be reality for University of New Mexico students in the not-so-distant future. Members of the University's central administration created an Internet Pilot Project that will examine the possibility of Web-based courses for students."UNM is entering its first exploratory phase with how Web-based courses might benefit students," said David Stuart, associate vice-president of Academic Affairs. "During this two-year period, 24 courses will be created and taught adjunct with classes already established (Chanez, 1999)."

Stuart said students would either attend class via web chats with a professor or attend live classes. The Internet course would not supplement course material. Students would either choose one or the other. Internet-based graduate classes could begin as early as the Spring 2000 semester, when 10 courses will be available during registration.

Chris Garcia, interim provost and vice president of Academic Affairs, said the project's results will help UNM determine whether the courses benefit students. He said the University cannot rush into Internet courses without knowing UNM's capacities for distance education (Chanez, 1999)."

"This is a carefully controlled experimental project for successful distance education, and to see how students like it," Garcia said.

Stuart said the ultimate goal for the project is to see how well the Internet works in four subject areas, including:

- A master's degree in educational administration. - A master's degree in public administration. - A bachelor's and master's degree in nursing. - A bachelor's degree in University Studies with a social science concentration.

Stuart said the bachelor of University Studies was added to reach students who have left UNM with 60 to 90 credits. He said distance education might benefit students who moved or left school to work.

Most major universities have developed courses for the Internet, such as Penn State University and North Carolina State University. Stuart said some universities have spent millions of dollars for these courses, but UNM is not prepared to spend that amount of money. He said a modest amount is being appropriated for the project.

UNM hired the firm, Blackboard of Washington, D.C. To give technical support for the project. Stuart said Blackboard's role would be a modest one; UNM will use its software and hardware for servers for the courses. He said Blackboard would provide a 24-hour help desk for students.

"CIRT will help create support on the Internet to mimic what you get on a regular campus," Stuart said. CIRT will provide bookstore, financial aid and other on-campus services on the Internet.

John Sobolewski, associate vice-president of CIRT, said he expects additional use for computer pods as well as heavy use of CIRT's dial- up access service from home. He said the Pilot Project indirectly affects CIRT through e-mail use.

"Students will have to communicate with each other and faculty," Sobolewski said. "Since 95% of students have e-mail accounts, we expect an increase in e-mail usage."

Although Blackboard provides a help desk, the CIRT help desk is already handling questions about the project, Sobolewski said.

UNM junior Sarah Gaussoin said if the University decides to use Internet courses, it probably would not work for her.

"I think I would miss class too often because I would feel compelled to sleep in, especially if all I had to do was get on the Internet, " she said. "It might work better for other students though. I think it's still important to try though, because we don't want to be the only University that does not have it."

Stuart said he prefers classroom instruction and the interaction with students, but said the world is changing and UNM needs to look into Internet courses.

Denise M. Chanez, Online courses wave of the future at U. New Mexico., University Wire, 10-19-1999.

DISTANCE LEARNING

'Wired for learning': Lessons from a distance learning partnership.(the East Texas Learning Interactive Network Consortium) (Technology Information)

Date: 06-01-1998; Publication THE Journal (Technological Horizons In Education); Author: Meathenia, Peggy

In 1992 a group of educators in East Texas "shook hands" and formed a collaborative known as ET-LINC. The East Texas Learning Interactive Network Consortium began defining the needs of small, rural schools for the coming century. Looking toward the digital age that is rapidly changing the way people live, the schools wanted to utilize the broadband fiber optic cable that was being laid by two independent telephone cooperatives in a 125-mile swath of East Texas. In order to do so, they had to develop a process "to build a distance learning partnership" and "to train educators in the distance learning environment." A model emerged from this process that enables educators and community members to design networks and to determine the uses of a digital broadband telecommunications network. The success of the distance learning partnership is being used to change communities and the way we learn and teach in East Texas.

A series of grant awards have allowed the distance learning partner schools to implement innovative programming. The award of each grant can be attributed to the partnership building activities and the training of educators in the distance learning environment.

The schools have focused their attentions on "building distance learning partnerships" and "training educators to utilize the networks in creative and innovative ways." The model used by ET-LINC is applicable to any group of schools and communities wishing to determine the uses and benefits of distance learning networks. As broadband telecommunications become more available to public schools an understanding of the build- out process is critical. Additionally, the process draws upon a large body of research dealing with change and on becoming a change agent as a member of a distance learning partnership.

Results of the Collaborative Building Process:

Success Number 1: ET-LINC's work was accelerated when the partnership received a 1994-95 Planning Grant from the Texas Education Agency to pursue their vision of solutions that advanced switching technologies could provide for the rural and small communities Fiscal agent consortium, Gladewater Line Independent School District, received the 1994 Project for Educational Technology planning grant award of $25,000 from The Texas Education Agency. The award allowed the consortium schools to begin the multi-year process of identifying the uses and applications of the digital broadband fiber to link schools in numerous northeast Texas counties. The TEA grant provided the impetus to strengthen the process to build partnerships for distance learning networks and to provide training for educators as well as for community members, students and parents. From tips alliance, the participating schools and university members drew up a comprehensive partnership plan.

Success Number 2: The outcome of the planning grant was the award of the 1995 Implementation Grant Award from TEA -- Projects for Educational Technology, East Texas schools partnered in the Implementation Award Grant, known as "Creating Connections." Twelve East Texas school districts received funding for installation of the multi-media, distance learning classrooms. Other schools in the East Texas area participated in the training component. An additional seven school districts from Limestone, Hudspeth and El Paso counties joined the consortium to participate in the wining for teachers. The schools in the Central and Far West Texas schools either had video conferencing systems or were planning for full-motion audio-video networks. Their need focused on training. The final estimated total of the project including contributions from all partners including the two telephone companies was over $6,000, 000. TV 12 East Texas schools now have state of The art technology in the classrooms and access to full broadband services, including audio-video, Internet and data services. Texas A& M. University -- Commerce built its classroom along with Jarvis Christian College. The addition of the universities to the partnership had been sought from the early days of planning.

The award for training and classroom build-out provided the teams of… [END OF PREVIEW]
Four Different Ordering Options:
?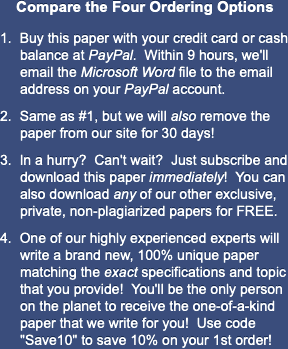 1. Buy the full, 11-page paper: $28.88
or
2. Buy + remove from all search engines
(Google, Yahoo, Bing) for 30 days: $38.88
or
3. Access all 175,000+ papers: $41.97/mo
or
4. Let us write a NEW paper for you!


Most popular!
Cite This Term Paper:
APA Format
Technological Explosion of the Past. (2003, August 21). Retrieved May 23, 2019, from https://www.essaytown.com/subjects/paper/technological-explosion-past/1813971
MLA Format
"Technological Explosion of the Past." 21 August 2003. Web. 23 May 2019. <https://www.essaytown.com/subjects/paper/technological-explosion-past/1813971>.
Chicago Format
"Technological Explosion of the Past." Essaytown.com. August 21, 2003. Accessed May 23, 2019.
https://www.essaytown.com/subjects/paper/technological-explosion-past/1813971.