Research Paper:
Tobacco Industry History
Pages: 15 (5517 words) · Bibliography Sources: 12 · Level: College Senior · Topic: Sports - Drugs · Buy This Paper
SAMPLE EXCERPT:

[. . .] (Borio, 2011)

Nineteenth Century

During the early years of the 19th century, more scientists began to understand the nature of the chemical makeup of the tobacco leaf. They also realized that smoking tobacco produced dangerous health effects. In 1826, the pure form of nicotine was isolated in the chemistry labs. Quickly thereafter, the medical science became clear: nicotine was a lethal poison. In 1836, Reverend Samuel Green, pastor of Union Church in Boston preached from the pulpit that tobacco was an insecticide, a poison and could kill a man. (BU Medical Center, 2011)

An Egyptian artillery sergeant in the Turk/Egyptian war in 1832 is credited with the invention of the cigarette as we have come to know it. The sergeant had pushed his gun crew to increase their rate of fire by loading the gunpowder in paper tubes. As a reward, the captain gave the sergeant and his men a pound of tobacco. Sad to say, the only pipe among them was broken. Showing exceptional initiative for soldiers of the day, they rolled the pipe tobacco in the gunpowder paper and smoked it. The clever practice was adopted by both Egyptian and Turkish soldiers; and the rest, as they say, is history. (Borio, 2011)

In 1847, the Philip Morris Company was established in London, selling hand-rolled Turkish cigarettes. Cigarettes started to be more visible around this time when British soldiers brought them back to England after battling and besting Russian and Turkish soldiers. In the United States, cigarettes were scrap products gleaned from the production of chewing tobacco and other products. The cowboys of the American west famously favored the use of chewing tobacco. In 1875, R.J. Reynolds Tobacco Company was founded to capitalize on this market development. Another movement was started by U.S. soldiers in the war with Mexico who brought back from the Southwest a taste for the heavier flavors of tobacco smoked by Mexicans in the form of cigarros and cigarillos. What followed was a dramatic increase in the use of the cigar in America, although the denizens of the southern states, still smarting from the war of northern aggression, remained firmly attached to chewing tobacco. (Borio, 2011)

The first cigarette rolling machine was invented by James Albert Bonsack, of Roanoke, Virginia, in 1880. Before that, cigarettes had been hand rolled at the average rate of only about four cigarettes per minute. Bonsack's clever machine was able to spit out 200 per minute, which revolutionized the industry. One year later, James Buchanan ("Buck") Duke entered the manufactured cigarette business in Durham, NC. Duke bought two Bonsack machines and negotiated an exclusive deal which allowed him to reduce the price of his product below all competitors. In 1881, Duke produced 744 million cigarettes, more than the entire national total in 1883. Duke's next move was to form a cartel that became American Tobacco Company. The 1849 California Gold Rush inspired the use of the brand name Lucky Strike as a product made by American Tobacco in 1883. (Borio, 2011)

Twentieth Century

The early 1900's were marked as the time when the cigarette became the major tobacco product. In 1901, the industry sold over four billion cigarettes ( 90% by Buck Duke) and six billion cigars. In 1902, the British company Philip Morris moved its headquarters to New York to market its cigarettes, including the now famous "Marlboro" brand. The demand for cigarettes grew despite a few states calling for a ban on smoking, and in 1913, "Camel" was introduced by R..J. Reynolds. (Borio, 2011)

Camel, which had over a third of the domestic market in 1917, went to World War I. General John J. Pershing said in response to those opposed to sending tobacco to the doughboys that he believed that tobacco was as important to his soldiers as bullets and the daily ration of food. Virtually an entire generation of young men returned from the trenches addicted to cigarettes. (BU Medical Center, 2011)

1930 MARKET SHARE:

RANK

BRAND

CIGARETTES SOLD

1

Lucky Strike Regulars

43 billion

2

Camel

35 billion

3

Chesterfield Regulars

26 billion

4

Old Gold Regulars

9 billion

(Borio, 2011)

By the end of the year 1937, the market shares were changing and Camels were outselling Luckies and Chesterfield by about 40%. In 1939, Fortune magazine reported that 53% of adult American males smoked and that 66% of the males under 40 smoked cigarettes. That same year, the U.S. tobacco companies were found guilty of price-fixing. In 1940, adult Americans smoked 2,558 cigarettes per capita a year, two and one half times the consumption of 1930. (Borio, 2011)

In 1938, Dr. Raymond Pearl of Johns Hopkins University reported to the New York Academy of Medicine that smokers do not live as long as non-smokers. He also said that heavy smokers died earlier than moderate smokers. His findings were printed in the Science News Letter under the title Tobacco Smoking and Longevity. Of the 6,813 persons reported on, two-thirds of the nonsmokers had lived beyond sixty, but only 46 per cent of the heavy smokers reached age sixty. Time magazine suggested that Pearl's results should frighten tobacco manufacturers to death and make tobacco users' flesh creep. (Borio, 2011)

As part of the war effort in World War II, President Roosevelt signed an executive order making tobacco a protected crop. General Dwight D. Eisenhower was often pictured smoking a cigarette. General Douglas McArthur, made his corncob pipe part of his trademark, along with his battered hat. He posed with it on photo-opportunity occasions such as when he dramatically waded ashore to start the campaign to retake the Philippines. Cigarettes were included in GI's C-Rations packages. Tobacco companies donated millions of free cigarettes to GI's, mainly the popular brands ("Lucky Strike Goes to War.") When those soldiers came home from their battles on distant shores, the tobacco companies were assured of a steady stream of loyal and addicted customers. By the end of the war, cigarette sales were at an all-time high. (Borio, 2011)

1950 MARKET SHARE:

RANK

BRAND

CIGARETTES SOLD

1

Camel

98 billion

2

Lucky Strike Regulars

83 billion

3

Chesterfield Regulars

66 billion

4

Commander

40 billion

(Borio, 2011)

During the 1950s, evidence was mounting that smoking cigarettes was linked to lung cancer. The tobacco industry steadfastly denied that any medical injury could be associated with their products. Despite their protestations, they began to introduce new products which they called safer, such as cigarettes with lower tar and filters. In 1952, P. Lorillard introduced a new brand called Kent which had a filter made from asbestos. Lorillard sold this double cancer stick for four years before discontinuing it in 1956. In 1953, Dr. Ernst L. Wynders' laboratory work showed that cigarette tar on the backs of mice resulted in tumors. In 1954, R.J. Reynolds promoted the filtered Winston brand. In 1956, Reynolds brought out the first filter-tipped menthol cigarette under the Salem brand. (BU Medical Center, 2011)

In 1964, the Surgeon General released his report on "Smoking and Health." This report led to giving the government the authority to regulate the advertising and selling of cigarettes. Without mincing words, the report was clear that the probable result from smoking cigarettes was lung cancer. In 1965, the United States Congress enacted the Cigarette Labeling and Advertising Act, requiring the cigarette companies to put a warning label on every package with the legend "Cigarettes may be hazardous to your health." Next, they introduced Bravo, a cigarette made mostly with lettuce, which was a dismal failure. Owing to the constant barrage of press criticism, the major tobacco companies began to add other non-tobacco items to their product lines. Phillip Morris bought into the Miller Brewing Company. R.J. Reynolds Tobacco Company dropped the "Tobacco Company" in its name, and became R.J. Reynolds Industries. American Tobacco Company also dropped "Tobacco" from its name, becoming American Brands, Inc. In 1969, Congress enacted the Public Health Cigarette Smoking Act of 1969, which required the following stronger warning on cigarette packs: "The Surgeon General Has Determined That Cigarette Smoking is Dangerous to Your Health." (BU Medical Center, 2011)

In 1971, advertisements for cigarettes were banned on television in the United States. Ads in the other media, however, kept cigarettes in the public eye and second only to automobiles in advertising expenditure. In 1979, the Surgeon General reported on the Health Consequences of Smoking for Women. This was in the context of the increasing number of women getting hooked on the cigarette. Some said it was because of the convincing ad campaign of the Virginia Slims brand, "You've Come a Long Way Baby!" (BU Medical Center, 2011)

The 1980s was a turbulent decade for the industry with the courts in a hyperactive mode dealing with plaintiffs seeking damages because of the harmful effects of tobacco products. Smoking was becoming a political pariah, with a growing number of city ordinances forbidding smoking in public places and in the workplace. In 1982, the Surgeon General reported that second-hand smoke may cause lung cancer. By… [END OF PREVIEW]
Four Different Ordering Options:
?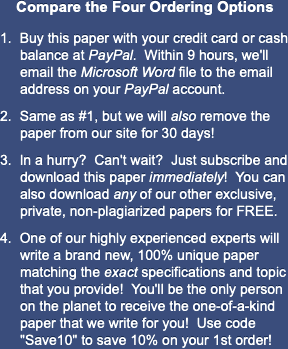 1. Buy the full, 15-page paper: $28.88
or
2. Buy + remove from all search engines
(Google, Yahoo, Bing) for 30 days: $38.88
or
3. Access all 175,000+ papers: $41.97/mo
or
4. Let us write a NEW paper for you!


Most popular!
Cite This Research Paper:
APA Format
Tobacco Industry History. (2011, April 16). Retrieved July 23, 2019, from https://www.essaytown.com/subjects/paper/tobacco-industry-history/2496377
MLA Format
"Tobacco Industry History." 16 April 2011. Web. 23 July 2019. <https://www.essaytown.com/subjects/paper/tobacco-industry-history/2496377>.
Chicago Format
"Tobacco Industry History." Essaytown.com. April 16, 2011. Accessed July 23, 2019.
https://www.essaytown.com/subjects/paper/tobacco-industry-history/2496377.