Research Paper:
Undp Report Study Human Development
Pages: 8 (2534 words) · Bibliography Sources: 8 · Level: College Senior · Topic: History - Asian · Buy This Paper
SAMPLE EXCERPT:

[. . .] These diseases can and do cause unnecessary death. According to photographer Marcus Bleasdale, who has documented the DRC in a short film sprinkled with his photographic work, the numbers of those dying only continue to rise, and as long as the population cannot get back on its feet, it cannot contribute to making the country better. Thus, the cycle of violence, repression and economic depression continues. This is a primary reason why the DRC is so underdeveloped, and the statistics below will agree with Mr. Bleasdale's comments, unfortunately. [7: Ngianga-Bakwin, K. & Emina, J.B. & Nzita, P.D.K & Cappuccio, F.P. (2009). "Diarrhoea, Acute Respiratory Infection, and Fever Among Children in the Democratic Republic of Congo." Social Science & Medicine, 68(9). Retrieved April 19, 2011. Pp. 1728-36. ] [8: Bleasdale, M. (2008). "Rape of a Nation." Marcus Bleasdale. Retrieved April 19, 2011, from < http://marcusbleasdale.com/rape-of-a-nation/>. ]

With regards to the fourth country, Mexico, the reviews are mixed. Some state that the country has, indeed, progressed, especially due to its increased journalistic freedoms, but this is only the case in the South. In the North, drug wars are ravaging the country and its population. Thousands die unnecessarily every year as the country is struggling to bring the over-powerful drug lords to justice. However, as long as the country remains thus separated, progress will be impossible. According to a report examining economic growth in Mexico from 1979 to 2007, the country has fluctuated in its progress constantly, in part due to its disorganized politics and inability of the police force to quench the drug trade. [9: Blecker, R.A. (2009). "External Shocks, Structural Change, and Economic Growth in Mexico, 1979-2007." World Development, 37(7). Retrieved April 19, 2011. Pp. 1274-84. ]

Thus, it seems that from this preliminary literature review, those countries which are united politically and have outside help economically are faring better than those who are still trying to figure out domestic politics. It is due to the violence in the DRC and the disorganization of the government in Mexico that the latter two countries are struggling economically. The research methodology for this thus addresses the fact that each country must be analyzed in particular in a larger study. The data collected here was gathered from previously written research and statistics both from this research and from the UNDP reports, which will be presented below. The data was then organized by each country, beginning with Estonia and continuing with India, DRC, and Mexico. Towards the end of this work, a few paragraphs comparing and contrasting data with regards to the UNDP reports will be offered.

From what we know so far, Estonia and India are success stories, while Mexico and the DRC are still struggling. The four countries are also explored by the UNDP in its reports, and the results are presented below in terms of the indicators presented in the introduction, and then they are, as mentioned above, compared to see patterns and devise ways by which the latter two countries could grow as Estonia and India have grown.

Life Expectancy at Birth (years)

Adult Literacy Rate (%)

School Enrollment Ratio (%)

Real GDP per Capita (PPP$)

ESTONIA

1995

69.3

99.0

70

6,690

2000

69.05 (avg. M/F)*

99.0 (avg. M/F)

84.5 (avg. M/F)

7,784 (avg. M/F)

2005

71

99.8

92

13,539

2010

73.7

N/A**

N/A

17,168

INDIA

1995

60.4

49.9

55

1,230

2000

62.9 (avg. M/F)

55.3 (avg. M/F)

53.5 (avg. M/F)

2,046 (avg. M/F)

2005

63.3

61.0

60

2,892

2010

64.4

N/A

N/A

3,337

DRC (Congo)

1995

51.3

70.7

56

2,870

2000

51.15 (avg. M/F)

59.2 (avg. M/F)

32.5 (avg. M/F)

825 (avg. M/F)

2005

43.1

65.3

28

2010

48

N/A

N/A

MEXICO

1995

70.8

88.6

65

7,300

2000

72.7 (avg. M/F)

90.8 (avg. M/F)

70 (avg. M/F)

7,738 (avg. M/F)

2005

75.1

90.3

75

9,168

2010

76.7

N/A

N/A

13,971

[*avg. M/F = average Male and Female ratio

**N/A = these statistics were not included in the 2010 report on the website]

From the data presented above, it is clear to see that, indeed, the studies mentioned in this paper correlate with the status of the countries at present and that Estonia and India seem to be faring a lot better than the DRC and Mexico. For example, it is clear that the DRC has gone down considerably in all four areas. Mexico, however, is a different story. It seems that it has gone up in all facets, which is does not correlates with research on Mexico that shows fluctuation in progress. It is a pity that the 2010 report does not yet have all the facts on Mexico, because they could, again, fluctuate due to the drug wars. The statistics for Mexico might look so great, despite the problems the country faces, due to Mexico's proximity to the U.S. And the help it receives from this country. Lastly, it is evident, especially from the GDP growth, that both India and Estonia have been growing steadily, as has Mexico, which is great news. Though this is in stark contrast to the DRC, which is at a pitiable $291 in GDP for 2010, according to the UNDP data in the table above.

This paper has presented a multitude of facts to examine what makes a country progress, while others stagnate. With the help of a comprehensive literature review and UNDP reports, the essay has concluded the two of the examined countries, Estonia and India, are faring better economically and political (and thus from health and education perspectives) than the DRC and Mexico. This has been due to the fact, as read in the literature review, that the first two countries have either international support in terms of trade and/or manpower and organization. The latter two, as seen above, are either torn apart by violence, or have a history of ineffectual political organization, and thus cannot fully prosper financially. Furthermore, their literacy rates, survival rates and GDP are substantially lower. In order to rise, Mexico and the DRC, and the latter especially, must find a way to put violence aside, so that the country may join in the progress of the modern world.

Though… [END OF PREVIEW]
Four Different Ordering Options:
?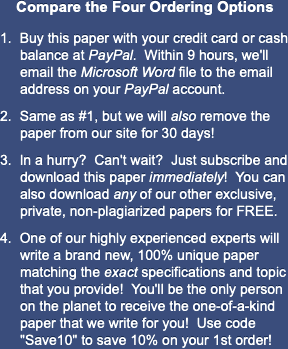 1. Buy the full, 8-page paper: $28.88
or
2. Buy + remove from all search engines
(Google, Yahoo, Bing) for 30 days: $38.88
or
3. Access all 175,000+ papers: $41.97/mo
or
4. Let us write a NEW paper for you!


Most popular!
Cite This Research Paper:
APA Format
Undp Report Study Human Development. (2011, April 20). Retrieved May 21, 2019, from https://www.essaytown.com/subjects/paper/undp-report-study-human-development/6733308
MLA Format
"Undp Report Study Human Development." 20 April 2011. Web. 21 May 2019. <https://www.essaytown.com/subjects/paper/undp-report-study-human-development/6733308>.
Chicago Format
"Undp Report Study Human Development." Essaytown.com. April 20, 2011. Accessed May 21, 2019.
https://www.essaytown.com/subjects/paper/undp-report-study-human-development/6733308.