Essay:
Wal-Mart Stores, Inc. Company Operations
Pages: 20 (6119 words) · Bibliography Sources: 5 · Topic: Business · Buy This Paper
SAMPLE EXCERPT:

[. . .] Management's research indicates that there is no clear price leader in China at the present time. Wal-Mart aims to beef up its customer perception by establishing a competitor tracking system that will culminate in real-time adjustments to keep its pricing advantage. It also intends to establish EDLC and EDLP and to engage in more local marketing campaigns in the 121 cities where it currently operates. Wal-Mart also sees an opportunity to expand its e-commerce business in China. China currently has the world's largest Internet population with 457 million users. (Argus, 2011)

Doug McMillon, CEO of the International division, told investors and analysts at the recent conference that they should not expect Wal-Mart to expand into large mature markets with established competition. Argus analysts expect Wal-Mart to enter only a handful of new countries with sizeable retail markets, rapid growth rates, an environment conducive to achieving sizeable market share quickly, and to be a positive societal force by making it less expensive for the population to acquire essential products. As an example of careful scrutiny of country markets, after studying the market for years, Wal-Mart recently closed an exploratory office in Russia. The company announced that the only way it would attempt to enter the Russian retail market would be with an acquisition partner. The company has also said that it wants to achieve expense leverage by scaling up in existing markets such as Japan and Argentina. (Argus, 2011)

Wal-Mart has conducted extensive market research in Japan. The research reveals that its shoppers (more than 90% are women) place price, assortment and store environment at the top of their wish lists. With Japan's ageing population, many of the shoppers are 40 to 50 years old and have very small refrigerators in their very small homes. Getting to and from the store most often involves walking or riding a bicycle. Consequently, shopping tends to be a three-times-a-week event as opposed to the once-a-month extravaganza common in the U.S. Responding to local market needs, Wal-Mart has lowered display shelves to oblige customers that tend to be slightly shorter than the average in the U.S. Wal-Mart has also recognized that many Japanese women want family basics, and are not looking for fashion items. Most Japanese men still put on a white shirt every morning to go to work. Their wives will shop aggressively for a good product at an attractive price. Wal-Mart also offers its Japanese customers deep discounts on imported wines, special gift boxes and ready-to-eat meals. (Argus, 2011)

Industry Analysis

Standard & Poor's analysts' report on the industry subsegment called hypermarkets and supercenters reveals unimpressive same-store sales comparisons in the first quarter of 2011. Wal-Mart is coming off a period of eight consecutive quarters of negative comparable store sales growth in its U.S. operations. S&P expects to see sales continuing to be pressured by soft discretionary spending from lower-income consumers which make up the bulk of the super store customers. Club store operators are expected to post same-store sales growth in the four to five per cent range on increased demand from their higher-income customer bases. S&P expects companies with international operations to benefit from favorable foreign currency exchange rates over the next 12 months. (Standard & Poor's, 2011)

S&P views hypermarkets and supercenters as generally appealing to price-sensitive consumers. Also, because they sell such consumer staples as food and beverages, their sales are less sensitive to changing fashions and demand for other discretionary goods (e.g. gasoline) than those of some other retailers. Through May 20, 2011, the S&P HyperMarkets & SuperCenters stock price Index had increased 5.5% year-to-date, versus a 6.3% rise in the S&P 1500 Index. In 2010, the HMSC index was up 5.5% versus a 14.2% increase in the S&P 1500. Stock performance for these retailers suffered in 2010, and so far this year, as investors moved assets to riskier areas in what was perceived as a more stable economic backdrop. This was despite their strong balance sheets and an attractive mix of consumables and basic merchandise, attributes which are traditionally attractive to investors in difficult economic times. (Standard & Poor's, 2011)

Family History

Samuel Moore Walton was born on March 29, 1918 near Kingfisher, Oklahoma to Thomas and Nancy Walton. Kingfisher was founded on April 22, 1889, when the federal government opened the former Indian Territory to settlement by "land rush." Today the city of 4,300 people is best known for being located on a part of the Chisholm Trail, which was the route taken by cowboys driving millions of Texas longhorns to the railroad yards in Kansas, and later the birthplace of Sam Walton. (Biography, 2011)

At the time of Sam's birth, the Walton's lived on a farm in an area which is now a suburb of Oklahoma City. In 1923, Thomas recognized his failings as a farmer and decided to return to his original occupation as a loan appraiser. About this time, Thomas moved his family to Missouri where they bounced around for several years as he tried job after job. Sam began to show his independence and drive during the 8th grade year in Shelbina, Missouri (a wide spot on U.S. Highway 36.) Sam was awarded the Boy Scout Eagle badge earlier in life than anyone in the state's history. Later in life, Sam was given the distinguished Eagle Scout Award by the Boy Scouts of America, recognizing his achievements and lifelong support of Scouting. (Investing Value, 2011)

Moving to Columbia (home of the University of Missouri Razorbacks) Sam Walton proved to be a capable athlete, playing on the basketball team and starring as the quarterback for Hickman High School, but he also excelled academically as an honors student. During his junior year, he was elected vice president of the student body, and the following year he capped off his high school career by becoming the president. Notwithstanding his achievements in the classroom and on the playing fields, Sam Walton also pitched in to help his family meet its financial needs during the depression. Every day, he milked the cow and delivered what the family couldn't drink to customers on his newspaper route. At graduation, his teachers awarded him the title "Most Versatile Boy." (Investing Value, 2011)

Sam majored in economics at the University of Missouri while working several part time jobs including as a "hasher" (waiting tables) in exchange for his meals at the Beta Theta Pi fraternity. He also joined the professional business fraternity Alpha Kappa Psi, which is recognized as a staunch developer of high-principled business leaders. Alpha Kappa Psi adheres to the following lifetime values: Brotherhood, Knowledge, Integrity, Unity, and Service. (Investing Value, 2011)

After graduating in 1940, Sam took a job at JC Penney in Des Moines, Iowa which paid $75 a month. After a year in the training program at Penney, he informed his superiors that he was leaving to join the Army. While in transition, Sam worked briefly at a DuPont munitions plant in Oklahoma where he met Helen Robson. Helen graduated at the top of her high school class in Claremore, Oklahoma and graduated from the University of Oklahoma at Norman with a degree in business. Her father, named L.S. Robson, was a prosperous banker and rancher. They were married on Valentine's Day 1943. Helen and Sam Walton had four children: Samuel Robson (Rob) born in 1944, John Thomas born in 1946, James Carr (Jim) born in 1948, and Alice Louise born in 1949. (Investing Value, 2011)

In World War II, Sam served as an officer in the U.S. Army Intelligence Corps, responsible for security at prisoner of war camps and aircraft plants in California. After reaching the rank of captain, he left the Army in 1945 itching to own a retail department store. Borrowing $20,000 from his father in law, Sam threw in his Army savings of $5,000 and bought a Ben Franklin variety store franchise in Newport, Arkansas. (Investing Value, 2011)

Early on, Sam exhibited instincts that have been the hallmark of his stores from the beginning and remain so today. He carried a wide variety of low-priced items. He kept his store open longer hours than most of his competition. He bought inventory in large quantities from the lowest-priced wholesalers and passed his savings on to grateful customers. His success with customers generated large sales volumes, allowing him to drive even harder bargains with his suppliers. In short order, Sam's store became the most profitable franchise store in the six-state Ben Franklin southeast region. (Investing Value, 2011)

In 1951, the landlord of the building housing Sam's first store decided not to renew the lease as he wanted to give it to his son. Left with a high rent of 5% of sales and no lease, Sam was forced to sell the store to the landlord. (Sam reckoned that $50,000 was a fair price.) Before leaving the store in Newport, Sam negotiated a lease on a retail facility in Bentonville, Arkansas. He opened another Ben Franklin franchise but changed the name of his new… [END OF PREVIEW]
Four Different Ordering Options:
?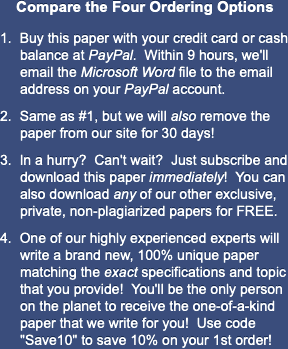 1. Buy the full, 20-page paper: $28.88
or
2. Buy + remove from all search engines
(Google, Yahoo, Bing) for 30 days: $38.88
or
3. Access all 175,000+ papers: $41.97/mo
or
4. Let us write a NEW paper for you!


Most popular!
Cite This Essay:
APA Format
Wal-Mart Stores, Inc. Company Operations. (2011, June 14). Retrieved July 18, 2019, from https://www.essaytown.com/subjects/paper/wal-mart-stores-inc-company-operations/6882653
MLA Format
"Wal-Mart Stores, Inc. Company Operations." 14 June 2011. Web. 18 July 2019. <https://www.essaytown.com/subjects/paper/wal-mart-stores-inc-company-operations/6882653>.
Chicago Format
"Wal-Mart Stores, Inc. Company Operations." Essaytown.com. June 14, 2011. Accessed July 18, 2019.
https://www.essaytown.com/subjects/paper/wal-mart-stores-inc-company-operations/6882653.