Term Paper:
Web-Based Surveys and Their Usefulness
Pages: 15 (6102 words) · Bibliography Sources: 0 · Level: College Senior · Topic: Business · Buy This Paper
SAMPLE EXCERPT:

[. . .] Critics of the web-based survey method believe that it is not cost effective to do web-based surveys because the traditional survey cannot be eliminated. There are several differences between the two methods and they need to be examined before one can decide if web-based survey methods are for them.

Web-based survey have one or two costs. The cost of the web site design and the survey design itself is a one-time cost and it can be used over and over again. The cost of designing a web site and a survey can be absorbed by the company budget if it is handled in house or it can be outsourced for a fee. The plus side of the cost of the design is once it is done it can be used over and over again with a few adjustments that can be included in the original cost. The web-based survey does not have some of the costs that are associated with traditional surveys. Some costs that traditional surveys have are postage, paper and envelopes. If it is an in person survey then the costs include the pay for the survey takers, possibly benefits for them as well and temps if employees call out sick or cannot be used.

PROBLEMS

According to web-based survey detractors the web-based survey lacks many things that a traditional survey provides. Regarding the cost factor they believe that traditional surveys will always be needed which counteracts the perceived cost reduction in business research that advocates of web-based surveys say they observe.

One of the biggest obstacles to web-based survey taking according to some is the limited population that the web-based survey can reach. Web-based surveys must be taken online and there is a large segment of the population that does not have access to the Internet. This can lead to a potential problem with the purity of the results. Those who cannot afford the Internet, do not own or have access to a computer and do not spend time on the computer will never see the survey. The potential is there for the population to be non-representative of the total world population.

One expert addresses this issue:

"I have no doubt that some people enjoy filling out Internet questionnaires, " and data collected through the Web is easier to process. But whether everyone is able to respond using the Internet also has to be considered. Significant sections of the population also have limited access to the Web, because of bandwidth or PC limitations, and would not be able to fill in hi-tech surveys that go beyond basic use of the Internet. He says there is no clear research on people's attitudes to completing surveys online, though anecdotal evidence suggests some prefer the Internet while others dislike using it for this purpose. The Internet is most useful for surveys where all the target population is online, he says. Business surveys run by the federal government are increasingly heading online, he says, though the initial contact asking people to take part is often made by telephone."

Another possible problem with the web bases survey is the breach of confidentiality. It is the reason the government hesititates to put some surveys online and the business research world can be the same way. The confidentialty of what the business is attempting to find out is not protected on the web. While the mail in or in person survey can also breach confidentiality it is not as open as the web-based survey in which most of the world can access it with the click of a mouse.

There are some surveys the United States government remains reluctant to put on the Web because of security concerns.

Another concern is that people may view web-based surveys as an inexpensive alternative to traditional methods.

Survey respondents still need to be followed up to ensure all complete, and should be given the option of replying in ways other than online, he says.

Token gifts are often used to entice people to complete surveys in the U.S., Dr. Dillman says, for example $2 or $5.

Even if people completed a survey online, they would still have to provide some sort of postal contact to receive the prize.

Touch-tone and voice-automated telephone surveys have also become popular for some types of questionnaires, particularly where the survey is short and has simple answers.

Dr Dillman says when he started working on survey methods in the 1960s, posting questions and answers was the only method available apart from face-to-face interviews.

In the 70s, telephone surveys started to become more popular, and it was not till the late 90s that Internet surveying entered the picture.

The Internet can provide extremely rapid feedback, collating data in seconds.

Dr Dillman says getting quick results is important in fast moving situations, particularly fluctuating economic situations.

CAPTION:

United States public policy professor Don Dillman... Mixing survey methods is the best way to ensure a good spread of results, though operating different techniques simultaneously can be costly.

WELLS Amanda, Internet not the only answer for surveying., New Zealand Infotech Weekly, 03-12-2001, pp 5.

INTRANETS & I-COMMERCE: Get to know your customers through the Web

Businesses that understand their customers are the first to succeed, but getting customer feedback using traditional methods, such as e-mail or paper-based surveys, can be time-consuming, expensive, and unsuccessful. Customers are more likely to make suggestions or give feedback when they are visiting a company Web site; therefore, Web- based surveys can be a vital piece of an overall business strategy.

Many products have appeared on the market that help Webmasters create and post online surveys. I looked at Principia Products' Remark Web Survey 1.0, which shipped in early March. This simple application lets anyone who can operate a mouse put together elegant-looking surveys that are ready to upload to a Web server in a matter of minutes.

Remark Web Survey consists of two components: Designer and Server. The Designer component runs on Windows, and the Server component is Perl-based and will run on any Web server platform.

A installed the software quickly and began creating a survey. The wizard-based Remark Web Survey was straightforward to use, and the software gave me a lot of control over the design of my surveys. For example, I could easily incorporate text boxes, check boxes, radio buttons, drop-down lists, and graphics.

After completing the survey, I was shown three views: a source view that contained the HTML, a design view that represented the structure of my survey in a directory tree, and a browser view that displayed the survey as it would appear on a Web page.

Remark Web Survey lacks an easy way to toggle between the three views within the Designer, a problem that could be solved by adding tabs on top of the view windows. In addition, I had to save the finished survey in a proprietary format and publish it to a Web server separately. The company would be smart to provide a way to publish surveys directly to the server in the next release. Completed survey data is stored in a tab-delimited format so it can be manipulated by another application, such as Microsoft Excel.

Remark Web Survey faces competition from many similar products, including SurveySolutions from Perseus Development and EZSurvey from Raosoft. Remark Web Survey is more expensive than SurveySolutions, and its data-collection methods could be improved; however, it is certainly easy to use and will furnish your Web site with an instant online feedback tool.

Andre Kvitka () has reviewed a wide range of products at the InfoWorld Test Center since 1989.

THE BOTTOM LINE: GOOD

Remark Web Survey 1.0

Summary: This Web-based survey-creation tool provides a simple GUI that allows almost anyone to easily create online surveys in a very short time.

Business Case: Remark Web Survey offers a way to collect customer information quickly without tying up IT resources.

Pros

Wizard-based + Easy to use

Cons

No direct-to-Web publishing method - No built-in statistical tools - Results must be downloaded manually

Cost: $349: single license; $870: three-license pack; $1,300: five- license pack; $2,250: 10-license pack

Platforms: Windows 95/98, Windows NT; server component runs on any Web server

Principia Products Inc., Paoli, Pa.,; www.principiaproducts.com

Andre Kvitka, InfoWorld Test Center, INTRANETS & I-COMMERCE: Get to know your customers through the Web. Vol. 21, InfoWorld, 05-10-1999.

The Perils Of Polling And How To Avoid Them The Perils Of Polling And How To Avoid Them p.5

During one six-month period, 1,700 of the stories my paper published in the main and local news sections contained some reference to polls or surveys.

A suspect we're more typical than not. When Arnold Ismach, former dean of the University of Oregon Journalism School, asked students to check five days' worth of news stories in 14 papers, they discovered that nearly one in five had some quantitative research element. Usually, that means a poll or a… [END OF PREVIEW]
Four Different Ordering Options:
?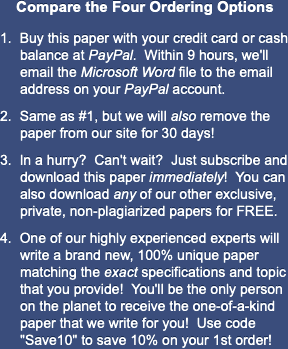 1. Buy the full, 15-page paper: $28.88
or
2. Buy + remove from all search engines
(Google, Yahoo, Bing) for 30 days: $38.88
or
3. Access all 175,000+ papers: $41.97/mo
or
4. Let us write a NEW paper for you!


Most popular!
Cite This Term Paper:
APA Format
Web-Based Surveys and Their Usefulness. (2002, September 29). Retrieved June 16, 2019, from https://www.essaytown.com/subjects/paper/web-based-surveys-usefulness/3169858
MLA Format
"Web-Based Surveys and Their Usefulness." 29 September 2002. Web. 16 June 2019. <https://www.essaytown.com/subjects/paper/web-based-surveys-usefulness/3169858>.
Chicago Format
"Web-Based Surveys and Their Usefulness." Essaytown.com. September 29, 2002. Accessed June 16, 2019.
https://www.essaytown.com/subjects/paper/web-based-surveys-usefulness/3169858.