Term Paper:
Whole Foods Market Significant Key
Pages: 11 (2908 words) · Bibliography Sources: 6 · Level: College Senior · Topic: Business · Buy This Paper
SAMPLE EXCERPT:

[. . .] 2. Developing brand awareness

3. Global presence and expansion.

External Threats

(T)

1. Replica products from competitors.

2. Batter Price from competitors.

3. Economy recession.

4. Changing regulations.

Internal Strengths

(S)

1. Product Range

2. Financial Growth

3. Human Resources.

SO

"Maxi-Maxi" Strategy

Strategies that use strengths to maximize opportunities.

Human Resources and Financial capabilities can be used to increase global presence and brand awareness.

ST

"Maxi-Mini" Strategy

Strategies that use strengths to minimize threats.

The product pricing strategy should be developed according to competitive pricing strategy and key quality features should be highlighted.

Internal Weaknesses (W)

1. Lack of Global presence

2. Only Organic Products

3. Conformity of Natural products

WO

"Mini-Maxi" Strategy

Strategies that minimize weaknesses by taking advantage of opportunities.

E-commerce solutions can be adopted to increase global presence.

WT

"Mini-Mini" Strategy

Strategies that minimize weaknesses and avoid threats.

Natural as well as related category products can also be included in the product line. Quality assurance should be traced back to the suppliers.

Pros and Cons:

The pros and cons of Whole Foods Market strategy are identified as following. The focused strategy is helpful in creating a brand image related to natural and organic foods however the company cannot target mass market with this strategy. The competitors are providing low quality natural products, along with their normal range products i.e. Wal-Mart and Tesco. The organization should focus on taking a selected route towards their products strategy.

The strategy for global presence incorporating e-commerce solution requires development of a perishable items supply chain solution. The organization should clearly identify the potential markets and open physical stores. However the global outreach is only possible through e-strategy as overheads and melting economic situation is a notable obstacle in expansion. The e-commerce solutions also provide solutions for lists development including preferred products, most popular, and promotional offers encouraging the customers to purchase.

The corporation also focuses to attain a market leader's status in organic and natural foods segment. It requires increased marketing and brand awareness efforts. In order to achieve their objectives a well targeted marketing and advertising campaign is required. The mass marketing campaign cannot reveal desired results as the products line focus is only natural and organic foods. A number of products are available that can be globally sourced and offered in company's target markets. The herbal products are also gaining popularity.

Implementation:

The implementation of the strategic recommendations is required to attain desired results and continual growth (Wheelen & Hunger, 2011). Following steps are required to achieve a smooth implementation. The pricing and quality research should be conducted to review existing market quality as well as pricing structure. The prices of related products should also review in accordance with company's pricing structure. A competitive pricing strategy should be evolved by cost and overheads reduction. Implementing global sourcing and supply chain solutions using innovative technology offerings can also facilitate cost reduction. The benefits of reduced cost should be passed to customers in terms of batter pricing, discount offers, loyalty cards, and product promotions.

The e-commerce solution is applicable through utilization of technology and latest innovative techniques offered by complete supply chain management solutions. According to Ngai (2009) the travel miles / kilometers of food items are increasing, as a product of one country is sent to other destinations for processing and then again retrieved back or sent to multiple destinations. The cost is minimal as compared with local processing and packaging. The supply chain solutions also provide a notable advantage for traceability and application of RFIDs to decrease product recall costs.

The company can also increase its market presence by subcontracting with local and small to medium scale grocery stores and supplying organic foods. The supply chain solution is also required to automate delivery and pick up of perishable products. It will increase the company's outreach to customers and broaden the target market reach. The organization requires instant actions in terms of business expansion to compete with its rivals.

Evaluation and control:

Evaluation of the solutions provided can be carried out thorough effective use of strategic techniques available for option evaluations and establishing controls. The usage of Ansoff Matrix is also effective in order to establish and prioritize the strategic options. The implementation of effective controls should be in terms of financial and strategic goals achievement. The gaps between the current and desired goals are analyzed using sophisticated techniques of gap analysis. It also facilitates the evaluation of existing performance along with the requirements to achieve strategic goals and objectives (Wheelen et al., 2011).

The total cost of implementing a solution should be estimated to provide significant insight for the management. The business should also evaluate the ROI in order to understand the impact of investment as well as seeking innovative solutions to reduce upfront investment. The profit margins of the business are already low as it falls in a high volume low sales margin retailing industry (Wheelen et al., 2011).. It can focus on creating volume to increase sales and market outreach of the brand. Key control points are important in strategic decisions and evaluation of alternatives.

The alternatives for e-commerce solutions, supply chain management, and global sourcing of foods, and delivery to global markets should be carefully investigated to provide a clear understanding of the direction and business performance. The investment required for each solution including interest rate applicability, and expected results should be elaborated. The management should also evaluate various alternatives to identify and select the best possible solution. The efficient control of the business alternatives is possible through clear identification of bench marks and acceptable criteria. The business performance can be measured in terms of customer satisfaction, revenue growth, cost reduction, and increase in product availability.

Recommendations:

The recommendations are developed on the basis of internal and external factors analysis through the SWOT analysis. TWOS matrix is also used to devise strategic direction of the organization in achieving their desired results. Following recommendations are prepared for the company to maintain and extend its expansion efforts. The financial growth is also a considerable motive for the organization.

1) Focus on global expansion to increase its brand presence.

2) E-Commerce solution is also required to increase global presence.

3) Use of technological innovation to adopt global supply chain management for perishable goods.

4) Competitive pricing strategy should be followed to compete in the global market.

Conclusion:

The organization is a growth oriented progressive corporation with its presence in three major developed markets including U.S., U.K, and Canada. The company has expended at an exceptional rate since 1984. The expansion includes ground up stores, mergers, and acquisition within the local and international markets. The organization has survived a legal battle after acquiring Wild Oates. The company has a long history of growth in terms of sales, profit margins, and store expansions.

The analysis of micro and macroeconomic factors of the business and industry is carried out to devise recommendations for strategic growth and as a result increase business performance. The recommendations for the business are summarized as store expansion to global markets. The outreach of the brand is increased though e-commerce website. The supply chain solutions for global sourcing and delivery of perishable goods are also recommended. The pricing of the products should be competitive to survive through troublesome economic times.

The organization is required to immediately focus on technology solution and innovative techniques to reinforce its objectives. The competition and government regulations are affecting the organic foods market. The market is also nearly achieving its maturity life cycle. The strategic growth is only possible thorough solutions of technology and innovative cost reduction techniques. The recued cost can place the company in a batter position to provide customers value for money. These requirements are achieved through well established approaches of global sourcing and increased target market (Wheelen et al., 2011).

References:

Form 10-K. United States Securities and Exchange Commission, (2011). Form 10-k annual report pursuant to section 13 or 15(d) of the securities exchange act of 1934. Retrieved from Whole Foods Market website: http://www.wholefoodsmarket.com/sites/default/files/media/Global/Company Info/PDFs/2011_10K.pdf

Hitt, M.A., Ireland, R.D., & Hoskisson, R.E. (2012). Strategic Management Cases: Competitiveness and Globalization. USA: South-Western Pub.

Lederer, M., Schott, P., Huber, S., & Kurz, M. (2013). Strategic Business Process Analysis: A Procedure Model to Align Business Strategy with Business Process Analysis Methods. In S-BPM ONE-Running Processes (pp. 247-263). New York: Springer.

Ngai, E. (2009). RFID in operations and supply chain management: research and applications, edited by T. Blecker… [END OF PREVIEW]
Four Different Ordering Options:
?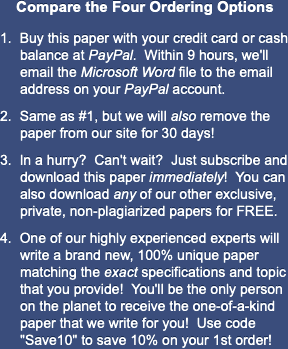 1. Buy the full, 11-page paper: $28.88
or
2. Buy + remove from all search engines
(Google, Yahoo, Bing) for 30 days: $38.88
or
3. Access all 175,000+ papers: $41.97/mo
or
4. Let us write a NEW paper for you!


Most popular!
Cite This Term Paper:
APA Format
Whole Foods Market Significant Key. (2013, April 8). Retrieved July 17, 2019, from https://www.essaytown.com/subjects/paper/whole-foods-market-significant-key/7186081
MLA Format
"Whole Foods Market Significant Key." 8 April 2013. Web. 17 July 2019. <https://www.essaytown.com/subjects/paper/whole-foods-market-significant-key/7186081>.
Chicago Format
"Whole Foods Market Significant Key." Essaytown.com. April 8, 2013. Accessed July 17, 2019.
https://www.essaytown.com/subjects/paper/whole-foods-market-significant-key/7186081.