Term Paper:
Wound Care Chronic Wounds Represent
Pages: 30 (8294 words) · Bibliography Sources: 1+ · Level: College Senior · Topic: Healthcare · Buy This Paper
SAMPLE EXCERPT:

[. . .] Not only are pressure sores painful and a source for infection; they are also a marker for a greatly increased risk of death (Allman et al., 1986). Wounds resulting from skin breakdown also have great potential impact on a large number of quality-of-life issues, including life satisfaction, mental health, productive use of time, and caregiver burden. The emotional costs associated with the presence of a chronic wound compound the escalating financial burden of wound care for patients, families, and society.

Statement of Purpose

Evidence suggests that a number of factors are wound care management is becoming more complex for nurses due to new insights into wound healing (Hayward & Morrison, 1996) and because of the wide variety of wound dressings that are available (Wikblad & Anderson, 1995; Miller, 1994). Erwin-Toth and Hocevar (1995) stated that there were approximately 400 brands of wound care dressings on the market to choose from and that wound care is made even more difficult because no one dressing method suits all wounds and the choice is dependent on the cause of the wound, infection, favorability and cost (Findlay, 1994). Because of these many different wound care techniques and dressings, nurses are becoming confused and nonplussed regarding wound care practice. Unfortunately, Miller's (1994) research showed that in 85% of cases nurses were using inappropriate dressings, and O'Connor (1993found in her study on wound care that nurses were having difficulty in applying their theory and knowledge to their practice.

On the basis of current problems associated with the complexity of wound care, the purpose of this thesis will be to explore current trends and practice recommendations in wound care. On the basis of the results of this exploration, a best nursing practices model in wound care will be developed.

Significance to Nursing basic philosophical premise associated with nursing in wound care is that which is focused on and advocates prevention and quick resolution of compromised skin integrity. Without a thorough understanding of the factors associated with effective wound care on the part of nurses, patients run the risk of skin break-down, further wound development, development of infections, long-term complications associated with wound healing, and the emergence of and ongoing presence of quality of life issues for patients. Therefore, efforts to provide nurses with information that is critical to the provision of effective care in relation to wound patients is significant for those engaged in nursing.

SECTION II: Integrated Review of the Literature

Within this section of the thesis, a literature review will be provided for the purposes of developing an understanding to the critical components and trends associated with wound care.

Wound Care Professionals

The results of a recent study by Bamberg, Sullivan and Conner-Kerr (2003) provide some indication of the types professionals providing wound care. The findings of this research suggest that the largest numbers of wound care service providers are registered nurses, followed by physical therapists, and thirdly followed by physicians. Most hold one or more national certification(s) related to wound care (i.e., CWOCN/CETN, CWS, or CNSWC), had completed a formal program of training in wound care (e.g., workshops, institutes, credit courses), and reported attending at least one continuing education workshop on wound care per year. According to Bamburg et al., most wound care specialists have a considerable experience base in wound care (mean = 10.9 years) with a mean of 64.1% of their professional work time being spent in wound care. This professional profile was similar across geographical regions within the U.S.

As reported by Bamberg et al. (2003), many wound care professionals work in more than one setting where they performed wound care. The most common work settings include acute care hospitals, followed by outpatient wound care centers where professionals work either full or part time. Most physicians and podiatrists provide wound care service in private practice as a work setting, though a few nurse practitioners have been identified as reporting this setting for their services. The vast majority of wound care professionals have indicated that Medicare and Medicaid patients. As well, patients also include those in health maintenance organizations (HMO) and as well as those that have private insurance. Similarly, many patients also represent those who self-pay.

Changes in Wound Management

As described by Hall and Schumann (2001), wound care is often a ritualistic procedure, resulting from social rather than wound factors. Hall and Schumann explained that there has been an ongoing revolution in wound care treatment that has taken place in the past 20 years that has demonstrated the expertise needed to provide quality care. Where once heat lamps, acetic acid, hydrogen peroxide, sugar and Maalox (TM), betadine packing, and dry wound healing were the protocols for care, wound care treatment has increasingly become more complex, with ever emerging standards-of-care for wound management. As others have noted (e.g., Skewes, 1996; Bruck, 1995; Nix, 2000), there is an ongoing recognition to the fact that what is put in, around, or on a wound can have a significant effect on healing, pain, scarring, infection, and debridement.

According to Hall and Schumann (2001), currently wound management products include everything from the basic adhesive strip and gauze squares to biosynthetic dressings and skin substitutes. Hall and Schumann further explained that a technology revolution continues to influence new products and treatments. This ongoing revolution results in a persistent and diligent need to re-examine practices in wound management in a continuing manner. Currently, there are more than 2,000 wound care products and support surfaces available in the U.S. (Baharestani, 1999). In 1997, wound management in the U.S. was a $1.94 billion business and is expected to grow to $2.57 billion by the year 2002 (Anonymous, 1997).

Psychosocial Aspects of Wound Care

According to Beck (1993), in wound care, there is a need to focus on the physical, psychological, social, environmental and spiritual dimensions of patients needs in assessment, planning and delivery of care. However, nursing assessments and strategies have most frequently concentrated on the physical aspects of wound management (Hopkins 2001). According to some (e.g., Beck, 1993;Teare & Barrett, 2002), holistic practice incorporating associated factors, such as pain, mobility and activities of daily living, falls mainly into the physical dimension, although there might be some acknowledgement of social influences. Most typically, patients who experience critical injuries and patients whose body image are threatened are more likely to be considered by nurses as requiring psychological and support (Salvador-Sasz,1999; Thelan, Davis, Urden, & Lough, 1994).

According to Newell (2000), considerations for the social and psychological tend to be offered only when body image is threatened by major, rather than minor, injuries, with facial disfigurement, loss of limbs or stoma formation rating most highly. However, even minor wounds may influence body image, as suggested by Price (2000), who indicated that body image is influenced by physical perceptions of the body to psychological experience through three basic components: body reality, body ideal and body presentation. As explained by Teare and Barnett (2002), on the basis of this model, patients who have wounds might experience changes in their body reality due to the physical nature of the wound. This has an impact on their perception of their body ideal, but might be linked to wider societal views of normal bodies. Body presentation is linked to physical appearance, but influenced by the environment, social support and personal coping strategies, and contributes with the other components to an overall construction of self-image.

According to Newell (2000), little effort has been made to examine patients whose physical appearance has changed, their adjustment to change, or their attempts to address these difficulties. As well, there is little documentation to suggest that nurses give extensive consideration to the effect of wounds on patients' perception of their body.

According to Teare and Barrett (2002), nurses should consider the potential for loss of function and loss of status due to wounds both on a physical and social level. This will vary from individual to individual, depending on life circumstances. Teare and Barrett elaborated that for employed people it might affect their ability to work, whereas for retired people it can impinge on their social or caring activities. Ultimately, as noted by Teare and Barrett, how individuals feel about these changes is an important factor for self-esteem. Additionally, of further importance to nurses in the consideration of the social and psychological impact of wounds is that coping with treatment of wounds may lead to concerns about future alterations in lifestyle or anxiety about forthcoming nursing or medical procedures. According to Dewar and Morse (1995), often patients experience a wide range of emotional responses to ongoing hospital treatment that tests their ability to endure illness. Frequently, unbearable symptoms, such as pain, or intolerable treatments, results in patients feeling as thought they have reaching the limits of their ability to continue coping, resulting in behavior demonstrating frustration, irritation or anger (Dewar and Morse, 1995).

As well, as noted by Teare and Barrett (2002), patients may be influenced by the reactions of others or fears about reactions… [END OF PREVIEW]
Four Different Ordering Options:
?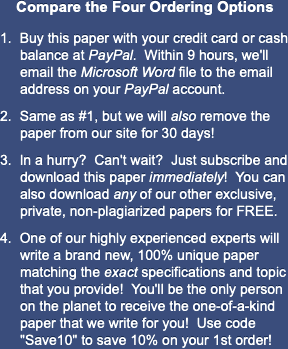 1. Buy the full, 30-page paper: $28.88
or
2. Buy + remove from all search engines
(Google, Yahoo, Bing) for 30 days: $38.88
or
3. Access all 175,000+ papers: $41.97/mo
or
4. Let us write a NEW paper for you!


Most popular!
Cite This Term Paper:
APA Format
Wound Care Chronic Wounds Represent. (2003, July 2). Retrieved May 26, 2019, from https://www.essaytown.com/subjects/paper/wound-care-chronic-wounds-represent/4275037
MLA Format
"Wound Care Chronic Wounds Represent." 2 July 2003. Web. 26 May 2019. <https://www.essaytown.com/subjects/paper/wound-care-chronic-wounds-represent/4275037>.
Chicago Format
"Wound Care Chronic Wounds Represent." Essaytown.com. July 2, 2003. Accessed May 26, 2019.
https://www.essaytown.com/subjects/paper/wound-care-chronic-wounds-represent/4275037.