Case Study:
Zongshen R+d Innovations in Strategic
Pages: 11 (2871 words) · Bibliography Sources: 15 · Level: College Junior · Topic: Business · Buy This Paper
SAMPLE EXCERPT:

[. . .] The Center is comprised of three divisional interests through the Design Center, Engineering Center and Test Center that contribute to the Company's tri-partite, PDB product development outline: design, trial manufacture and test. Each Center channels their respective product design, development and verification for trial manufacture through process tooling performance testing at the various decoupling points in the innovation chain (Zongshen, 2010).

Social responsibility through certification, technical cooperation, training and support at the Center(s) includes forty seven disciplinary fields of expertise, with 769 development personnel of whom 80% hold degrees of the undergraduate level, or above, and eighty advanced degree professional and foreign experts, in 342 positions of intermediate or senior title. In cooperation with Tianjin University and Chongqing University, Zongshen has established joint laboratories for the study of vibration and noise reduction research. Knowledge sharing capacity at the Center ensures mitigation against intellectual property litigation, through its comprehensive database dedicated to motorcycle industry patents, the most complete in China.

CONCLUSION

As China moves forward in its relationship with WTO member trading partners, Zongshen Industrial Group and its subsidiaries will have a stake in it. China's willingness to participate fully in the alliance has meant that the enormity of its national economy of scale is flooding foreign markets with Chinese products. As Zongshen attempts to expand global reach of its business, the Company will face a number of obstacles in the markets of developed nations in the EU and North America.

In 2006, the European Union and United States followed by Canada filed dispute DS340: Auto Parts against China in a WTO complaint of asserting anti-dumping protocol in response to argument that the nation was dumping low cost industrial parts in export trade to those nations. The WTO dispute process is one such mechanism, and the world's largest economy is already involved in quite a few settlements over dispute claims. With the forthcoming impact of China's dominance in industrial trade, coupled with the rise in its national currency, the Yuan means that a protectionist forces that have already emerged, threaten to increase as China surpasses the competitive economic advantages of other members in trade.

Quite candidly, China's status as a command economy puts Chinese businesses at odds with the WTO legal structure, in that rules and regulations are predicated upon Western civil and common law strictures, and those frameworks have emphasis on established limits to terms of excess in surplus export production and mechanisms of capitalization. Those rules translate to the national and regional context of target markets where Zongshen is undergoing business development. If developed countries are the most active in seeking protectionist measures against China through dispute, the future of the global motorcycle company will be in its ability to balance business with legal pursuit.

APPENDIX A

PEST / PESTLE Analysis on Zonghsen Industrial Group

SWOT Context China

Date of Analysis 12.02.10

PESTLE Analysis factors

Your notes

Potential Impact:

Implication and importance

The list below is just to get you started. Remember to put these, and others that you add in the context of your organization or business.

For example if you are a small private company the behaviours of a Wall Mart / Tesco or other large international player may well impact on you.

If you are a local authority, government changes will change your priorities. In the NHS changes to treatments and public attitudes will also impact etc.

About your organization.

How might the factors listed on the left impact your business or part of the organization?

H - High

M - Medium

L - Low

U - Undetermined

Time Frame:

0-6 months

6-12 months

12-24 months

24 + months

Type:

Positive +

Negative

Unknown

Impact:

Increasing

Unchanged =

Decreasing <

Unknown

Relative Importance:

Critical

Important

Un-important

Unknown

Political - SWOT

Trading policies

Funding, grants and initiatives

Home market lobbying/pressure groups

International pressure groups

Wars and conflict

Government policies

Government term and change

Elections

Inter-country relationships/attitudes

Terrorism

Political trends

Governmental leadership

Government structures

Internal political issues

Shareholder / stakeholder needs / demands

Current trading policies are suited to domestic market, with some presence in Southeast Asia and South America.

Recent WTO history indicates that hot pursuit of dispute settlements by developed economies in response to anti-dumping complaints against China will set the bar high in terms of Zongshen's capacity to enter those markets

H

24+

N

C

Economic - SWOT

Home economy situation

Home economy trends

Overseas economies and trends

General taxation issues

Taxation changes specific to product/services

Seasonality/weather issues

Market and trade cycles

Specific industry factors

Market routes and distribution trends

Customer/end-user drivers

International trade/monetary issues

Disposable income

Job growth/unemployment

Exchange rates

Tariffs

Inflation

Interest and exchange rates

Consumer confidence index

Import/export ratios

Production level

Internal finance

Internal cash flow

China's home market is accelerated with exponential growth in consumer confidence and spending power. Zongshen stands to benefit from this trend.

Currency valuation will also lead to disposable income. Competition overseas will be mitigated by any forthcoming advance in currency valuation.

M

0-6 mos

P

I

Social - SWOT

Consumer attitudes and opinions

Media views

Law changes affecting social factors

Brand, company, technology image

Consumer buying patterns

Major events and influences

Buying access and trends

Ethnic/religious factors

Advertising and publicity

Ethical issues

Demographics (age, gender, race, family size,)

Lifestyle changes

Population shifts

Education

Trends

Fads

Diversity

Immigration/emigration

Health

Living standards

Housing trends

Fashion & role models

Attitudes to work

Attitudes to people doing certain types of work

Leisure activities

Occupations

Earning capacity

Staff attitudes

Management style organizational culture

Changes to education system

As consumer attitudes change toward luxury commodity purchases, the motorcycle company will be able to introduce more expensive inputs into the innovation of the product.

Chinese consumers are technology interested. R+D will be a serious selling point and sustainable brand identification that consumers seek.

H

0-6 mos

P

I

Technological - SWOT

Competing technology development

Research funding

Associated/dependent technologies

Replacement technology/solutions

Maturity of technology

Manufacturing maturity and capacity

Information and communications

Consumer buying mechanisms/technology

Technology legislation

Innovation potential

Technology access, licensing, patents

Intellectual property issues

Global communications

Inventions

Innovations

New discoveries

Research

Energy uses/sources/fuels

Communications

Rate of obsolescence

Health (pharmaceutical, equipment, etc.)

Manufacturing advances

Information technology

Internet

Transportation

Bio-tech

Genetics

Waste removal/recycling

Email

M-learning

E-learning

Collaboration tools

Software changes

Zongshen's business is highly reliant upon the innovation aspects of product line development.

Almost every factor in the PESTLE is present in this segment of analysis.

Risk reduction in market competition is assisted here.

R&D via the Group's

Technical Center is a priority strategy and a long-term competency for growth.

Knowledge sharing is a measurable element of the organization's sustainable model.

H

0-6

mos

P

C

Additional split of information if doing a PESTLE analysis rather than a PEST analysis:

Legal - SWOT

Current legislation home market

Future legislation

European/international legislation

Regulatory bodies and processes

Environmental regulations

Employment law

Consumer protection

Industry-specific regulations competitive regulations

The WTO dispute cases point to the importance of the policy environment where industrial trade is concerned.

If expansion efforts continue there must be a sufficient legal component to the strategy.

M

6-12 mos

N

I

Environmental - SWOT

Ecological

Environmental issues

International

National

Local

Environmental regulations

Customer values

Market values

Stakeholder / investor values

Staff attitudes

Management style organizational culture

Staff morale

Staff engagement

Global factors

EU-based factors

Zongshen currently adheres to national and ISO compliance standards.

Global expansion will involve regional and national environmental controls on manufacturing, materials and emissions.

H

6-12 mos

N

I

REFERENCES

Dispute Settlement: Dispute DS340 China -- Measures Affecting Imports of Automobile Parts (2008). World Trade Organization. Retrieved from: http://www.wto.org/english/tratop_e/dispu_e/cases_e/ds340_e.htm

DOHA Declaration on Anti-dumping GATT Article VI, Section 7. WTO (2009). Retrieved from: http://www.wto.org/english/tratop_e/dda_e/implem_explained_e.htm#antidumping

Flannery, R., & Huang, P. (2003). No HOGs here. Forbes Global, 6(17), 26.

PESTLE (2010). RapidBi.

Shih, E. And Dai, N. (2010). From Imitation to Innovation: Zongshen Industrial Group. Harvard Business School.

WTO Secretariat reports increase in new anti-dumping investigations (2009, 7 May). WTO, Press, 556. Retrieved from: http://www.wto.org/english/news_e/pres09_e/pr556_e.htm

Zongshen International (2010). Retrieved… [END OF PREVIEW]
Four Different Ordering Options:
?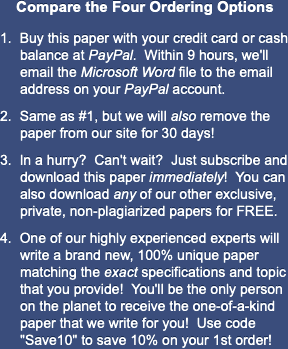 1. Buy the full, 11-page paper: $28.88
or
2. Buy + remove from all search engines
(Google, Yahoo, Bing) for 30 days: $38.88
or
3. Access all 175,000+ papers: $41.97/mo
or
4. Let us write a NEW paper for you!


Most popular!
Cite This Case Study:
APA Format
Zongshen R+d Innovations in Strategic. (2010, December 3). Retrieved June 16, 2019, from https://www.essaytown.com/subjects/paper/zongshen-r-d-innovations-strategic/9746238
MLA Format
"Zongshen R+d Innovations in Strategic." 3 December 2010. Web. 16 June 2019. <https://www.essaytown.com/subjects/paper/zongshen-r-d-innovations-strategic/9746238>.
Chicago Format
"Zongshen R+d Innovations in Strategic." Essaytown.com. December 3, 2010. Accessed June 16, 2019.
https://www.essaytown.com/subjects/paper/zongshen-r-d-innovations-strategic/9746238.