Agriculture Research Papers & Agriculture MBA Help
(Updated on February 8, 2018 by Michelle Williams)
An agriculture research paper synthesizes the findings and opinions of various scholarly studies with the original ideas of the author to present a thorough and academic exploration of a narrowly defined topic in the field of agriculture.  Agriculture research papers should seek to contribute new insight to a topic in the field by investigating and analyzing the most relevant and innovative research on that topic.  A research paper isn't the same as a research study, which reports on a researcher's own, individually-designed research, but is a presentation of academic materials regarding a specific topic.  The research paper is not, however, intended to merely reiterate what previous scholars have said, but present that scholarly research in such a way as to create a dialogue between the texts.  In other words, an agriculture research paper should make connections between a variety of scholarly opinions on a single subject, pointing to similarities, differences, and points deserving further investigation in order to shed new light on a topic.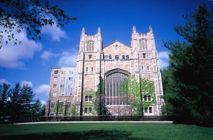 In order to be both effective and manageable, agriculture research papers should have a very narrow subject.  To attempt to complete a research paper on equine virology, for example, would require a book-length or longer text.  In order to contribute to the field meaningfully, select a topic that will allow for detailed research of the valuable contributions to that particular topic.  Rather than discussing equine virology, select a specific aspect of equine virology, like a particular method of equine virology study.  That way, an applied and consistent effort toward seeking studies related to the topic will allow the researcher to uncover most or all of the related and significant texts regarding the subject.
When completing the project itself, take care to maintain a scientific tone and a professional presentation.  The point of agriculture research papers is to critically analyze a particular topic.  Therefore, don't wander away from the topic at hand with anecdotes or personal experiences—unless they're directly and significantly related to the subject, they will distract the reader from the true focus of the report and reflect unprofessionalism.  When writing about each research study, be sure to explain how that study was carried out so the reader is aware of the validity of the study.  Also, take care to compare each study and its findings to other studies mentioned.  This connectivity should guide your reader through the similarities and differences of the study so that by the end, he/she is apprised of the data in the field, and of the holes in that research that have yet to be filled.
Agriculture MBA Coursework
An agriculture MBA is a degree that allows a person to more effectively pursue a career in the agricultural field.  Although the field of agriculture is often lumped in with other career paths such as fishing and forestry, these are actually distinct career paths that require their own forms of specialized education.  Nonetheless, all three fields have a major impact on a country's economy as well as on the every day lives of its citizens.
A person interested in pursuing an agriculture MBA must have an interest in the area of agriculture, which can involve a wide variety of food products.  Although agriculture involves working with food, those interested in pursuing an agriculture MBA must have a solid understanding of technology because technological advancements are having an increasingly greater impact on farming in a number of different ways.
Although the agricultural industry is known for having a relatively large number of workers with a lower education, this isn't true of its leaders.  While 29% of the workers in this field don't have a high school diploma, it's the innovative techniques developed by those with agricultural MBAs that help to improve the methods utilized in farming and make it possible to achieve larger groups for less money.
Since farmers rely upon those with an agricultural MBA to help guide the industry, the education required to attain one of these degrees is quite extensive.  Before being accepted into one of these programs, for example, the individual must first possess a bachelor's degree.  Ideally, the person should have a bachelor's degree in agriculture or in a related field before applying for admittance to an agriculture MBA program.  If the applicant doesn't possess a bachelor's degree in this area, it may be necessary to complete additional coursework in order to obtain an agriculture MBA.
In order to successfully complete the coursework required to earn an agriculture MBA, the student must have a solid grasp of business practices as well as agriculture.  It is also important that the applicant be familiar with agriculture essay writing and have a work history in the field that he/she can draw upon throughout the studies.  Furthermore, a person pursuing an agriculture MBA should possess a high level of decision making skills, as a person in the position of agricultural management is called upon to make quick decisions that can have a major impact on the farm.  
As part of the coursework required to earn an agriculture MBA, the student will need to learn a number of things that are related to agriculture.  For example, the student must write agriculture essays and learn more about the technological science behind crops and growing conditions.  They must also learn about plant diseases, which will make it possible for them to make better business decisions when the time comes.
Those pursuing one of these degrees must also remain knowledgeable about the latest developments that have been made in the agricultural field.  This is accomplished by reviewing journals, which means those pursuing this degree must possess a high level of research and processing skills.
Excellent Video on How to Write . . . Proficiently
Playlist: Learn English with James -- ALL my engVid videos (JamesESL)
Love it? Hate it? Post a review!