Business Research Papers & Help Writing a Business Essay
(Updated on March 4, 2018 by Michelle Williams)
A business research paper is an in-depth text that reports on scholarly opinions and ideas about a specific business-related concept.  Business research papers are frequently assigned in college-level business courses so that students will gain extensive knowledge of important business concepts as well as learn how to perform business-related research.  Business research papers are unlike other documents that a business student may have to compose because they focus not on the student's individual ideas, but on the student's analyses and interpretations of the ideas of scholars and professionals.
Business reports should be on a single, narrowly-defined business topic.  This topic must be narrowly-defined in order to allow for an in-depth analysis of that topic.  Therefore, learners should select a general area of business in which they're interested and then consider possible sub-categories of that area on which to write.  For instance, if a student were interested in writing on management practices, it would be best to complete a business research paper not on a variety of management practices, but on one single theory or design regarding management practices.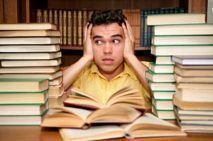 The research required for a business research paper will differ from the research required for other college classes.  Students researching in business should focus on business databases and sources and should, if one is available, focus their research in a business library.  Furthermore, it's best for business research papers to rely on sources that are relatively recent, as business is a field in which much changes in a short period of time.  Therefore, learners should favor sources from the previous ten to fifteen years unless their document covers a historical scope requiring older data.
Business reports should be organized in a general-to-specific structure.  This means the first page or pages of the document should identify the topic, clearly explain and define that topic, and assert a thesis about the topic.  After all of this information has been clearly established, the student should proceed to cite and explain research studies that advance the thesis.  The body of the text should be centered in the research, but should present the student's analysis and interpretation of all research texts in such a way that there's more of the student's engagement with scholarly ideas than there's summary of those ideas.
A business report should conclude by suggesting what the body of research presented indicates about the topic.
Ecommerce Dissertations
An ecommerce dissertation is a lengthy, original, investigation-based text composed by a business or marketing doctoral student as the final requirement of his/her degree.  Ecommerce dissertations are typically studies of particular models, trends, or practices in ecommerce, and aim to reveal significant insights in the industry.  Ecommerce dissertations are therefore typically reports of originally-designed studies rather than compendiums of previously executed research on a particular topic; ecommerce reports should therefore not be confused with a standard research paper, but should be considered pieces of original scholarship.
As with all research papers, students composing ecommerce dissertations have a wide variety of topics from which to choose.  The dissertation could be a comparative study that analyzes the merits and downfalls of two popular ecommerce business models.  It could also be a study investigating best-practice methods for one particular aspect of an ecommerce company model, such as Web site traffic, advertising strategies, management practices, and business policies.  It could also go in a different direction and focus on market analysis of top-performing ecommerce niches.  Ecommerce is a very popular and growing industry, so there are seemingly endless possibilities for dissertation subjects.  The most important consideration when selecting one is determining how such a subject will ultimately contribute to knowledge in the industry, as the primary objective of any report is to develop new insights that will be valuable in the field.
Though an ecommerce dissertation is an original research text, it will also rely heavily on existing research.  Every dissertation is built on the foundations of previous findings and scholarly ideas, and ecommerce dissertations are no different.  This means that the writer will need to invest significant time in researching existing literature on their particular subject of ecommerce.  This research will allow the writer to not only determine what has already been done in the field, but also to assess how such completed research may be built upon in his/her own study to generate new insights.  A summary of this research will be presented in a section known as the "literature review," so the student should keep careful notes throughout the research process.  The background of, impetus for, and execution of the writer's original research study will comprise the remainder.  This information should be arranged in a methodical way in keeping with the guidelines issued by the student's institution and department.
Business Dissertations
A dissertation is, quite possibly, the most important academic project that any student will work on.  A business dissertation is no different.  The business dissertation marks the student's progress from student to scholar and asks him/her to incorporate everything that he/she has learned into one, important paper.
Yet, business dissertations are more than just research papers.  Business dissertations are very large, very intensive research projects that are a lot like writing a book.  Many business dissertations are book-length and, depending on the quality of the work, might be published.  This makes the business dissertation much like a student's business card for his/her introduction into the business world.  Many students are asked about their document when applying for a position in the business world.  For these reasons, and many more, students are advised to work to present the best business dissertation possible.
The business dissertation is an independent project.  Although there's a great deal of guidance available for students, many learners fail to take advantage of all of their resources and therefore fail to keep up with the project.  Some students never complete their business reference project.  Others may take years to do so.  But, what should students do to stay on track?
Most experts insist that students work hand-in-hand with their advisors to complete their business dissertations.  An advisor is experienced in helping students select business dissertation topics, develop a writing strategy and schedule, and fine-tune their writing so that the student ultimately puts together the best business dissertation he/she is capable of writing.
Some students lag behind on their business dissertation because completing the report signals the end of their academic career and opens the door to the unknown.  Although, graduation is what the student has been working toward, the transition from student to career-minded individual can be very stressful for many students.  It's an exciting time, but an uncertain one, as well.
One of the most important aspects of business dissertation is something the student has probably already learned as a part of his/her studies: time management.  The student will likely be undertaking the writing of his/her business dissertation while continuing graduate coursework and perhaps while working a full or part-time job, as well.  The student has to therefore not only manage his/her time, but meetings with his/her advisor and the dissertation committee.
Writing a business dissertation isn't an easy task, nor is it intended to be.  A student who draws on all available resources has a great chance of succeeding.
Business Essays
A business essay should present a well-developed, well-defended analysis of a narrowly defined business topic.  It isn't a business research paper, which requires the student to perform extensive research on a particular topic and report on his/her findings.  Business essays will likely incorporate some element of research, but are intended to present the ideas of the writer on the particular topic at hand.  To that end, business essays must present a thesis—a statement or group of statements asserting an argument or stance—and then defend that particular thesis using sound evidence.
A thesis should identify the writer's position on the topic and briefly describe the points that he/she will make in defending that position.  For instance, if the student wants to write about sustainability in business, a thesis topic might be as follows: "Business sustainability entails many aspects of a business, including the business' affect on the environment, the business' affect on its employees, and the business' ability to be financially profitable.  In order to fully address this holistic model of sustainability, businesses should have an internal sustainability committee to ensure that the various goals of sustainability are being achieved."  In this thesis, the argument is that "businesses should have an internal sustainability committee to ensure that the various goals of sustainability are being achieved."  The body of the document should follow the plan outlined in the thesis by articulating how an internal sustainability committee would operate, and why it would be an effective measure.  Each paragraph should begin with a topic sentence that defines the point being made, and then proceed to present examples of that point and how it supports the thesis.
Effective business essays will not simply employ evidence in support of the presented thesis, but will comment on that evidence in a critical way.  For instance, if the above report were to point to a study citing the efficacy of internal reviews of organizations, it would then explain how the study's findings might translate to the case of an internal sustainability committee, and how an internal sustainability committee might be similar to or different from the internal reviews presented in the study cited.
The conclusion of a business report shouldn't simply summarize the body, but should comment on how the point and evidence presented bolster the position the writer has taken.  The conclusion may also point to areas that could be investigated or studies that could be done to advance the topic.
Business Term Papers
A business term paper is a project that a learner will write as part of a business class or a business school program.  Students may be required to write many business reports over the course of business school or undergraduate study programs, especially if they're business students.
In order to complete an effective business term paper, students need to decide on a topic for the document.  The student will dedicate a large amount of a semester towards studying a particular topic.  For this reason, many professors allow students to select their own topics for their business term papers so that students can study something that truly interests them.
Once a student has decided on a business subject, he/she should plan how he/she will conduct his/her research.  For example, if a student is completing a business term paper on the topic of Internet marketing, he/she will not only need to read literature on Internet marketing, but the student should also review statistics, trends, software, and may even wish to perform his/her own Internet marketing experiment, if the assignment allows for hands-on experimentation.
When learners write business term papers, they need to be sure that they include a significant amount of information that's based on careful research.  Such papers are often large assignments that account for a huge percentage of a course grade.  Therefore, learners should take their business writing assignments very seriously.
In order to complete an effective business term paper, learners should create an outline prior to actually beginning the work.  The outline will provide an overview of information that students will contain.  The outline will also help to ensure that the flow of the work is intelligent.  After all, it's easier to modify an outline than an entire term paper if the flow and content isn't quite right.
The actual format for the business term paper may depend on the student's research, especially if he/she performed an experiment as part of his/her research.  Every business report should include an introduction to the given topic .  The introduction should include background information about the topic, as well.  The introduction should have a thesis statement, which is a one-sentence assertion that the learner will prove to be true throughout the document.
The body of the business report should contain details about the research that he/she performed.  If the student performed an experiment, he/she can include those details in the body of the text, as well.  Business reports should also have a conclusion, in which the student ties together information that was contained in the body of the text and draws his/her own conclusions.
A business term paper is different from a business report, which is a common academic writing assignment that business students in graduate and undergraduate programs have to write in order to analyze the effectiveness or ineffectiveness of a business and its operations.  The business report is often a small, one- or two-page document.  However, it can also be much larger.
A business term paper, however, is a large body of work that a student creates throughout a semester.  The topic for the business term paper can have anything to do with business in general.  It may be centered on just one business or aspect of a business (such as in a business report), but it usually pulls together multiple ideas and themes.
Business Studies Coursework
There are various forms of business Ph.D. studies coursework, depending on a student's course of study and degree emphasis.  However, there are several common types that a learner will likely be required to compose at some point in the course of his/her studies.
A very common business studies coursework assignment is a case study, which requires students to read a profile of a business that's contemplating some type of change and assess the best course for implementing that change.  For instance, a case study may be about a firm's change in marketing strategy.  The case study will present a variety of information regarding the firm's marketing approaches and results.  The student will then be required to make recommendations regarding the firm's best strategic approach drawing on the information presented in the study.
Another common type of business studies coursework is a business analysis study.  In this type of assignment, the student is asked to assess some aspect of a business by applying skills he/she has learned throughout his/her business studies.  The purpose of this assignment is to demonstrate the practical application of theories or other skills to the real-life business world.
Marketing plans are also a popular business studies coursework assignment.  These will require the student to create an original marketing strategy for a particular business.
A student may also be asked to compose reflective written works that comment on how he/she has encountered a particular business practice, problem, or theory in his/her own life and work.  These are intended to demonstrate a student's understanding of the ways in which knowledge gained in the classroom is translated into professional practice.
Business studies courseworks will likely differ from written assignments students compose for other classes because many business professors have strict deduction policies for grammar and spelling mistakes.  This is because business courses are intended to prepare students for entry into the business world, where professional presentation matters.  Therefore, learners should take care to proofread all of their written assignments before submitting them for grading.
GCSE Coursework Writing
When a student has to work on GCSE coursework, he/she is studying to obtain a General Certificate of Secondary Education.  Students may wish to obtain a GCSE for a variety of different topics, including English, history, mathematics, science, and even business.  When a student wishes to obtain a business studies GCSE, he/she will have to complete specific business studies GCSE coursework requirements.
Depending on the graduate school program, the business studies GCSE coursework requirements may vary a great deal.  There are many different types of business studies GCSE courseworks as well, including experiments, research reports, group study reports, and business studies GCSE courseworks that require learners to study subjects related to business.  Therefore, there's a huge spectrum of business studies GCSE coursework requirements that students may have to undertake.
Regardless of the type of project that a student is working on for his/her business studies GCSE coursework requirements, he/she will most likely have to create a report.  Each business studies GCSE coursework report should contain information that the student learned through the coursework and related assignments.  In many cases, a business studies GCSE coursework report will look like a science report.
The first part of a business studies GCSE coursework report should contain a title page with a student's name, the title, the course for which the report was completed, and the date.  The title page should be completed in the same style as the rest of the report, such as APA style or MLA style.
Next, the business studies GCSE courseworks report should include a brief summary, which is also known as an "abstract."  This summary should only be about a paragraph and it should contain information that's included.  However, the abstract isn't the introduction.  The introduction comes in the first section of the report and introduces background information about the topic, key terms and concepts that will be used, and information about why the student chose to work on a particular business studies GCSE coursework assignment.
The body of the business studies GCSE coursework report should contain separate paragraphs with new information about the coursework, including thoughts and discoveries.  The conclusion is where the learner will tie this information together to create his/her own conclusion about his/her research.
Business studies GCSE coursework is often hands-on, especially when a professor has assigned a marketing coursework assignment that requires experimentation.  However, business studies GCSE coursework isn't the same as coursework for other classes.  For example, coursework for a history class will most likely require a huge degree of data collection.  Coursework for an English class will require reading an analysis of a literary work in many cases.  Business studies GCSE coursework may require research, reading, and analysis as well as experimentation and more.
Business Assignment Writing
A business assignment is any work required by a business course.  Business assignments can be individual or group work, in-class projects or homework, business problems or business papers, and any other variety of objective-oriented work an instructor may assign.  Despite the variety, however, it's likely that the majority of business assignments will require some type of written component.  This is illustrative of one of the primary ways in which business assignments—and most college assignments in general—differ from assignments for lower-level classes.  College assignments will very rarely require only a yes or no or true or false answer.  College assignments are designed to provoke complex thought, and complex thought is best articulated in a paragraph or longer.  Therefore, most business assignments that require a writing component are designed to elicit at least a several-sentence, in-depth response.
Business assignments may vary, but there are certain guidelines than can be referenced when approaching any such assignment.  As already mentioned, the writing component of any business assignment will likely require a paragraph or longer response.  This entails writing in a coherent paragraph form.  This means the paragraph should have a strong topic sentence that clearly notes the point of the paragraph, and that each subsequent sentence should relate to that topic.  Any assertions made or opinions expressed should be supported or justified with examples.
Because professional presentation matters in the business world, many business instructors are strict about grammar and style mistakes in business assignments.  This means that every business assignment should be proofread and should follow the stylistic conventions set forth by the class instructor.  In addition, it means that students should compose business assignments in formal language, such as the type of language that would be used for inter-office communication or a resume cover letter.
Business assignments will often involve qualitative data.  When writing about or referencing qualitative data in a business assignment, learners should be sure to properly contextualize that data so that it's absolutely clear what the data is referring to and how it's relevant to the writer's point.
More involved business assignments may require the student to perform external references.  This research should focus only on credible sources that are well-regarded in the business world.  These sources should be integrated into the student's assignment in such a way that they're used to support the writer's own ideas and not speak for them.
Business assignments will often be designed to replicate real-world business documents.  Therefore, business students will always benefit from browsing actual examples of such documents to use as models.
Business Coursework Essays
Some of the most popular academic programs being offered by universities and educational institutions are business programs.  And, although the business programs being offered are as diverse as the topics they study, most students agree that business coursework is intensive and, in many cases, difficult.  After all, students not only have to study existing business models, they have to learn how to predict emerging business trends.  Still, many experts agree that a sound background in business courseworks can help students realize success in nearly any area they elect to participate in.  The skills that a student learns as a part of business courseworks can be applied to many aspects of life.
In addition to a great deal of reading, business coursework involves various writing assignments.  These assignments often focus on the success or failure of existing business models or ask students to develop their own business models for a particular product or service.  Many of these writing assignments involve researching such existing business giants as Wal-Mart, IBM, Microsoft, and other business giants.  Of course, in these days of wavering economies, business courseworks are requiring a great deal of study into how the economy has, and will continue to, effect various businesses.
Although many different writing assignments might be required of business students, most business coursework essays require a great deal of data collection.  Students often spend hours poring over text books, journal articles, and other reference materials to put together the reports required of them for their courses.  Business coursework is so research intensive that students often fail to put together a presentable research paper because they don't always understand the requirements.
The most difficult part of completing a business coursework paper is gathering the references.  Although many instructors will assist students in looking for appropriate references, and some instructors will require certain references, students need to understand what makes a satisfactory reference for a business courseworks paper.
The most important aspect to any reference material is that it's credible.  A credible reference is one written by an expert in the field or presented in a peer-reviewed journal.  Although it's tempting to do a great deal of research online, internet sources should only be used to get ideas for the document and not as reference material.  To avoid tempting students to do all of their research online, some instructors will limit the number of internet sources that students can use to write their documents.
Excellent Tutorial About How to Communicate . . . Clearly
Playlist: Learn English with James -- ALL my engVid videos (JamesESL)
Love it? Hate it? Post a review!