Computer Research Papers & IT Dissertation Writing Help
(Updated on April 4, 2018 by Michelle Williams)
Computer research papers may take two forms: those for a computer-related topic and those for which students must use their computers to research a given topic.  
A computer research paper for which a student uses computer or internet sources to gather research is designed to test his/her awareness of—and skill with—computers and the web.  Computers are integral to most businesses and students should be prepared to use them once they graduate.  A computer research paper which requires students to complete all or most of their research online also helps students get a feel for how to perform research and how to tell a credible internet reference from a bad reference.
A computer research paper can also be about computers or a computer-related topic.  These papers are often assigned as part of a specific computer or business course whereas computer research papers which test a students' ability to use the computer to perform research might be assigned for a grade in virtually any course.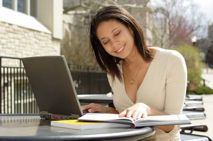 Regardless of whether the computer research paper is about a computer-related topic or uses computers to gather research, it should follow the standard format for writing academic papers.  All academic reports should have an introduction, a paper body, and a conclusion.  The introduction to a computer report should give a basic overview of the topic and should contain a solid hypothesis statement.
The body of the document should be at least three paragraphs long.  Some instructors will inform students exactly how they want the body formatted and others will leave the presentation up to the individual student.  Many students prefer to present only one topic per paragraph; others like to blend multiple, related topics into each paragraph.  Either way, the body paragraphs should contain facts and information that support the thesis statement contained in the introduction paragraph.
Each computer report should also contain a conclusion.  The conclusion should restate the thesis and tie together all of the presented information.  A conclusion should be rather brief.  A one-page computer report should dedicate no more than one paragraph to the conclusion.
Nearly all computer reports should be double-spaced with one inch margins.  Some students believe that paper formatting is random, but it actually has a very specific purpose.  Formatting is designed to make the report easier to read.  It also makes a paper easier to grade for instructors.  Wide margins and double-spacing are intended to leave room for instructors to make comments and suggestions while grading the document.
IT Dissertation Writing
Students studying IT (Internet Technology) may need to complete an IT dissertation in order to graduate from an IT program with a PhD or masters degree.  An Internet Technology dissertation, in general, is a very involved paper for which a learner will study a particular subject for an extended period of time in order to learn as much about the subject as possible and, in many cases, uncover new information.
There are many different reasons why a student may need to create an IT reference project.  Some students may need to create their IT dissertations as part of a high school program.  Other students may create their documents as part of an undergraduate program.  Still, some IT dissertations are completed for a masters program.  However, the majority of IT dissertations will be completed for a Ph.D.  
The reason that so many IT dissertations are completed for PhD programs is simply that they are formal academic documents that are a requirement of all PhD programs.  In the strictest sense of the term, dissertations are only completed for PhD programs.  Those dissertations are then archived in a national public database where they can be access anywhere at any time, in most cases.  
However, even if an IT dissertation isn't completed as part of a PhD program, the process and format will still be the same (or at least similar).  The IT writing process should always begin with research.  In many cases, learners will need to read literature, conduct interviews, and even perform experiments as part of the IT research.  Students should document their findings accurately and consistently.  
Once the student has completed his/her research, he/she should draft an outline of the entire IT reference project.  The format for the document should include a cover page, acknowledgements, abstract, introduction, methodology, body, conclusions, discussion, references, and an appendix.  Many professor will specify which of these sections will be required for their students if they don't require all sections.  
Students need to be aware that the IT report should be edited and reviewed many times before it's submitted.  Once submitted, it will be reviewed by a panel of industry experts and professors.  These reviewers will determine whether or not the learner will receive a degree based on the quality of the IT reference project.  In some cases, IT dissertations communicate ground-breaking research that will inform a student's entire career.  
While all research papers are generally similar, there's a different between researching information for an IT dissertation and researching information for some other university documents.  IT dissertations require not only an understanding of technical issues, but they also often have projections about future technology inventions and applications that will soon change the industry or certain platforms.  Therefore, IT dissertations are not only reliant upon historical references and knowledge, but they should also incorporate predictions and up-to-date technology changes, which may happen on a daily basis for some applications.
Computer Science Thesis
A thesis is the final document that a student writes for a graduate school program, undergraduate course, or high school class.  A computer science thesis is one that a learner will write for a computer science class or program.  
Regardless of the level of academic study for which a student needs to complete a computer science thesis, the format of the thesis will be the same.  A thesis is a writing assignment that a learner will undertake after completing a long period of research into a particular academic subject.  
Theses are generally very important academic papers.  If they're associated with a graduate program, the student may have to defend the thesis in front of a panel of professors and experts.  In such a case, it's essential that the thesis is accurate and the student knows about the information included with a great level of detail.  After all, the panel members can ask the student any question at all about his/her research.  
If the computer science thesis is part of a course, then it is usually the most in-depth document that the learner will need to write for the course.  The student often must spend months and weeks researching information for the thesis before he/she can even begin work.  
In order to write computer science theses, students need to establish a theme and specific topic.  Many students choose their topics by asking a question and attempting to answer it through the thesis.  Computer science theses should be formatted like a thesis for any other course.  
The first section (usually just a paragraph) of the document should be the introduction.  The introduction should include background information about the topic as well as relevant information that the learner will include.  Computer science theses often define specific terms and concepts that the learner will use in the thesis in the introduction.  
The introduction should also include a thesis statement, which is a one-sentence assertion that a learner will prove to be true.  Each body paragraph of the document should support that thesis statement with new information or ideas.  Finally, the last paragraph of the computer science thesis should be a conclusion, in which the student recaps information and draws his/her own conclusions.
A computer science thesis is different from a term paper if the thesis is being completed for a graduate school program.  A term paper could be completed for every graduate school course, but a graduate thesis wraps up an entire graduate school program.  Therefore, a thesis would be a larger body of work that the student undertakes.  
However, if a student needs to complete a computer science thesis for an undergraduate or high school program, it might be synonymous with a term paper.  Both computer science theses and term papers are large documents that a student completes after researching a particular topic in-depth.
IT Coursework Paper Writing
Internet Technology (IT) is a booming industry.  However, many learners steer away from IT coursework because they're afraid it's too technical.  But for students who love IT coursework, there are a few tips and tricks they can follow to ensure that they do the best job possible.  Following these tips can help students stay organized while completing their college or university IT coursework.
When completing IT courseworks, it's important that students review the schedule that instructors present to them.  If juggling several courses at once, learners should use academic planners to stay organized.  A planner can help students schedule their time and know exactly when assignments are due.  Planners come in January to December formats and August to July formats.  The August to July format is a true academic planner because it reflects the academic year, not the calendar year.  It might be better to use a true academic planner because such planners feature other components that can be helpful for students.
IT courseworks often require that students become experts at assignments.  To do the best job possible, students need to make sure that they completely understand what is being required of them to complete the assignment.  If the assignment is unclear, learners should schedule a meeting with the instructor to clarify the requirements.  This will help prevent turning in an assignment that fails to meet the requirements or having to redo an assignment because of failure to follow instructions correctly.  When meeting with the instructor or when receiving supplementary instructions in class regarding an assignment, learners should be sure to take notes so that they can refer back to them when planning their work.  Another way to clarify assignments is during class time.  It is helpful to other students to use class time for clarification as it may help clarify questions those students have as well, but may have been hesitant to ask.
The most important tricks to completing IT coursework is to follow directions, turn assignments in on time, and do the best job possible.  All assignments should be well-written and free from spelling, grammar, and punctuation mistakes.  Students should pay special attention to formatting requirements.  Whenever possible, it's a good idea to have another student go over IT courseworks before submitting them.  A fresh pair of eyes can often catch errors in the assignment that the student may have missed.  Taking advantage of as many resources as possible can help students succeed.
ACM Dissertation Help
An ACM dissertation is an in-depth, original research study in the area of computer science or engineering that's submitted to the Association for Computing Machinery (ACM) for its annual Doctoral Dissertation Competition.  Like all research papers, ACM dissertations are composed by doctoral students in the final phases of their graduate study, and are overseen by a committee comprised of advanced professors in the field in which the thesis is being written.  Such documents are directed by and eventually approved by those committees before a doctoral student is allowed to receive his/her Ph.D. degree.
ACM dissertations must follow a standard dissertation format and presentation, typically consisting of five well-developed chapters outlining and explaining the researcher's study, results, and study implications.  Most dissertations present an introduction that determines the research focus or problem, a review of existing literature about that subject, a methodology chapter outlining the procedure of the study, a results chapter describing the outcomes of the study, and a discussion chapter describing the implications of the research and the study's possible application in its particular field.  
An ACM dissertation differs from a typical dissertation composed in the field of computer science or engineering only in that it's submitted to the Association for Computing Machinery for consideration for the ACM's annual Doctoral Dissertation Competition.  Competition winners receive cash prizes and the distinction of the ACM Award, which is counted among the most prestigious honors in the computer science and engineering fields.  It is important to note that doctoral students may not submit their own dissertations for consideration in the competition; all nominations must be made by a student's institution, and each institution is only allowed one nominee per year.
ACM dissertations are expected to be of the highest caliber research and innovation.  Award-winning dissertations are considered to have made exceptional and original strides in the areas of computer science or engineering, and offer new and original research in their area of focus.  In addition to its technical content, an ACM report should be grammatically and stylistically sophisticated, and follow exactly the style and citation guidelines determined by the student's field and department.  All credit owed to previous researchers whose work may have been the foundations of the report must be properly cited.  The dissertation must present a hypothesis or set of hypotheses in the first chapter and clearly outline the research study that will fully and fairly test that hypothesis.  All details of the study's procedure, data gathering, and data analysis must be clearly outlined in such a way as to be easily reproducible by another researcher.  Finally, all results must be reported exactly and accurately, and interpreted without bias.
Excellent Video Regarding How to Communicate . . . Powerfully
Playlist: Learn English with James -- ALL my engVid videos (JamesESL)
Love it? Hate it? Post a review!