Dissertation & Thesis Defense: Tips from 4 Experts
(Updated on September 5, 2019 by Michelle Williams)
A thesis defense is a formal meeting in which a student must answer questions from a committee—and perhaps other university instructors or students—about his/her work. Thesis defenses are done after a thesis has been completed and submitted by the student, and are usually the final determination of not only a student's thesis grade, but also a student's completion of his/her degree.
A thesis defense isn't a presentation. Though it's likely that the learner will be required to provide some type of overview of his/her thesis project, the primary goal of a thesis defense is for the student to respond to questions and criticisms of his/her work rather than explain it. It is likely that most if not all of the attendees of a thesis defense will have already read the thesis in its entirety. In the defense, these readers gather to provide critical commentary to the writer.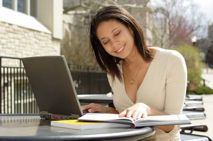 Thesis defenses will require the student to answer and address questions and criticisms, often without foreknowledge of the questions and criticisms that may arise. In this way, the defense is intended to demonstrate the writer's thorough understanding of his/her topic and study procedure. The student is expected to offer reasoning, explanation, and/or elucidation regarding the topics brought up in the critical commentary. This is why a thesis defense is called a defense. In some cases, the student is defending his/her intellectual approach or research decisions.
Preparing for a thesis defense can be difficult if a student doesn't know what questions or issues the committee will raise. The best preparation is therefore for the student to read his/her thesis document in full, and to anticipate, if possible, questions that would arise. In addition, the student should consider why he/she was interested in the topic to begin with, and reflect on the process of designing, preparing for, and executing the thesis itself, as there will likely be process-related questions in addition to content-related ones.
Though thesis defenses can on occasion be intense, thesis defenders should keep in mind that in the academic community, critical discussion and even criticism are part of the learning process. Every thesis will have its inconsistencies and weaknesses; therefore, a student shouldn't expect for the committee to only offer praise. All criticisms should be interpreted as part of the critical dialogue and not complaints directed at the writer him/herself. Students should keep this in mind throughout the duration of the defense, and strive to maintain composure and respond in a professional and intellectual fashion.
Dissertation Defense
A dissertation defense is a formal, academic questioning session in which a writer who has completed his/her dissertation must field questions from his/her dissertation committee. Some students mistakenly believe that the dissertation defense is merely a formality, but that's absolutely not the case. A dissertation defense is often an intense, intellectual undertaking. In fact, the dissertation defense is the committee's final, deciding factor in determining whether or not a student will earn a master's or Ph.D. degree.
Universities and departments differ in their requirements for dissertation defenses. Some may require the student to prepare a presentation of the report, while others may not. Such a presentation is often simply an overview of the report research that highlights the paper's significant processes and findings. Following the presentation, or perhaps throughout the presentation, the dissertation committee will pose queries to the student regarding various aspects of the work. If a student isn't required to prepare a presentation, the questioning will begin with the commencement of the defense.
The questions a student will have to answer in a dissertation defense will vary depending on the subject, field, and particular interests and concerns of the committee. In preparing for dissertation defenses, then, learners should attempt to anticipate what those interests and concerns will be. For instance, if a student is aware of a weakness in his/her assignment, it's likely that the committee has also noticed this weakness and will ask about it in the report defense. Students should therefore consider what responses they would give to questions about that weakness. Students should also be prepared to answer specific questions about the reasons they chose the research approach they did, as questions surrounding methodology are likely candidates for appearances in dissertation defenses.
Throughout a dissertation defense, the student should assume an authoritative manner and speak confidently about his/her project. The intent of the defense is to challenge the writer on the methods and findings of the report, and the student shouldn't take it personally if the atmosphere is intense. Performing well under intellectual scrutiny is one of the hurdles of the composition process, as such intellectual scrutiny is part of academic life. Therefore, learners should strive to maintain both their composure and intellectual authority of their project throughout the duration of the defense and project a professional and assured manner.
Masters Thesis Defense
Students in masters programs will have to complete a masters thesis as a requirement of the program. The thesis is generally the last project that a learner will work on and will require months of researching and writing. After the student has completed the thesis, he/she will have to defend the thesis in front of a review board, which may include industry experts and professors. A successful masters thesis defense is a requirement for graduation.
When students have to perform masters thesis defenses, they need to stand in front of panel of judges and discuss their theses. They need to begin by sharing an overview of the thesis and the ideas presented. These ideas may include pioneering research or new ideas, as well. The panel may then ask any inquiries they would like pertaining to the thesis and related researching. During the masters thesis defense, students must answer these questions as well as possible.
Many students get nervous about masters thesis defenses because they're either unfamiliar with their subject matter, unprepared, or have a difficult time public speaking. However, just because a student has difficulty doesn't mean that he/she can forgo the masters thesis defense. Therefore, students need to spend time preparing for their masters thesis defenses, even if it means taking time in advance to prepare only for the public speaking or question and answer portions of the defense.
One of the best ways that students can prepare for their masters thesis defenses is to work with a coach. The coach can ask specific questions about the thesis, including questions relating to the research, methodologies, and more. Students can then develop more confidence answering questions about the thesis and be bettered prepared to answer the questions that judges may ask.
There is a difference between preparing for a masters thesis defense and editing a thesis. A masters thesis defense preparation will require quick thinking and verbal explanations based on the student's research. However, editing only requires that the student work on paper to refine the thesis itself.
Students can also have someone else edit their theses for them, but they can't have someone else perform their masters thesis defenses for them. Therefore, the student is required to be interactive and well aware of the information presented in the thesis in order to effectively perform the masters thesis defense. However, the student may ask anyone to edit the thesis.
Dissertation Defense Questions
A dissertation is a high level of academic writing that a student completes as the last part of a graduate degree program or a PhD degree program. A dissertation generally takes a student an entire year or more to write. The paper includes the student's own research and findings in an academic subject. In order for the student to graduate from the graduate or PhD program, he/she must defend his/her assignment by responding to dissertation defense questions that a panel of judges may ask.
After a student has completed his/her assignment, he/she must present the report to a panel of judges, which may include experts in the field of study or professors. These professionals will ask the student questions that are related to the research that he/she performed for the document as well as questions about the field of study in general. There can be a wide variety of dissertation defense questions that students need to be prepared for if they're going to answer intelligently.
Many students get stumped on a dissertation defense question if they haven't prepared for the panel review in advance. In order to ensure that a student is able to answer every question intelligently, he/she needs to vigorously study the research information in his/her document. It's vital that the student is extremely familiar with every piece of information that he/she includes.
In some cases, panelists will have a copy of the project that they can review in advance of the student's presentation. In other cases, the panelists will see the information that the student presents for the first time during the presentation. When a panelist has a copy of the report in advance, he/she may ask a specific dissertation defense question about a specific statement that the student has made. Therefore, the student needs to know exactly what the panelist is referencing from the document.
Dissertation defense questions are different from the questions that an advisor will ask a student during the process of researching and completing a reference project. An advisor will ask students questions so that each student can learn and improve his/her document. However, a panelist is truly trying to stump the student or probe to understand exactly how much he/she understands a particular field of study. Therefore, learners shouldn't expect a panel to provide encouragement or suggestions for improvement. The panel is a review of critics; not an advisor.
Dissertation Presentation
When a student completes a dissertation, he/she must present it to a panel of judges for approval. If the judges approve the dissertation presentation, the learner will earn his/her Ph.D. degree. When a student completes a successful dissertation, he/she may not only provide new insight into a particular industry or field, but also jump-start a successful post-graduate career.
Since a student may dedicate years to completing a dissertation, he/she should place great importance on the dissertation presentation to a panel or committee of professors and industry professionals. The panel will review the physical/visual document and listen to the student's oral presentation. The judges may ask the student questions about his/her dissertation research.
In order to properly prepare for dissertation presentations, learners shouldn't only be intimately familiar with their dissertation content and research findings, but they should also practice their presentations in front of friends or advisors prior to the actual event. Students should also refine their presentation once they receive feedback.
Most dissertation presentations will include visual aids and a lecture on the topic that the student has studied. Students should spend a good deal of time making sure that the visual aids are clear and informative.
On the day of the presentation, the student should dress professionally and confidently defend his/her work. He/She should clearly and comprehensively answer all questions. If the student doesn't know the answer to a particular question, it's acceptable to acknowledge such, but the student must be prepared to justifiably explain why.
Excellent Tutorial Regarding How to Communicate … Proficiently
Playlist: Learn English with James: ALL my engVid videos (JamesESL)
Love This Post? Hate it? Please Let Us Know!!