Reflective Essay & Help Writing Reflection Essays
(Updated on September 6, 2019 by Michelle Williams)
A reflective essay is one that a student writes in order to share his/her opinion or insight on a certain matter. Reflective essays are first-person essays in most cases, in which the student uses "I" statements and personal experiences to share his/her views. An "I" statement is a statement that a student makes based on his/her own opinion or viewpoint, such as, "I think this works this way."
Reflective essays are common writing assignments for English classes. However, they aren't very common for other courses, such as science or history. There are several reasons that a student may be required to complete a reflective paper. In many cases, teachers want to challenge students to relate their experiences to one that they have read about in a book or learned about through a classroom project.
For example, if students read The Great Gatsby, professors may ask the students to write reflective essays that relate their own experiences with delusion or being stuck on a particular subject to Gatsby's attraction to Daisy and delusion about his experiences. Teachers are hoping to help students identify with characters emotively through a reflective essay of that nature.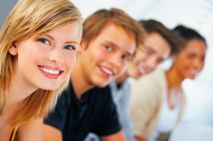 Reflective essays are very popular writing assignments for middle and high school English classes as well because they help students learn to write. When a student is required to complete a reflective essay, he/she is literally writing about himself/herself. The student usually doesn't have to research a topic, so the report can be easier for him/her to write. Teachers are helping their students develop their thinking and writing skills when they assign reflective essays in lower level courses. They are also helping students to be self-aware by identifying their own needs and opinions.
In order to complete a reflective essay, learners should follow the same basic format as any similar type of paper. The student should begin with an introduction into the subject matter. In the introduction, students need to write about background information and include an essay thesis, which is a one-sentence statement that the learner will prove to be true throughout the document.
The report should also contain body paragraphs that support the thesis. Reflective essays will contain information or facts that relate to the student's own feelings about a particular subject or fact in these body paragraphs. After the body paragraphs, the student needs to include a conclusion, which recaps the student's opinions or information and ties it all together with a conclusion that he/she invents on his/her own.
Reflective essays are like any other type of essay in terms of format and style. However, a reflective essay isn't the same as a research paper. Research essays need to be written in third-person style and should contain facts that help the student to draw a conclusion. A reflective essay is often a first-person essay, communicating personal feelings that help the student to express his/her own opinion or viewpoint.
Reflection Essays
There are many reasons why students may have to complete a reflection essay. Often, professors will require learners to author reflective essays in order to allow the students to have a forum in which they can learn about a topic and then critically think about that topic. In a reflective essay, learners will discuss their reactions to a particular topic or idea.
When a student has to complete a reflection essay, he/she needs to be prepared to think independently about a particular idea or topic. In some cases, a professor will assign a particular topic, such as genocide. In other cases, learners will have to select their own topics that they wish to discuss.
One of the reasons that professors assign reflection essays is so that students can practice their critical thinking skills. Students will have to learn about a topic or idea and then apply their own experiences and beliefs to that idea in order to draw their own conclusions.
Other professors like reflection essays because they allow students to practice their writing skills while writing about something that students are interested and familiar with. When students merely have to write about what is on their minds, they can focus more on their form and communication skills than on the research that they need to perform in order to write the document.
Professors in all grade levels may require learners to author reflective essays. However, reflection essays are particularly popular in high school classes, as they're extremely effective in helping students become comfortable with writing and with developing their critical thinking skills.
When a student has to complete a reflection essay, he/she needs to keep in mind that just because the report focuses on the student's own experiences and opinions doesn't mean that he/she will not have to put forth effort into the research and development process. In fact, learners should devote a significant amount of time to researching the report completely so that they can be confident in their opinion. They may also include this research in their documents.
A reflection essay is different than some other forms of assignments, though. While all reports are generally completed from a subjective point-of-view, reflection essays are particularly subjective and may draw directly from a student's life. On the contrary, some college reports, such as an instructional assignment, may focus more on the information that a student researched than on the student's reaction to that information.
Helpful Video About How to Write … Powerfully
Playlist: Learn English with James: ALL my engVid videos (JamesESL)
Love This Post? Hate it? Please Let Us Know!!