Research Paper Heading
(Updated on June 20, 2018 by Michelle Williams)
A research paper heading is the information that goes at the top of every page on a reference project. Generally, research paper headings help professors to stay organized as they read through dozens of reports from their students. However, research paper headings also have a more practical use, as they help professors to put back together the pages of a document in the event that the binding becomes undone.
All research paper headings should include the page number. Many report headings also include the name of the student. However there are cases where the student is asked not to include his/her name so that the professor isn't influenced by his/her knowledge of the student and the student's prior work when reviewing a new reference project.
The research paper heading will also vary depending on the style guide on which a research paper is based. For example, an APA heading requires that the student include part of the title, as well as the student's name and page number. However, according to the MLA style, the student only needs to include his/her last name and the page number in the heading.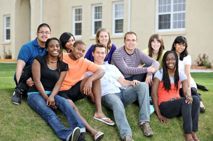 Regardless of the style guide that the student is required to use, the font should always appear right centered in the report headings. This alignment helps to ensure that if the project is bound by anything other than a paper clip that the student's name and page number will not disappear into the fold of the binding.
In order to complete a research paper heading, many learners can simply open a Word document and double click on the white space above the first line of type. This white space should be in the margin. Once double clicked, it will provide a space to put editable text, rather than a simple white space. Students should put a heading on all pages of the document. However, according to MLA style, the cover page shouldn't have a heading. According to APA style, the cover page should have a heading.
There is a difference between a research paper heading and a research paper title. While some reports should have the title of the report in the heading, others should not. The heading simply helps to define the page number, author, and sometimes title throughout the document. However, the title often only appears on the first place and doesn't help to provide a map throughout the report, as the heading page numbers do.
Educational Tutorial on How to Write … Clearly
Playlist: Learn English with James: ALL my engVid videos (JamesESL)
Love it? Hate it? Post a review!