How to Write a Company Manual
(Updated on June 1, 2018 by Michelle Williams)
When learning how to write a company manual, you must include certain, key elements.  Namely, your company manual should provide your employees with clearly detailed information regarding the company's policies and expectations for its employees.
Before writing the company manual, you need to determine what your policies will be.  When developing your policies, it's a good idea to look at the manuals of other companies in order to determine the type of information that should be covered.  Similarly, it's always a good idea to consult with a corporate attorney or another type of legal advisor in order to make sure that your corporate manual is worded in such a way that it will keep both you and your company out of legal troubles.
You should include information on the following topics in your company manual:
attendance and tardy policies
dress code
safety policies
drugs and alcohol
legal information, such as sexual harassment policies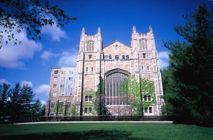 The amount of detail you wish to include in your company manual depends upon your preferences.  For example, if you wish to have a "zero tolerance" policy on attendance, you might specify the disciplinary action that will be taken for each day of absence.  If you wish to have more flexibility, on the other hand, and want to address these issues on a case-by-case basis, you'll not be so specific in your handbook.
In an age when employees are suing their employers on a regular basis, many companies have chosen to implement zero tolerance policies that are well-spelled out.  This way, the company can demonstrate that the employee was informed about the policies.  When implementing the policies, it's also essential that you actually enforce them or your company/management will lose respect and credibility in the eyes of the employees.
It is a good idea to include plenty of subheadings and bullets as part of company manual writing.  Your subheadings should be written in bold print and possibly written in a larger font.  This way, employees can easily skim through the company manual in order to find the section that discusses the information they seek.
Bullets also make it easier to scan through the company manual and they help to highlight the most important parts.  If you're listing the types of clothing that aren't acceptable in the workplace, for example, you might make a bulleted list.  This makes it easier for the employee to read and to find the information he/she is seeking.
Your main goal when you complete a company manual should be to make it easy for your employees to understand and to interpret the information contained therein.  At the same time, you want to make sure there are no loopholes or statements that contradict one another.  If you aren't careful, an employee can use the company manual against you if you have left important information out.  Therefore, you should be sure to comb through it carefully before finalizing it and issuing it to your employees.  Consulting with legal counsel is also a good idea, as this can help save you from getting into hot water down the road.
Instructional Video on How to Write . . . Correctly
Playlist: Learn English with James -- ALL my engVid videos (JamesESL)
Love it? Hate it? Post a review!